Disclosure: Things That Fold earns commission from links on our site.

(4 / 5)
Not Worth It
Meh
Good
Highly Recommended
Life Changing
This bathtub is a lifesaver for our tiny, 100 year-old bathroom. It is super easy to fold and unfold, although I do wish it would fold flatter. It never leaks and seems to be pretty sturdy. The only real gripe I have is that the drain plug is a little difficult to insert and remove. We chose the clear/see through model, and it has made bathtime infinitely more adorable! Now you can see every kick of those adorable baby feet!
Versatility
For small infants you have to purchase an insert to hold them in place. I do like the versatility of use for both the infant and toddler stages. And, speaking of versatility, it was quite the lifesaver when our washing machine sprung a leak, but that's a story for another time. And, if you want a story that is really for another time, check out the Amazon reviews of people who use the Stokke Flexi Bath to bathe their cats and dogs!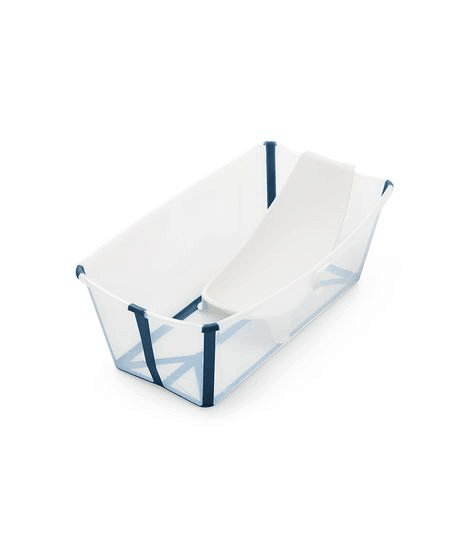 The product is designed for ages 0-48 months but my son was too big before he even turned three. Granted he is tall but keep in mind that you may need to transition out of the tub before 48 months. The newborn insert is a little different than the mesh or foam type you usually see with baby tubs. It is a hard plastic scoop that holds the baby in place. It may be less plus than others on the market but it does make it easier to clean. Most "folding tubs" are actually just sink inserts, which really only work for newborns.

Some people report putting this on their countertop, something I have yet to try. When baby number two arrives I might give it a shot with the sprayer from the kitchen sink. Sitting on the side of the tub and bending over are definitely something I'd love to avoid while fighting the inevitable postpartum back pain.
And for the ultimate in versatility, I can easily see this tub being repurposed when the kids get too big. You can use it to store things in or just as a household bucket in a pinch. Essentially it is just a plastic box, which given the current state of our planet, we should definitely try to reuse.

Cleanability
Another plus is that this tub is easy to clean. There are no weird crevices that are hard to access. Even when the tub is folded up it still stays slightly open which allows it to dry quickly.
Foldability
One thing I love is how lightweight the tub is. At a mere 2.2 pounds it is no problem to quickly set up, move, fold, etc. If you need to carry your baby in one arm and the tub in the other, it's actually doable! Even better, once your baby has mastered the pincer grip, let them drag the tub!

Once the tub is folded it blends nicely into the background. My sister visited recently and asked to see the tub. I told her to go look under our pedestal sink in the bathroom. She came back a minute later and told me she couldn't find it! To be fair, when folded it doesn't even resemble a tub, but still it is nice to not feel like baby clutter is taking over your apartment.

While the website claims it folds to just under four inches I can easily smush mine down tighter. It's easy to slide under something or in between a tub and a sink (as we do).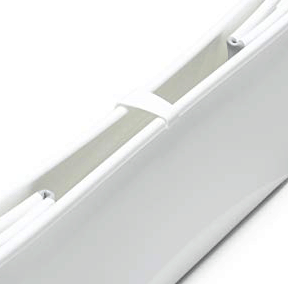 Minor Issues
So one small annoyance is that the infant seat doesn't grip so well to the side of the tub. Occasionally this leads to the seat sliding a bit. I suppose if you are really DIY-oriented you could put some rubber underneath the feet. Sometimes the baby actually slides down the smooth, scoop-shaped seat, but that may be babies being wriggly babies.
My only real issue with this tub is that the drain plug is a bit tricky to push in and pull out. I guess this does help keep it from leaking so I can't really complain. We have an older model of the Flexi Bath and the newer ones have different drain plugs. The new drain plugs are heat sensitive and change color to help you be aware of the water temperature. Hopefully they are also a bit easier to use.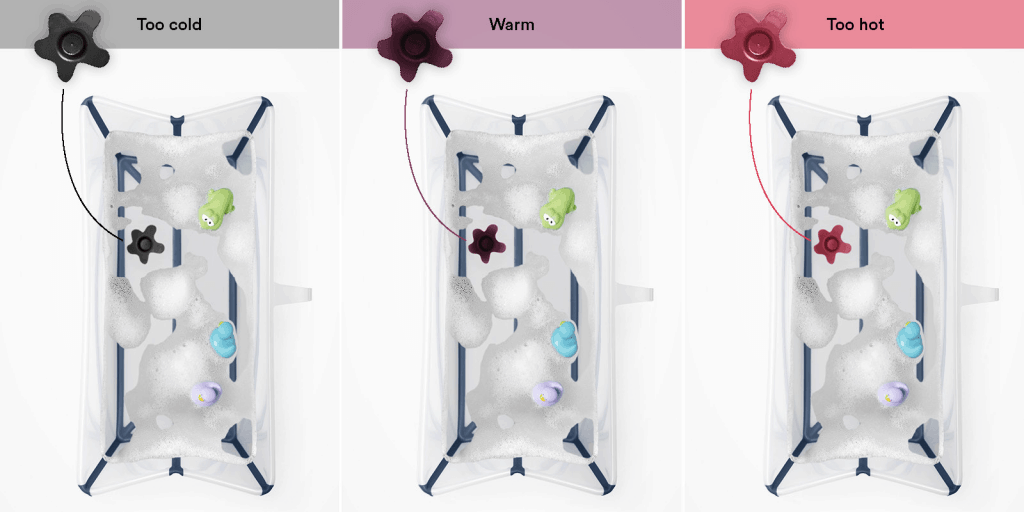 Value
At about $45, plus an additional $19 for the infant seat, this isn't exactly cheap for what is essentially a bucket. That being said, I have absolutely no regrets and would purchase this item again in a heartbeat. It's durable enough that we are able to use it again for our second child, the foldability is super convenient, and it is super easy to clean. One of my favorite review blogs, New York Magazine's The Strategist, even named Flexi Bath one of the nine best baby bathtubs of 2018. And, most importantly, you can't put a price on watching those tiny baby feet through the transparent version!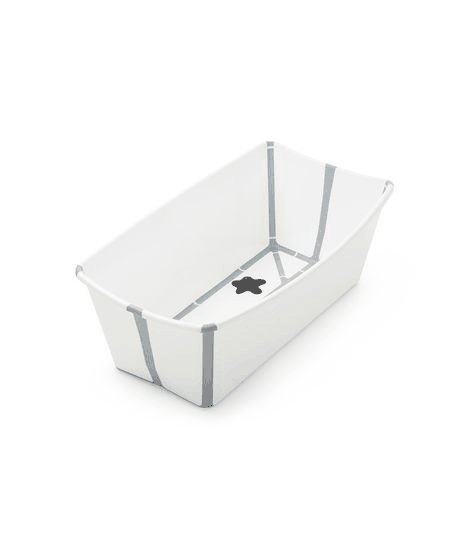 Pros
Cons
-Doesn't leak
-Easy to clean
-Folds almost flat
-Lightweight
-Variety of colors to choose from
-Heat-indicating drain plug
-Drain plug is a little tricky to use
-Somewhat expensive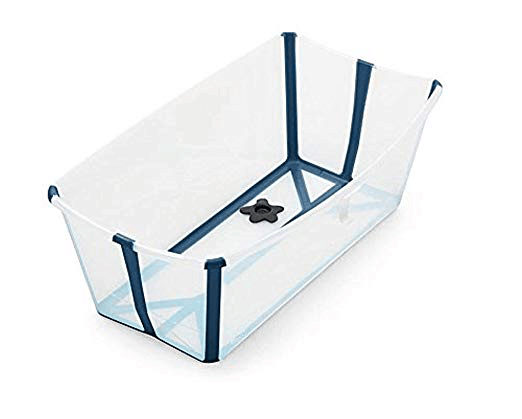 | | |
| --- | --- |
| Open | Folded |
| 26″ l x 13.7″ w x 9.4″ h | 24.8″ l x 3.9″ w x 9.4″ h |
The Stokke Flexi Bath is a lightweight, foldable, and durable bath tub that you can easily store without taking up much space. It folds narrow enough to fit in a suitcase for traveling. It works well until about age 4. This bath doesn't leak, drains quickly, and is easy to wash. And it comes in six different colors (including two transparent ones), and has a heat-indicating drain plug. Although this $64ish bathtub isn't cheap, you definitely get a lot of use out of it.
Where to Buy
The Stokke FlexiBath can be bought on Amazon or directly from Stokke here.
---
This review was written by the Things That Fold editorial team. We purchased this product online and have been personally using it for at least one month prior to writing this review. Our review is based in part on our experiences, as well as additional research we did online.
Our website uses affiliate links, meaning that if you click on a hyperlink, we may receive a commission for referring you to the seller's website. As Amazon Associates, we earn from qualifying purchases. Any prices and availability shown are based on time of publication and may subsequently change.
Product images on this page are taken from the product's official website or from the product page of an official sales channel.