Disclosure: Things That Fold earns commission from links on our site.

(4 / 5)
Not Worth It
Meh
Good
Highly Recommended
Life Changing
I have two rules for all baby things that I buy: They must be foldable and washable. This bouncer is the only one I have found that folds up completely flat, and the entire cover removes for washing! It was a lifesaver when my son was born and we lived in a Manhattan apartment smaller than many suburban living rooms. An added bonus is that it doesn't look like the ugly, plastic kids crap most people associate with bouncers. Because, as my favorite baby guru Pamela Druckerman says in her book French Parents Don't Give In, baby-proofing should not be "your dominant interior design motif".
The bouncer reclines in three positions which makes it fairly versatile for different ages. It even reverses to become a small toddler chair, which I didn't find particularly useful as my son was quickly too large for the chair. One of the two drawbacks that I found was that it can be quite tricky to master the mechanism that controls the recline and fold of the bouncer. Also it doesn't come cheap. Depending on the fabric that you choose it can range from $150-$200, which is a huge investment for something that is going to be puked on and covered in applesauce.
An interesting feature of this chair is that it is completely controlled by the baby. There is no on-off switch or automated feature. The bouncing happens only when the baby fidgets. While my daughter is perfectly content to be gently bounced by her own movements, my son never quite took to the bouncer.
For further entertainment you can purchase a toy bar separately. It can be expensive, for an already expensive bouncer. They run from approximately $50-$60 and aren't super exciting.
Another issue I have with the bouncer is the size adjustment. There are two different button holes to buckle in the baby. Compare this to many bouncers that have sliding adjustable straps. Also, the buttons themselves are harder to use than a buckle.

Difference Between BabyBjorn Bouncer Bliss and Bouncer Balance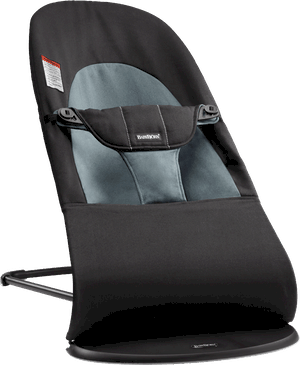 The BabyBjorn Bouncer Bliss is the newer model, but has the same basic design and functionality as the older Bouncer Balance. Both models are foldable, can be set to three different angles (upright, slight incline, and near-flat), and have a removable machine-washable fabric. The key differences between the models are:
Fabric: The Bouncer Bliss comes in either quilted cotton, or quick-drying mesh. The Bouncer Balance comes in soft cotton, "snuggly" cotton (jersey), or quick-drying mesh.
Coloring and aesthetics: The Bouncer Bliss comes in solid colors, and the frame materials look visually "softer". The Bouncer Balance comes in color pairings (such as Black-Gray), and the frame is basically the same as the Bliss' but is slightly less visually appealing.
| | |
| --- | --- |
| Open | Folded |
| 2.6′ l x 1.3′ w x 1.8′ h | 2.6′ l x 1.3′ w x 0.3′ h |
PROS
CONS
-Folds completely flat
-Stylish
-Washable
-Requires some practice to fold
-Expensive
The BabyBjorn Bouncer Bliss can be bought on Amazon or at BabyBjorn's website.
---
This review was written by the Things That Fold editorial team. We purchased this product online and have been personally using it for at least one month prior to writing this review. Our review is based in part on our experiences, as well as additional research we did online.
Our website uses affiliate links, meaning that if you click on a hyperlink, we may receive a commission for referring you to the seller's website. As Amazon Associates, we earn from qualifying purchases. Any prices and availability shown are based on time of publication and may subsequently change.
Product images on this page are taken from the product's official website or from the product page of an official sales channel.