Disclosure: Things That Fold earns commission from links on our site.

(5 / 5)
Not Worth It
Meh
Good
Highly Recommended
Life Changing
Be prepared to find out who your real friends are – when you have your kid buckled into this tiny seat, plan on getting plenty of judgmental stares from busybodies who think your kid isn't in a car seat at all! This game-changing car seat folds up to the size of small laptop. It's super-portable, super-easy to install and can fit in a purse. It's super-fast installation makes it perfect for taxis.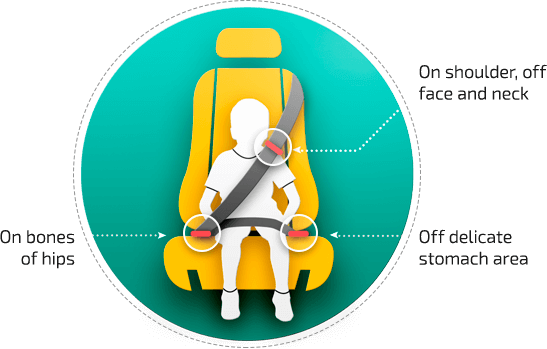 As a non-car-owning New Yorker, taxis are sometimes a necessity. And to take a taxi, I have to bring my own car seat. That's why I really needed a car seat that I can fold up and carry in my purse. And when you are carrying a diaper bag, a purse, groceries and who knows what else, that car seat better be light!
I found the MiFold car seat, which came to market only a few years ago, and I don't know what I would do without it. It takes about ten seconds to install in a car once you get the hang of it. I can now easily get to areas with my son that don't have convenient public transportation. I just put this 3 lb car seat in a handbag and call an Uber. It has saved me so much hassle, I don't even know how parents in the city get by without it.
Price
Speaking of Uber, don't even start with me on the $10/ride car seat fee in an Uber. If one is even available (good luck), the affordable Mifold has already paid for itself within 3 rides. Given that carseats can cost hundreds of dollars, I'm more than happy to shell out $30 for this. I even spent an extra $15 for a (washable!) carrying case.
Bonus Features
A cute feature is that the Mifold has a little pocket to store the instructions directly inside of the carseat. Since this seems to be designed for carpools and generally moving from one car to the next it's nice to know that directions are easily on hand for babysitters/grandparents/etc.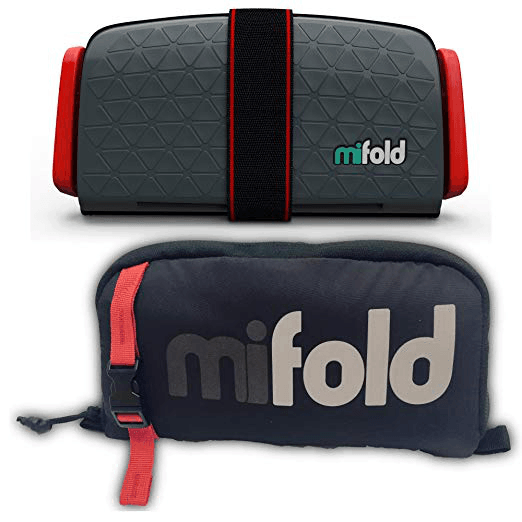 Another nice touch is that you can purchase the Mifold in an array of colors. It's always nice to have something that doesn't scream "my decor is determined by my children".
After a few tries, you should be able to install it in about 10 seconds.
| | |
| --- | --- |
| Open | Folded |
| 13″ l x 13″ x 1″ h | 7″ l x 13″ w x 1″ h |
Pros
Cons
-Folds extremely small
-Lightweight (3 lbs)
-Fast installation
-Affordable
-Innovative design

-Requires some practice
-Doesn't feel as protective as a regular car seat
-Only for older kids
-Not easy to clean


The MiFold can be purchased on Amazon and on the MiFold website.
---
This review was written by the Things That Fold editorial team. We purchased this product online and have been personally using it for at least one month prior to writing this review. Our review is based in part on our experiences, as well as additional research we did online.
Our website uses affiliate links, meaning that if you click on a hyperlink, we may receive a commission for referring you to the seller's website. As Amazon Associates, we earn from qualifying purchases. Any prices and availability shown are based on time of publication and may subsequently change.
Product images on this page are taken from the product's official website or from the product page of an official sales channel.