Disclosure: Things That Fold earns commission from links on our site.

(4 / 5)
Not Worth It
Meh
Good
Highly Recommended
Life Changing
This mini crib was great for my son's first two and a half years.  It feels sturdy and actually furniture-like, if such a term exists.  I appreciated that it had a decent amount of space underneath so I could store things.  It comes with wheels that you can choose to put on or leave off, making it ideal to move around as needed.  It is simple to fold, although with my aching back (I swear having a baby made me age five years!) made that a task more often delegated to my husband. Best of all, it was $100 – a relatively good price for a crib!
The crib comes with a 1″ thick mattress pad. Unfolding the crib is fairly quick; you have to remove the mattress pad, unhook and pull up the mattress support, and slide the legs together. The crib folds to a width of 6″, and is easy to roll into place, as it comes with removable wheels and weighs only 35 lb.
How to Fold and Unfold the Portable Crib
Folding and opening the crib usually takes about 5 seconds. There is a simple latch that hooks to the side of the crib. To fold, you pull the latch over to the side, pull the mattress support up, and then slide the legs together. Unfolding just requires you to pull apart the legs, drop the mattress support onto its supporting pegs, and then slide the latch back into place.
Adjustable Height Makes It Good for Infants and Young Toddlers
The mattress support can go on either the higher or lower pegs to set the height. The higher setting lasted us until 8 months when our baby was able to start standing up on his own. At two and a half, we switched to the larger Babyletto Maki Full Size Folding Crib when our son outgrew the crib's length (it is 3 ¼ feet long). Adjusting to a different height does not require any special tools; you just choose on which set of pegs to rest the mattress support.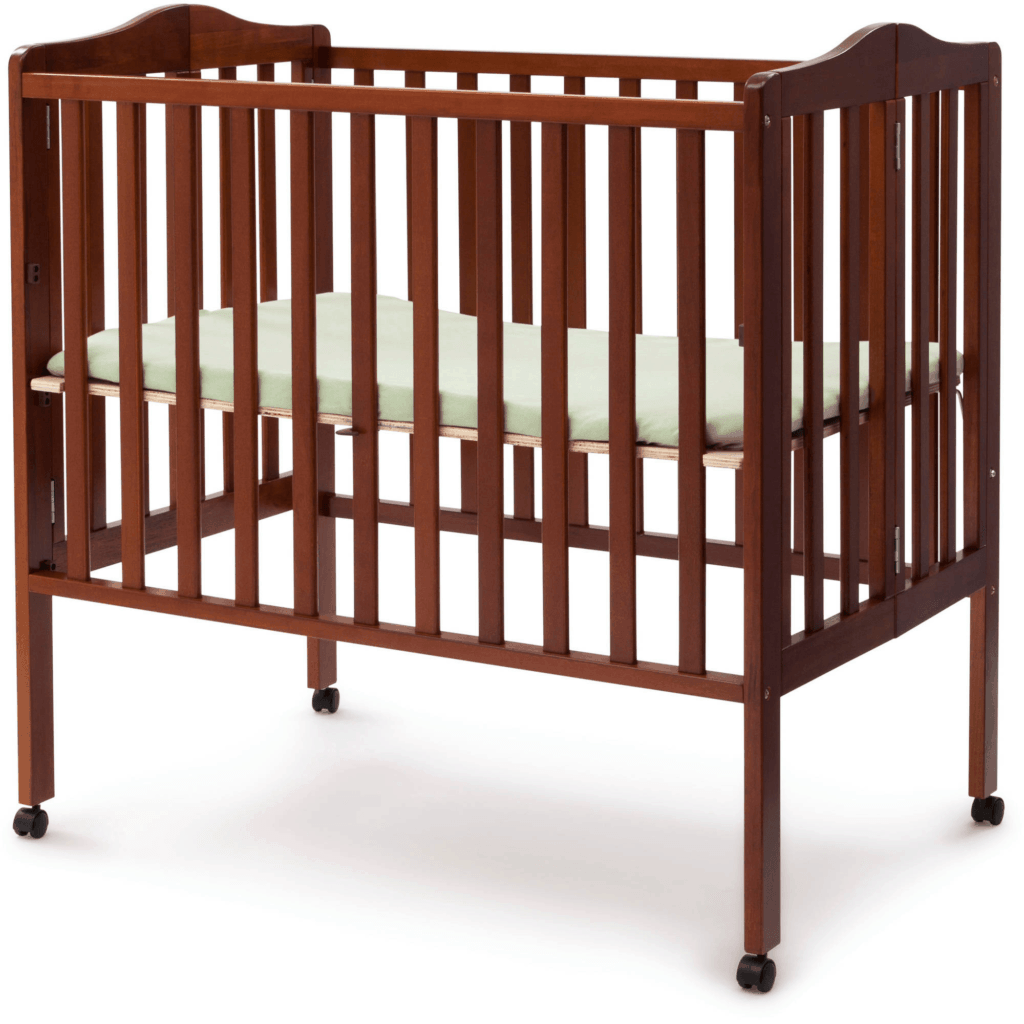 Color Choices
It comes in a few colors; we chose white for our nursery. It has a classic style that blended in with everything else in the room. Aside from White, the other color choices were Gray, Brown, Cherry, and Natural.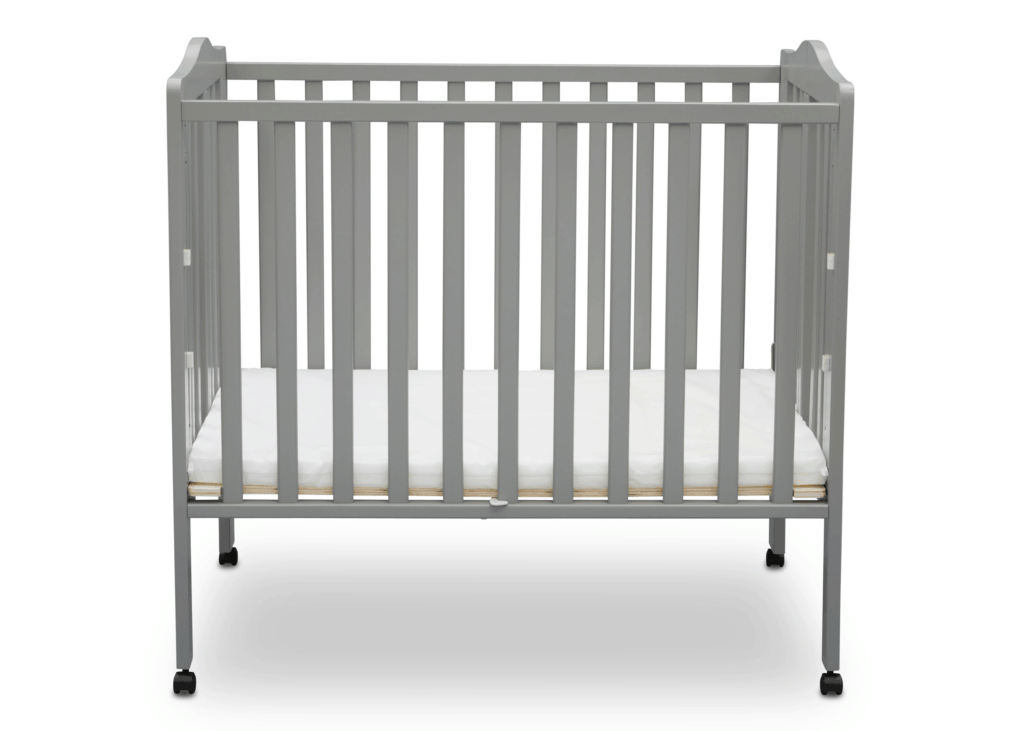 Assembly
Assembling the crib took about an hour, and requires two people to assemble it (one person needs to hold the crib as the other person connects the parts). It took a few minutes to figure out what goes where, but for the most part assembling the crib was doable. There are only a few pieces to the crib, and aside from a Phillips screwdriver (and optionally also a Flat Head screwdriver for the barrel nuts) no special tools are required. Once it's all assembled, you will be able to fold/unfold the crib, remove the wheels, and adjust the height without having to use any tools.
Who It's Ideal For
The crib is lightweight and easy to fold up, so is ideal if you think you will need to move it a lot. However, it is not a full sized crib, so that limits it to infants and young toddlers. It is ideal for:
Infants and young toddlers under 3 feet tall
Spaces that require the crib to be moved often
Grandparents' house (or anywhere else baby might stay temporarily)
Pros
Cons
-Affordable
-Optional wheels
-Classic style
-Sturdy
-Comes with mattress
-Good until about age 2 ½ (has two height settings)
-Space underneath for storage
-Does not come pre-assembled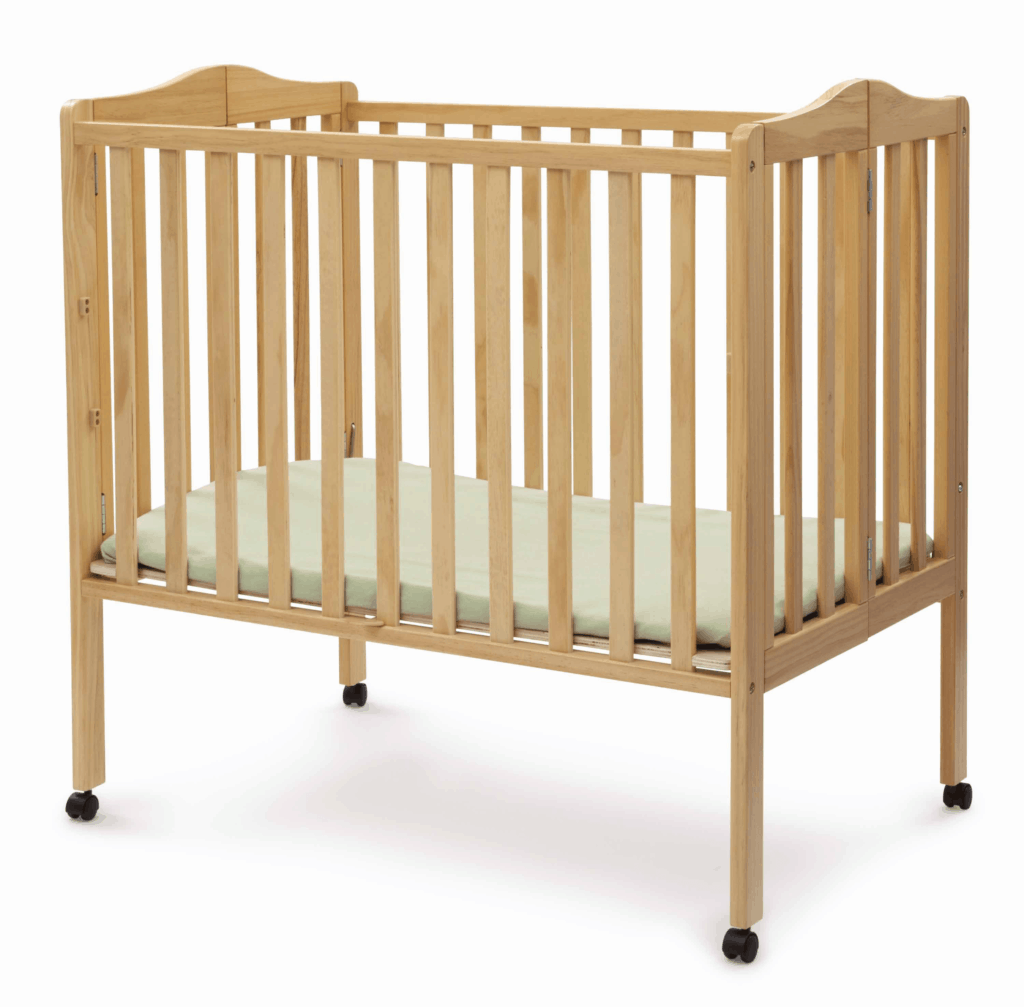 | | |
| --- | --- |
| Open | Folded |
| 39″ l x 25″ w x 37.25″ h | 39″ l x 6″ w x 37.25″ h |
[The Delta portable mini crib can be bought on Amazon]
---
This review was written by the Things That Fold editorial team. We purchased this product online and have been personally using it for at least one month prior to writing this review. Our review is based in part on our experiences, as well as additional research we did online.
Our website uses affiliate links, meaning that if you click on a hyperlink, we may receive a commission for referring you to the seller's website. As Amazon Associates, we earn from qualifying purchases. Any prices and availability shown are based on time of publication and may subsequently change.
Product images on this page are taken from the product's official website or from the product page of an official sales channel.