Disclosure: Things That Fold earns commission from links on our site.

(4 / 5)
Not Worth It
Meh
Good
Highly Recommended
Life Changing
So if you have read anything at all on this website you know how much I hate the idea of baby clutter taking over my life. I can't stand having to schlep an overloaded diaper bag just for a quick trip to the park down the street. Babies are hard enough, dealing with all of their gear should decrease your stress, not add to your stress. Thankfully Skip Hop makes this compact diaper tote that gets the job done with minimal hassle.

Although I tend to focus on function over style, this is one of the few baby products that doesn't make me feel like a my entire identity is wrapped in motherhood. My changing station is white with grey chevron, but there are loads of other non-boring patterns. I'm totally in love with the on-trend gray feather pattern, which wasn't available when I bought mine a few years ago. Other options include various shades of gray and even a watercolor option.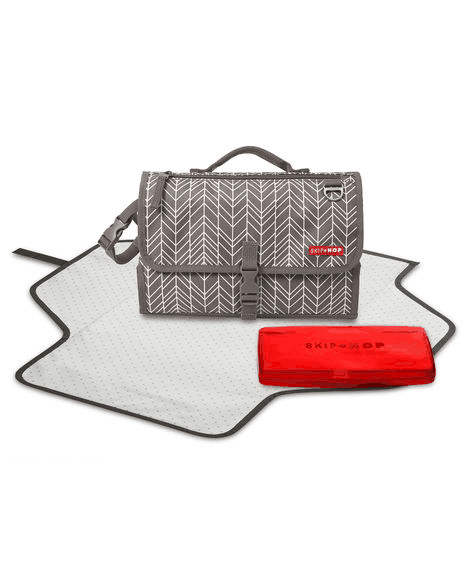 The changing station folds up into a convenient, compact wristlet yet still has plenty of space to stash the basics – a couple of diapers, some wipes, and one or two other small objects. I personally keep a mini hand sanitizer in mine. On occasion I've even managed to squeeze in a spare onesie for the inevitable outfit-ruining disaster. There is a convenient outside pocket which can be useful for keys and a cell phone. This isn't a full-day excursion type bag, but it is enough for most quick errands. I ended up using this for most outings but when need be I just tossed this as-is into my regular diaper bag.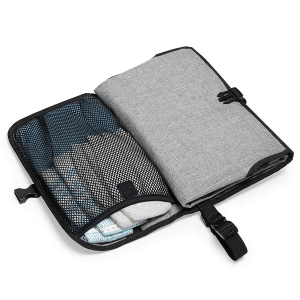 It was also nice to be able to discreetly slip this relatively small wristlet out of my bulky diaper bag when going off to change a diaper in a restaurant bathroom or a crowded venue. No one needs to schlep a squirming baby with a dirty diaper AND a fully-loaded diaper bag, which is also usually hard to find a spot for in a public restroom. I'm waiting for the day when public restroom designers put bag hooks next to changing tables – but clearly we haven't reached that stage of advancement yet.

When it is completely folded up it is 8.25 by 11.75 inches. It claims to be 4 inches thick (according to the Skip Hop website) but if you pack light you can easily make it thinner. The changing mat itself opens up to 23.5 inches by 21.75 inches, which was plenty of space to contain a squirmy baby. It is wider near the arms, giving your baby some space to wiggle around a bit. The whole changing station weighs about 12 ounces. Even with a couple of diapers and a few wipes, I found it to be mercifully lightweight.

One sacrifice that you do make with it being so compact is that the mat itself isn't so cushiony. The head area has a light amount of cushion but the rest is totally flat. It isn't ideal to use on hard surfaces. You can detach the mat part from the rest of the clutch but because of the lack of cushion I never ended up using that feature. Maybe it's useful to remove the mat and use the station only as a diaper bag when your kid reaches the age that they can stand up for a diaper change.

Another plus to this changing mat is that it is wipeable. If you've ever changed a diaper you understand the value of wipeable. Enough said. And fun fact: a study found 92 out of 100 public changing tables to have traces of cocaine. The researchers looked at changing tables in stores, hospitals, and churches. The takeaway here is that kids who touch public changing tables and then put their hands in their mouths, as babies often do, could be ingesting traces of cocaine, and cocaine users probably ingest a decent amount of baby poop. So wipe BOTH SIDES of your changing mat, as well as anything that touches a public changing table. Especially if it's your baby that touches the table. And umm, maybe consider the good old mirrored compact instead of a changing table if cocaine is your thing.

Speaking of wipes, the Skip Hop comes with an included wipes case. While it did hold a good sized stack of wipes (the exact amount varies by brand of wipes) the case was totally useless. I couldn't get it to stay closed, which made all of the wipes dry out. A quick peruse of user reviews shows that I'm not the only one who had this issue.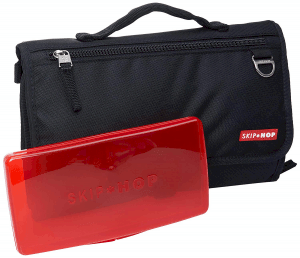 At first I tried using a rubber band to hold it closed but it wasn't tight enough and the rubber band made it hard to do a one-handed diaper change. In the end I used a different wipes pouch (the one that came with the wipes). The one that I ended up using also had the added benefit of being flexible, which made the whole bag even more compact. I did, however, appreciate that the included wipes holder is translucent so that you can easily see when you need to refill.

One feature that I found particularly useful was the wrist strap. It is wide and sturdy and has a buckle that allows you to attach it to the stroller or baby carrier. You can even hang it from a hook in a public restroom. Once your kid gets to the age where throwing things out of a stroller is an option, the wrist strap becomes even more of a lifesaver.

The changing station currently retails for $30. A little pricey for a changing mat but not a splurge. And I have seen the price drop as low as $20. Either way, I think it was worth the cost. It survived kid #1 in excellent condition and I plan to use it again for kid #2.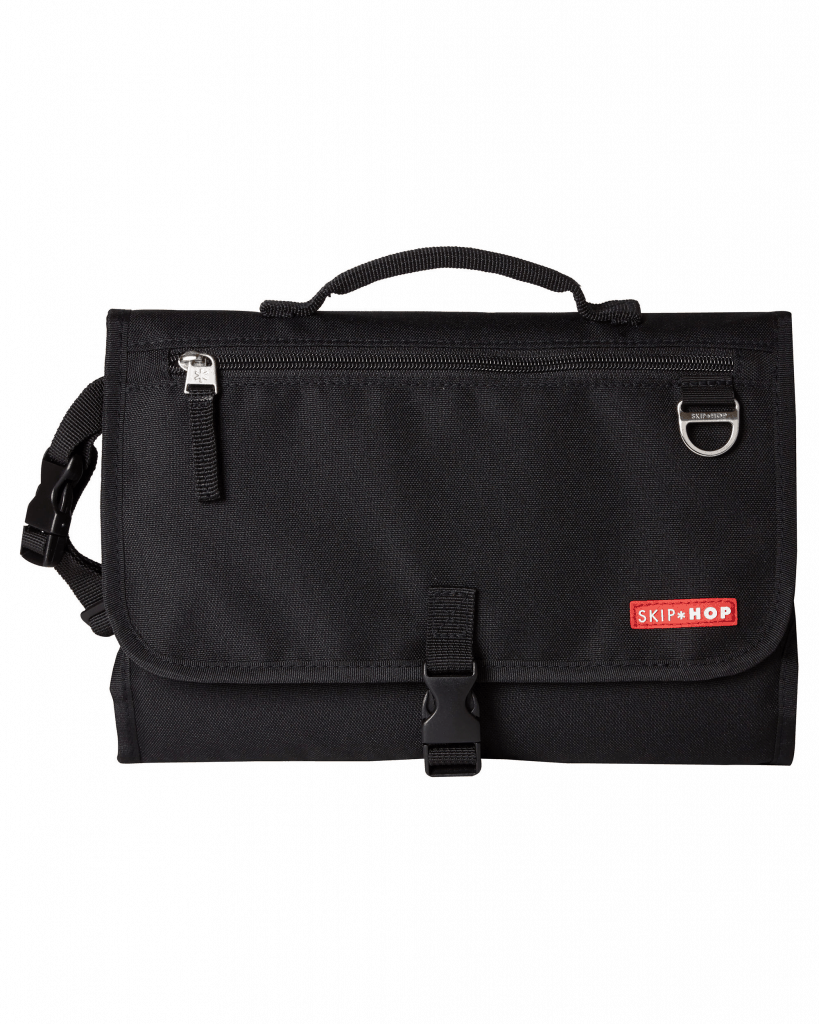 Pros
Cons
-Stylish design
-Compact
-Wipes clean
-Clip to attach to things
-Durable

-Included wipes case is low quality
-Not cushioned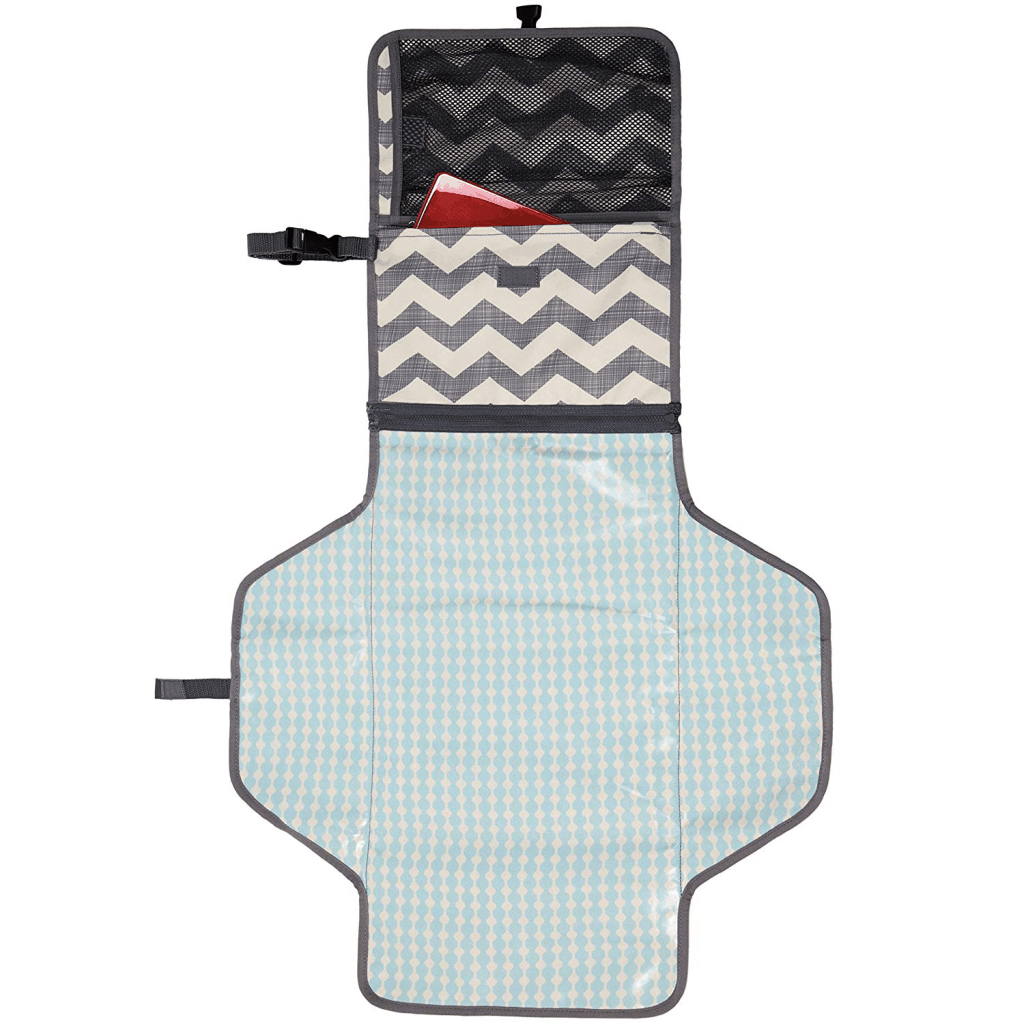 | | |
| --- | --- |
| Open | Folded |
| 23.5″ l x 21.75″ w x 0.25″ h | 11.75″ l x 8.25″ w x 4″ h |
[The Diaper Tote can be purchased at Skip Hop or at Amazon]
---
This review was written by the Things That Fold editorial team. We purchased this product online and have been personally using it for at least one month prior to writing this review. Our review is based in part on our experiences, as well as additional research we did online.
Our website uses affiliate links, meaning that if you click on a hyperlink, we may receive a commission for referring you to the seller's website. As Amazon Associates, we earn from qualifying purchases. Any prices and availability shown are based on time of publication and may subsequently change.
Our website uses affiliate links, meaning that if you click on a hyperlink, we may receive a commission for referring you to the seller's website. As Amazon Associates, we earn from qualifying purchases. Any prices and availability shown are based on time of publication and may subsequently change.