Disclosure: Things That Fold earns commission from links on our site.

(5 / 5)
Not Worth It
Meh
Good
Highly Recommended
Life Changing
If you are like most people, you probably don't use a warming tray all that often. I know I use mine once a week, and even that is more than the average holiday/special occasion hosting these things are commonly used for. This means that for a good part of the time this appliance needs to be stored away. And nothing is more frustrating than devoting more storage space than necessary to a rarely-used item.

Surprisingly, I've found this to be super helpful when travelling. Want to heat up some food in your hotel room? Not sure what will be available for a long weekend on a remote farm? Yup, this thing is perfect.

[The HotMat can be purchased through the HotMat website, Amazon, and Walmart]
So I do admit that this warming tray is a bit pricey. Stay with me here, because I've been through several warming trays. Lesson learned after buying a cheap $30 piece of junk that broke after two uses.

Now, I did manage to break my first HotMat. It was my fault as I covered it in tin foil to keep it clean but didn't leave enough space for the hot air to escape underneath. The bottom melted onto my countertop. Yet when I contacted the company they were super helpful and they even sent me TWO – yes TWO- free HotMats as a replacement. (Their customer service was fantastic as well- I sent out an email at 9 in the evening and heard back from the company within 45 minutes.)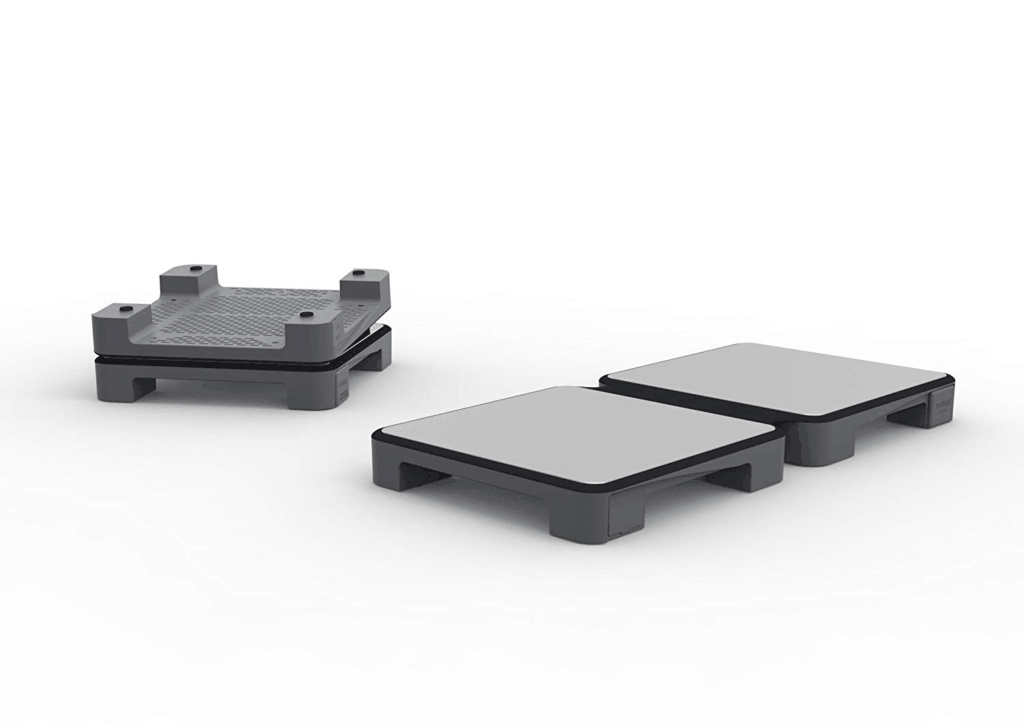 There are a few more unique features of the HotMat. This is the first warming tray I've ever seen that has two color options – red and grey. Also it is designed to be able to connect multiple units together, which is pretty clever. I also like the extreme space saving nature of the design. Other warming trays sometimes have a rim around the edge or some buttons that stick out. The HotMat keeps all of the controls neatly hidden in the unit itself.

Speaking of controls, it offers two temperature levels. I find that it heats up quickly and evenly, but it does take a long time to cool completely. And when you are finished you can literally FOLD IT IN HALF. Totally genius. It even stands up on its side to make a footprint the size of a thicker cookbook.

You Can Plug a Bunch of HotMats Together to Share a Power Outlet (Up to 5)
Pros
Cons
-Excellent customer service
-Innovative design

-Expensive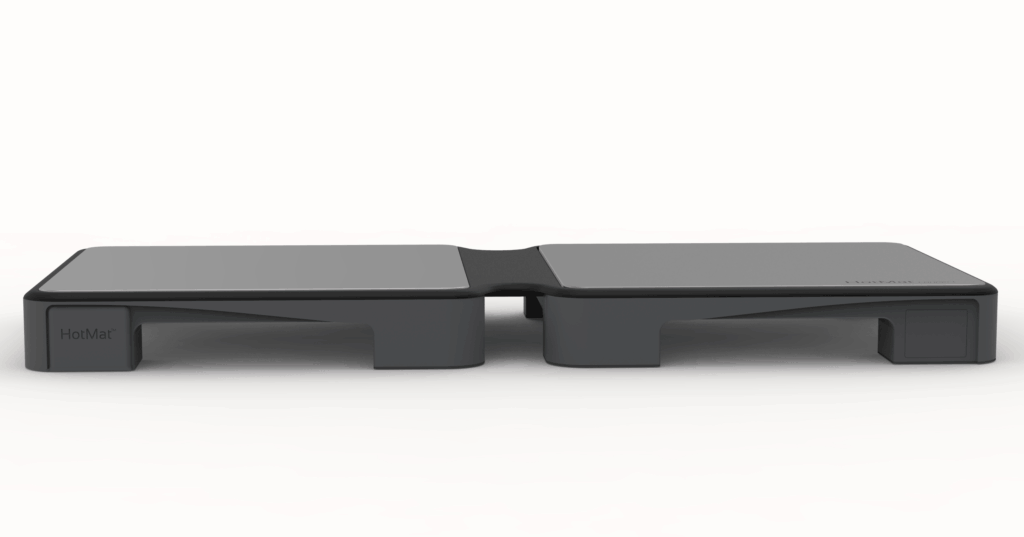 | | |
| --- | --- |
| Open | Folded |
| 19.3″ l x 9″ w x 1.6″ h | 9.3″ l x 9.1″ w x 4″ h |
Where To Buy
The HotMat can be purchased on Amazon, Walmart, or through the HotMat website.
We Would Love to Hear Your Thoughts
Have you tried the HotMat 2DISH Connect and are willing to share your opinion of it with us? Do you have a question or comment about anything in this review? Please let us know by posting in the comments below!
---
This review was written by the Things That Fold editorial team. We purchased this product online and have been personally using it for at least one month prior to writing this review. Our review is based in part on our experiences, as well as additional research we did online.
Our website uses affiliate links, meaning that if you click on a hyperlink, we may receive a commission for referring you to the seller's website. As Amazon Associates, we earn from qualifying purchases. Any prices and availability shown are based on time of publication and may subsequently change.
Product images on this page are taken from the product's official website or from the product page of an official sales channel.