Disclosure: Things That Fold earns commission from links on our site.

(4 / 5)
Not Worth It
Meh
Good
Highly Recommended
Life Changing
Steamed veggies are a big thing in our tiny apartment. I puree endless batches of carrots for the baby. For a quick snack I'll put out a bowl for my four year old to nibble on – he will eat tons of veggies provided he doesn't have to use a utensil, which I think is a small sacrifice to make. My husband and I are pretty into healthy eating, so it's rare for a meal to go by without at least one kind of vegetable.
[The OXO Silicone Steamer can be purchased on OXO's website and at Amazon]
But with two little ones it hasn't been feasible to set up my massive stockpot with a steamer, worry about them being near a hot stove, find a space to let the pot dry afterwards… you get the picture. Basically, when the baby is constantly vomiting up said carrots and the four year old is dropping peas on the floor, and your all grown up husband is trying to throw corn in the air and catch it in his mouth… well, I've become a convert to microwave steaming. Fastest possible option only please!
So I needed a microwave steamer. After my usual deep dive research I thought I would give OXO's silicone steamer a try, and I'm glad I did.
The steamer itself is larger than I expected. I needed a fairly large bowl to put it in. I assumed that it would smush up a bit to accommodate a smaller bowl, but the silicone is sturdy enough that it isn't an option. The holes are a nice size, I've never had any problems with food getting stuck or falling through. The handles hook together so you can cover the bowl with a lid, but it is hard to fit over a large batch of veggies. One caveat is that it can be a little tricky to get the handles to hook together. As an added bonus it won't scratch nonstick pots the way a metal steamer would.
So this is one of the more interesting folds we've seen in a kitchen product – it sort of rolls up and then uses one of the handles to hold it closed. There are some indented parts that seem to guide the steamer to fold in on itself but I don't think they are truly essential. It doesn't actually save a whole lot of space, it just converts into a shape that may be more conducive to, say, drawer storage or a utensil holder. You could just as easily leave it unrolled and stack it with some bowls. When it is all rolled up it is approximately 8 inches in circumference at the widest point and 11 inches long.
It has kind of a cute design that reminds me of a leaf when it rolls up. It's bright and cheery without being obnoxious.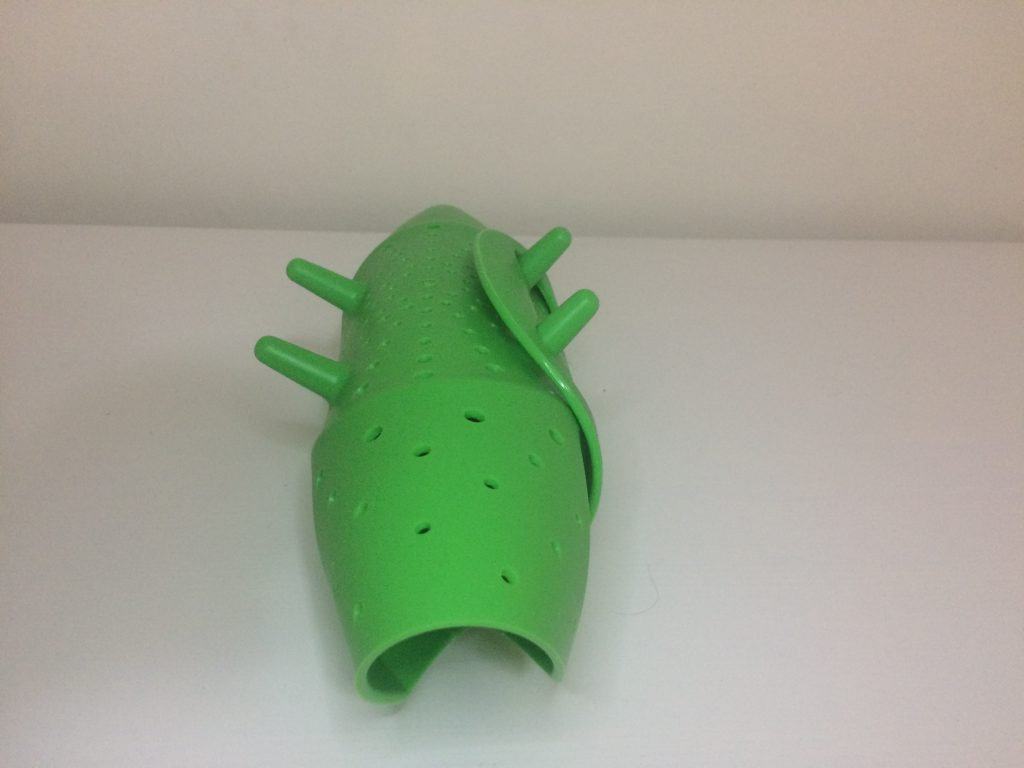 In terms of quality this has held up well to endless batches of microwave steamed veggies, as well as countless runs through the dishwasher (top rack). It doesn't feel fragile the way that some silicone kitchen implements do. It's made of a single piece of silicone so you don't have to worry about pieces coming apart. The silicone itself feels high quality when you touch it. I don't feel like the handles could rip or that the material will degrade. I haven't noticed any lingering odors like you find sometimes with plastic. In general I've been a fan of OXO's cooking utensils. I don't have space for a lot of cooking utensils so the ones that I do have get some pretty heavy usage, and everything I've gotten from OXO has stood up to repeated wear and tear.
Given that the price usually hovers around fifteen dollars but often goes on sale across retailers (bring one of those ubiquitous Bed Bath and Beyond coupons), the price is very reasonable. In fact this could be a great choice for anyone looking for a steamer, even if they don't have space constraints. And with great reviews online it seems like I'm not the only one making good use of this steamer!
Overall it is a great steamer, it just doesn't fold as small as I would hope. But for anyone who has specific storage needs, or enough space for a larger steamer, this could be a definite game changer!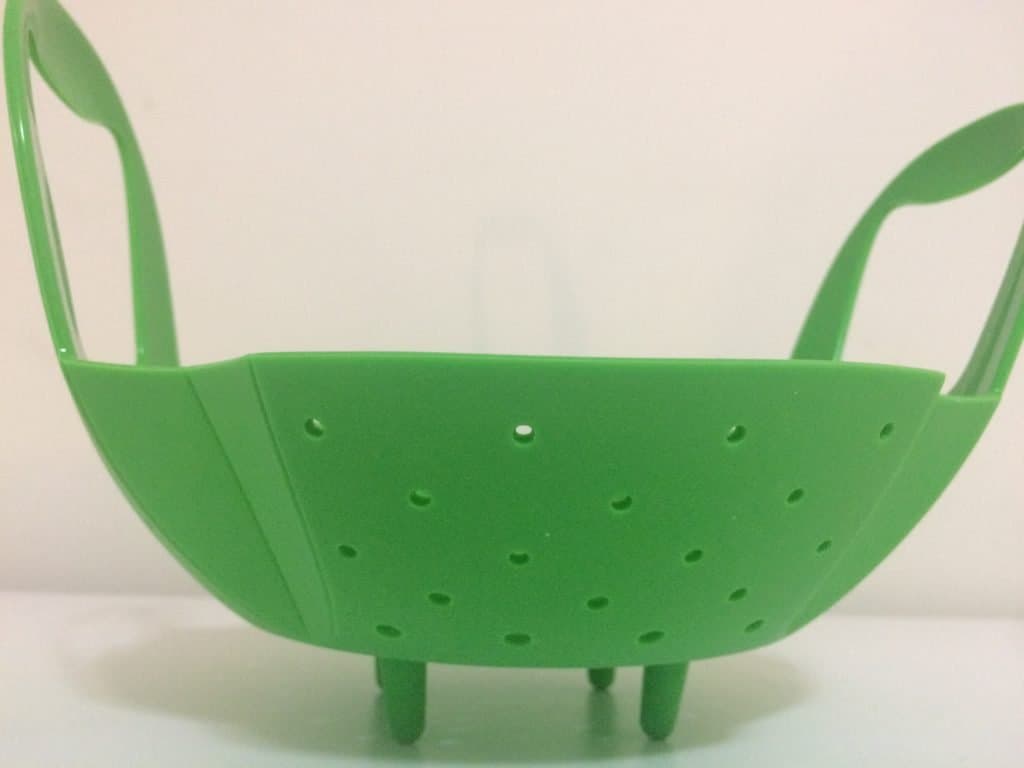 | | |
| --- | --- |
| Open | Folded |
| 9″ l x 9″ w x 7″ h | 11″ l x 4″ w x 4″ h |
---
This review was written by the Things That Fold editorial team. We purchased this product online and have been personally using it for at least one month prior to writing this review. Our review is based in part on our experiences, as well as additional research we did online.
Our website uses affiliate links, meaning that if you click on a hyperlink, we may receive a commission for referring you to the seller's website. As Amazon Associates, we earn from qualifying purchases. Any prices and availability shown are based on time of publication and may subsequently change.