Disclosure: Things That Fold earns commission from links on our site.

(1 / 5)
Not Worth It
Meh
Good
Highly Recommended
Life Changing
I think I was overly optimistic when purchasing this. It fails on three fronts: extending the life of produce, overall function, and being compact. While it did keep my lettuce perfectly crisp it grew large amounts of mold. In terms of overall function the bottom water reservoir frequently leaks or falls off. And to add insult to injury, it is not all that compact when collapsed. The container's sloped sides take up a great deal of space in the fridge. It cannot be partially opened to the amount needed. And even when folded up it is still fairly large. The top doesn't securely click shut either. If anyone wants mine it's yours for the taking!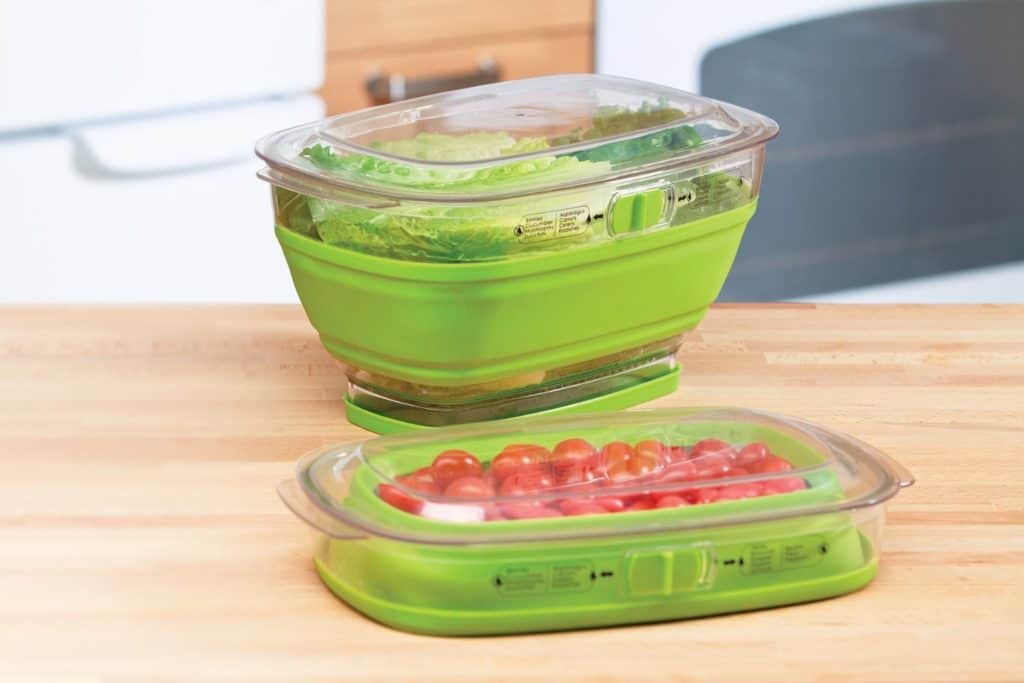 The produce keeper comes in two sizes: a four quart or two quart container.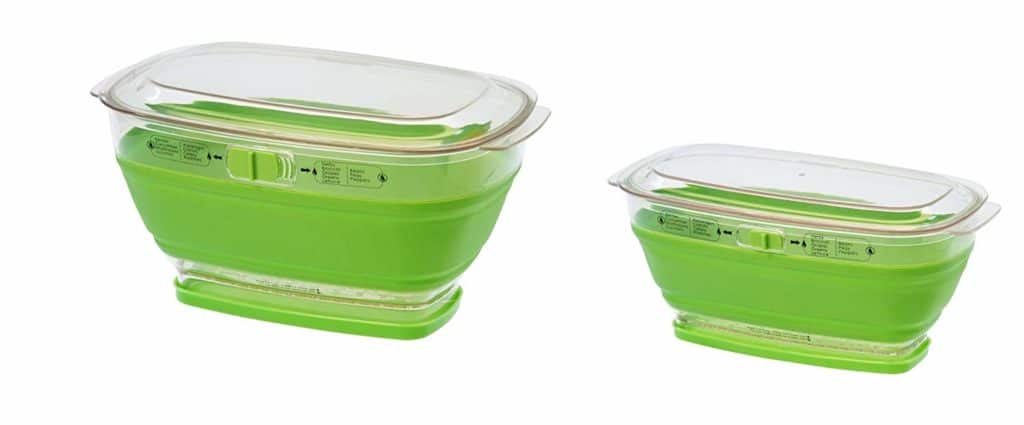 The air flow and moisture can be controlled via vents and a water reservoir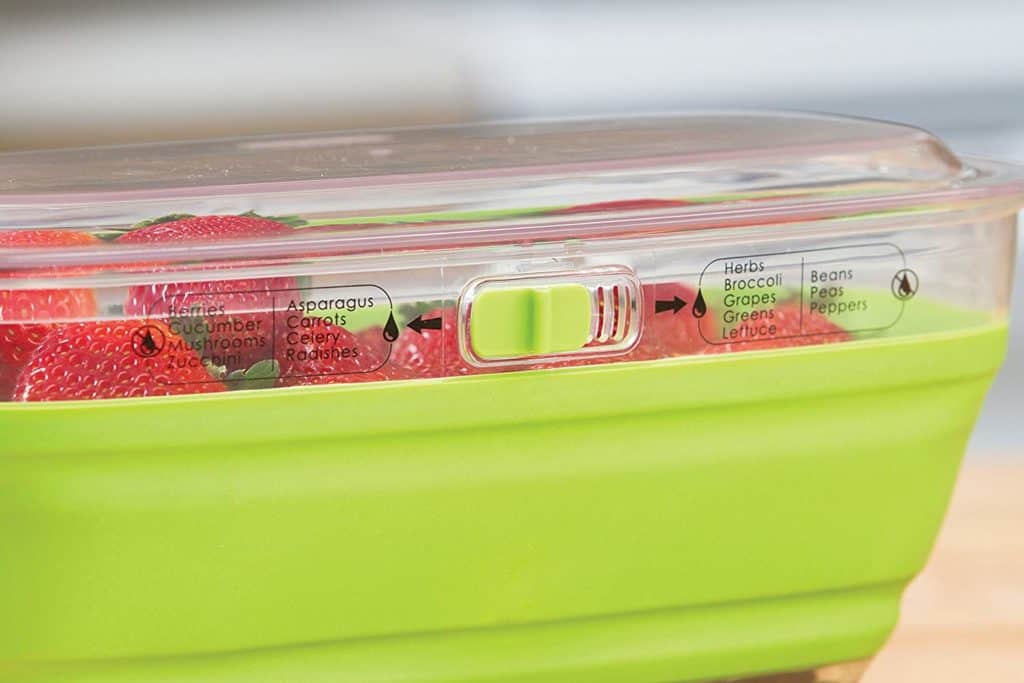 The container is also designed to be used as a colander. By removing the bottom lid, you can wash produce in the container while allowing water to flow out from the bottom. The produce keeper is also dishwasher safe.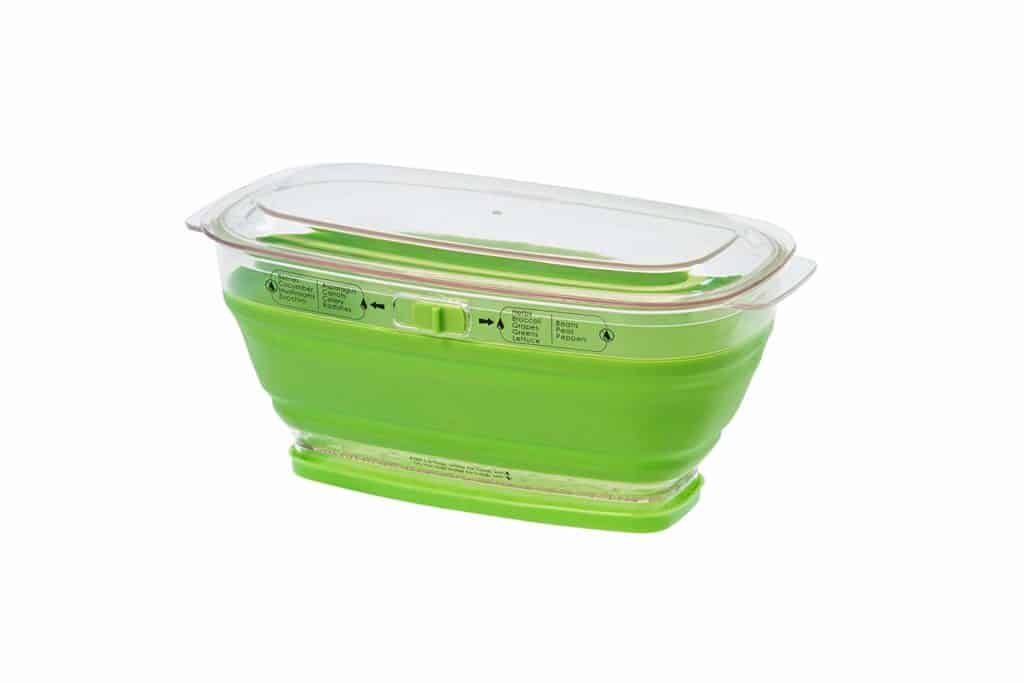 | | | |
| --- | --- | --- |
| | Open | Folded |
| 2-quart | 10″ l x 5.5″w x 4.5″ h | 10″ l x 5.5″w x 1.5″ h |
| 4-quart | 11.75″ l x 7.5″w x 5.5″ h | 11.75″ l x 7.5″w x 2.5″ h |
Pros
Cons
-Air and moisture control
-Doubles as a colander
-Dishwasher safe
-Stackable
-Clear lid lets you see contents

-Not so good at keeping produce fresh
-Not as compact as it could be
-Only two modes with no in-between
-Top does not click securely shut
-Bottom can get loose and leak
---
This review was written by the Things That Fold editorial team. We purchased this product online and have been personally using it for at least one month prior to writing this review. Our review is based in part on our experiences, as well as additional research we did online.
Our website uses affiliate links, meaning that if you click on a hyperlink, we may receive a commission for referring you to the seller's website. As Amazon Associates, we earn from qualifying purchases. Any prices and availability shown are based on time of publication and may subsequently change.
Product images on this page are taken from the product's official website or from the product page of an official sales channel.