Disclosure: Things That Fold earns commission from links on our site.

(3 / 5)
Not Worth It
Meh
Good
Highly Recommended
Life Changing
One of the annoying things about back pain is the clutter of braces, supports, cushions, heat packs, etc. that come with it.  I was increasingly frustrated with finding a place to store all of the things that no longer helped, and wished I could bring the ones I loved when I would go away for the weekend.  The BetterBack can take some time to get the hang of, and you can only use it while sitting, not walking around, but when it isn't in use it folds into itself and is fantastically portable.
How the BetterBack Works
The BetterBack is designed to improve your posture while you sit, relieving back pain and making you overall healthier. It is also designed to train you to improve your posture after 15 minutes of use per day. It can be used anytime you're sitting, whether it's in a chair by your computer or sitting cross-legged on the floor. Although it is designed to improve posture when sitting, it is also particularly useful for relieving some of the back pain associated with pregnancy. It works with the help of straps that pull your lower back forward towards your knees. You just slide the straps over your knees, and then tighten the straps to your desired length.
Once it's unpacked, you just have to slide it over your knees and then tighten the straps.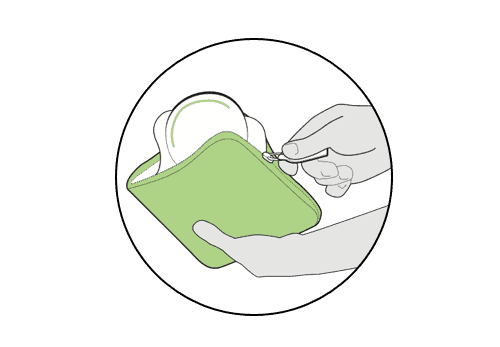 After unpacking, it takes about five seconds to put on.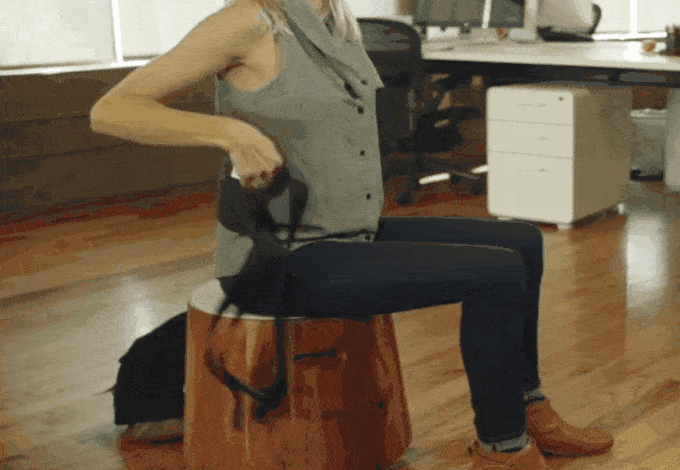 The BetterBack came out in 2015, raising $3 million between Kickstarter and Indiegogo, and then going on to Shark Tank where it received 5 investment offers from the sharks. It has since sold tens of thousands of BetterBacks, becoming a #1 bestseller on Amazon, and getting lots of positive reviews.
[The BetterBack can be purchased on BetterBack's website or Amazon]
It's worth mentioning that although it's marketed as a novel idea, the concept behind the BetterBack is over 30 years old. The BetterBack's biggest competitors are NadaChair and Verti Back, which all work essentially the exact same way. As the newest entrant to the market, the BetterBack's distinguishing features seem to be a slightly more comfortable knee support, and a more visually pleasing design. On the flip side, the NadaChair has been in the market for the longest amount of time, and has different versions of their product for kids, outdoor use, and portability. On the price scale, the BetterBack is in the middle at around $50, compared to $30 for the Verti Back and $70 for the NadaChair. All of these products are designed to relieve back pain for pregnant women, and help with general posture when sitting. They are all also capable of folding up and are fairly portable.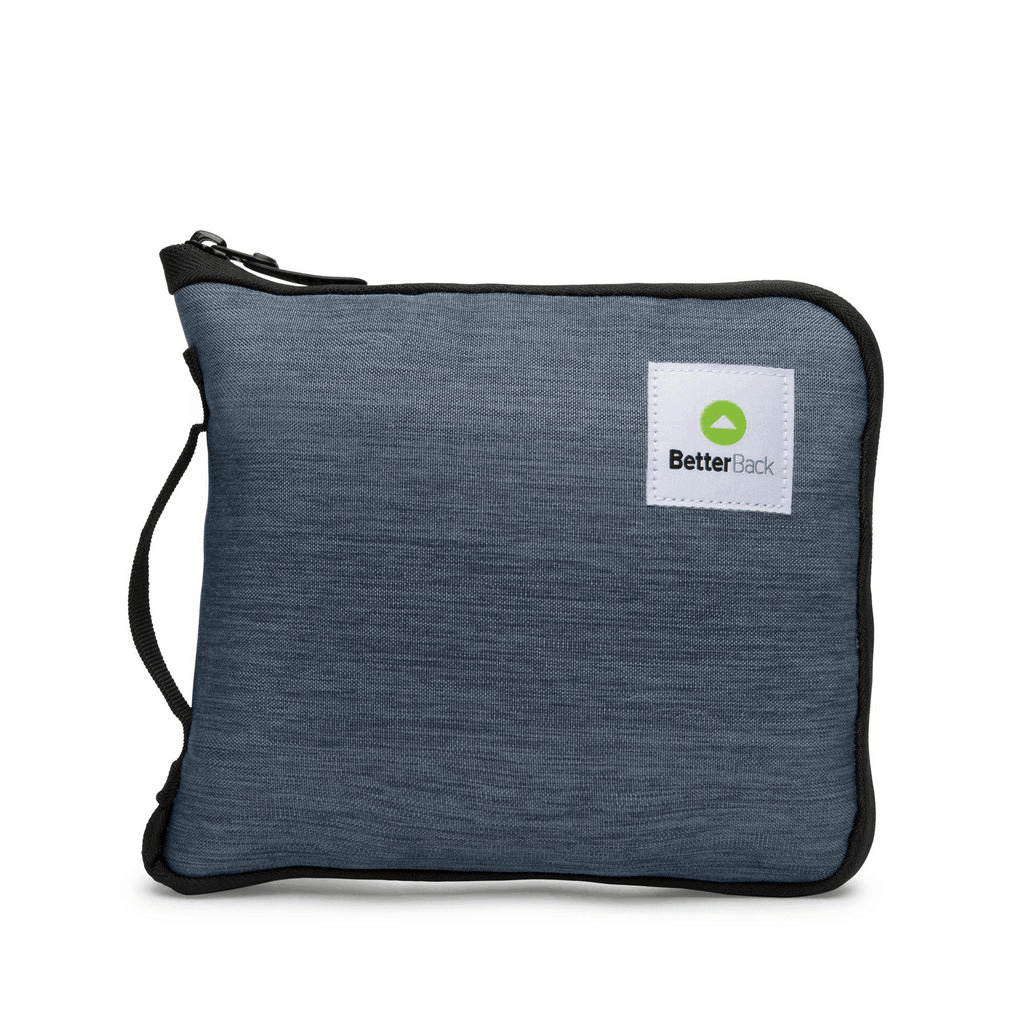 The Good and Bad
The back cushion folds in on itself, with all of the straps and buckles tucked inside, and then zips tight. Once packed, the BetterBack is extremely portable, weighing only about one pound and easily fitting in a handbag. However, one drawback of the BetterBack's rigid knee supports is that when folding the BetterBack, it can be hard to pack the supports into the cushion. I was expecting it to be a fairly simple task, but it ended up taking me about 2 minutes to get everything wrapped up and zipped in the cushion. Because of this, I often end up not taking full advantage of the BetterBack's foldable functionality, and just leaving it open. Fortunately, the BetterBack has a fairly small footprint when unfolded; the pad itself is less than an inch thick.
One thing that I don't love about the Better Back is that it isn't washable. The website says that it is spot clean only. This has forced me to become a stingy you-know-what when it comes to sharing mine – I don't want anyone's subway germs/sweat/who knows what sullying my currently pristine Better Back!

Another issue I have with the BetterBack is that it doesn't stay in place if you are prone to fidgeting. I feel like I need to frequently re-clip the middle part or adjust a twisted strap. It seems like this product is best for people who sit in a chair for long periods of time.

I purchased the version of the Better Back that came with a heating/cooling pad that tucks in to an inner pocket. It is good quality, soft and comfortable. I keep it in my freezer for when I need an ice pack but 45 seconds in the microwave and it is ready to go! It holds heat for at least 20 minutes, but I think you could make it hotter and it would last longer.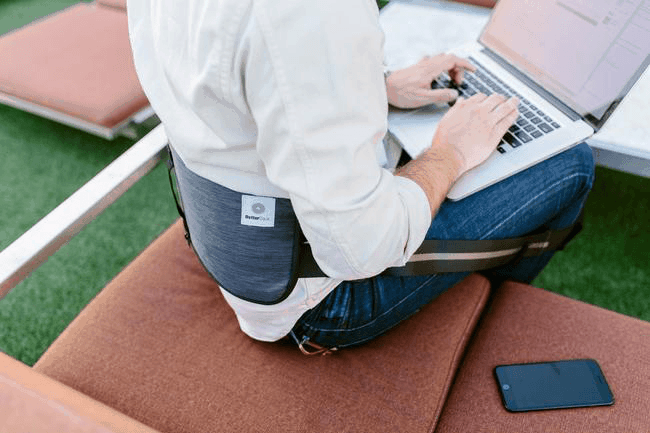 Overall, the BetterBack does what it promises, which is to improve posture and relieve back pain. If you have to spend lots of time sitting down, the BetterBack is definitely worth trying. It can be annoying at times to readjust the straps if you move around a lot, but overall it is still more comfortable than sitting without it, especially if you're prone to slouching.
| | |
| --- | --- |
| Open (cushion, excluding straps) | Folded (packed with straps) |
| 18.5″ l x 7.5″ w x 0.5″ h | 8″ l x 7″ w x 3.5″ h |
---
This review was written by the Things That Fold editorial team. We purchased this product online and have been personally using it for at least one month prior to writing this review. Our review is based in part on our experiences, as well as additional research we did online.
Our website uses affiliate links, meaning that if you click on a hyperlink, we may receive a commission for referring you to the seller's website. As Amazon Associates, we earn from qualifying purchases. Any prices and availability shown are based on time of publication and may subsequently change.
Product images on this page are taken from the product's official website or from the product page of an official sales channel.