Disclosure: Things That Fold earns commission from links on our site.

(1 / 5)
Not Worth It
Meh
Good
Highly Recommended
Life Changing
You might wonder, why review a hairbrush?  I mean a hairbrush is a hairbrush, right? Not when you have super thick, long hair that routinely makes hair stylists call for backup.  I'm a hairbrush breaker. The bristles don't pull the knots out of my hair – my hair pulls the bristles out of the brush. I've had brush handles snap off from the force I've needed to drag them through my hair.  I have yet to find a brush that I love.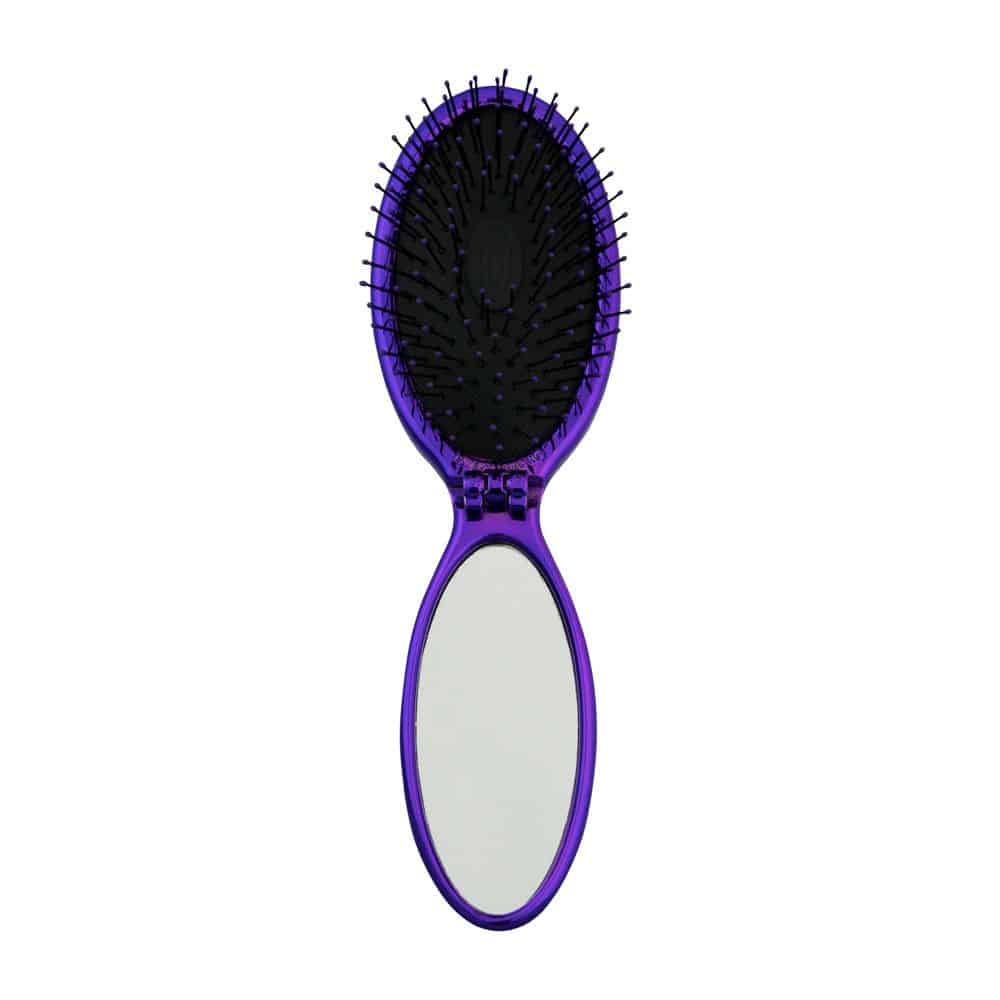 Storage and Portability
While there are plenty of smaller folding brushes out there this one feels more solid and actually brush like. A bit more heavy duty you could say. At 2.5 ounces, however, it is still light and portable.
Despite being lightweight, it is a bit larger than most folding brushes on the market. Most folding brushes are round and this is oval, which can be hard to tell from some of the pictures. Unfolded, the brush is full sized, at approximately 8 inches long. Both folded and unfolded the brush is approximately 2.25 inches wide at the widest point. When folded the brush is about 4 inches long.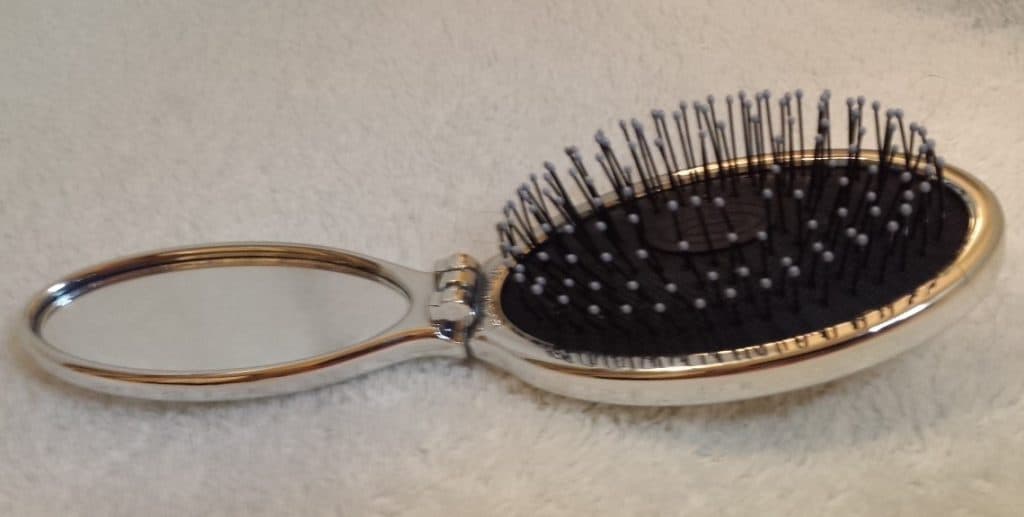 | | |
| --- | --- |
| Open | Folded |
| 8″ l x 2.25″ w x 1″ h | 4″ l x 2.25″ w x 1.4″ h |
Function
And then I tried it. After washing and towel drying my hair I tried to brush it straight. I think I may have been overly optimistic because it was a complete and total failure. The bristles were so soft, thin and bendable that they couldn't grip into my hair. They would literally bend like a blade of grass under someone's foot. It wasn't even usable.
The bristles are touted by Wet Brush's website as being special "IntelliFlex" bristles, that require less effort to detangle hair and are more gentle than normal bristles. According to their "independent clinical trials" they cause less damage to hair. From my perspective, the bristles were too gentle, even ineffective.
It worked slightly better on dry hair, but honestly I'm not sure why. This is, after all, the WET brush. Maybe this is made for some magical unicorn of a person whose hair is exactly the right thickness, with exactly the right amount of moisture.
Snark aside, although I found this brush to be a total disappointment, perhaps it would be better for people with fine hair or for kids who are sensitive to having their hair brushed.. However there must be some better option that is suited to all hair types. I'll update this post if I find one!
I was somewhat hoping that this might be the holy grail of folding hairbrushes, given the Wet Brush brand's cult following. But after reading through other online reviews, I guess I'm not the only one who doesn't see the appeal.
Features
Another disappointing feature was the brush handle. It's nice that it has a mirror but the shape is hard to grip. Especially as it might get wet (again this is the WET brush) which would make it slippery as it is completely smooth. And using a mirror as a handle is a great way to smudge it up with fingerprints.
Another problematic feature is the button that pops the bristles out. With most folding brushes you have access to the entire back of the brush head to push the bristles forward. The Wet Brush features a button on the back of the brush that is very hard to press. I found it impossible to do with one thumb but was able to do so slowly with two. I feel like this could be particularly difficult for kids, people with arthritis, elderly people, and anyone who hasn't spent countless hours playing video games to exercise their thumbs.
One positive aspect about the Wet Brush Mini Pop Fold is that it comes in some awesome colors. I got it in silver, but Target also stocks gold and rose gold. All of the colors have a sweet metallic sheen that make it stand out from your average boring brush.
Value and Verdict
I purchased my Wet Brush Pop & Go from Target for $7.99.  While this is kind of pricey for a travel hairbrush, it seems a bit sturdier than your average piece of plastic junk.  However, as this brush was completely useless for me, I can't recommend it unless you have fine hair, or maybe if you have previously had success with a standard size Wet Brush.
Where to Buy
The metallic foldable Wet Brush can be purchased at Amazon and Target. There is also a non-metallic version without a mirror that can be purchased at Amazon.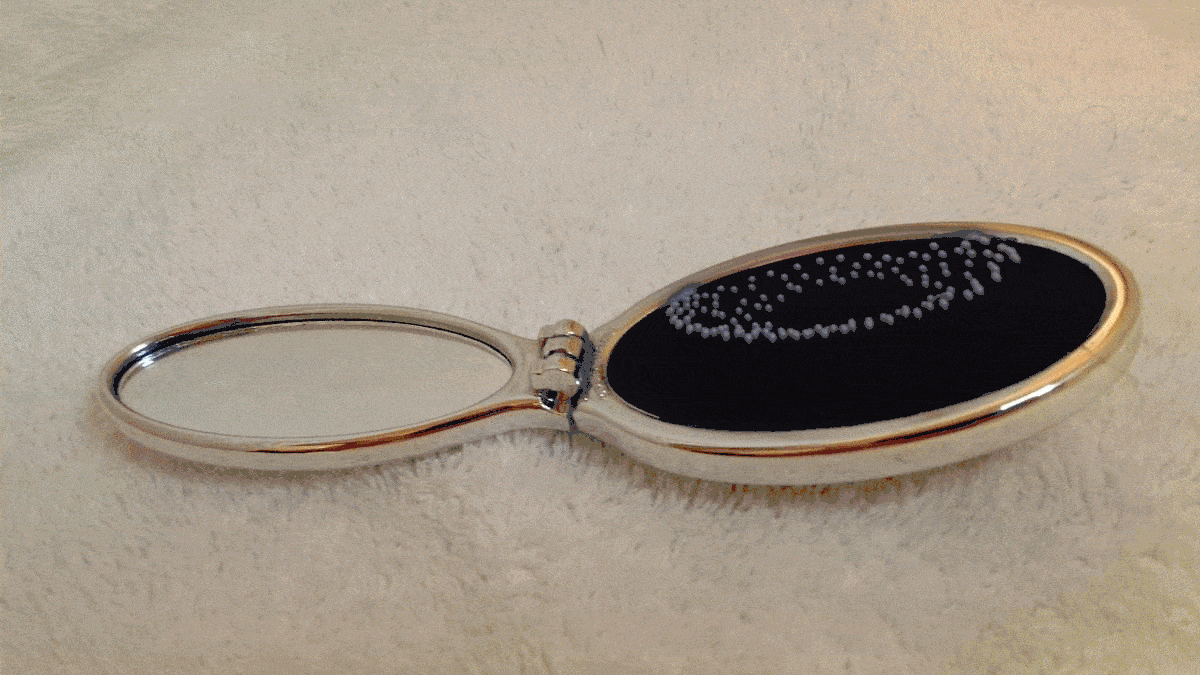 Have a Question or Comment?
Did you see anything here that you disagree with, or would like to add to? Still have a question about the Wet Brush? Want to share your experience with us? We would love to hear from you! Post your comments in the chat box below.
---
This review was written by the Things That Fold editorial team. We purchased this product online and have been personally using it for at least one month prior to writing this review. Our review is based in part on our experiences, as well as additional research we did online.
Our website uses affiliate links, meaning that if you click on a hyperlink, we may receive a commission for referring you to the seller's website. As Amazon Associates, we earn from qualifying purchases. Any prices and availability shown are based on time of publication and may subsequently change.
Product images on this page are taken from the product's official website or from the product page of an official sales channel.