Disclosure: Things That Fold earns commission from links on our site.

(5 / 5)
Not Worth It
Meh
Good
Highly Recommended
Life Changing
For those of you not yet in on the menstrual cup trend, I'll spare you the evangelizing (Better for the environment! Saves money!) found in nearly every publication marketed towards women. I admit I was a holdout as seemingly everyone ditched tampons and pads in favor of the the newest cool-girl must-have.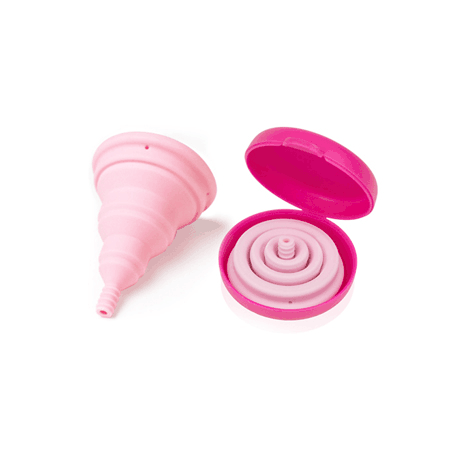 I don't remember how I first heard about the Lily Cup Compact, but it instantly made a light bulb go off in my head. Previously storing a menstrual cup meant squashing it into a cloth bag and praying that the bag didn't somehow get dirty. Because the Lily Cup Compact collapses you can store it in the easily-sanitized, discreet plastic case. It makes it much easier to keep in your purse for whenever it's needed. To give you a sense of how small the case is, it is comparable to the size of an eyeshadow compact.

The sudden ability to bring a menstrual cup with me in my purse left me with no excuse but to jump on the eco-conscious bandwagon along with seemingly every other millennial. To be honest, I'm glad I did! No more shelling out money each month for something disposable. No worries about running out of supplies. And, of course, the environment.

Now as to whether or not this is a good fit for you, well all bodies are different. And the one downside to menstrual cups is that there is no try before you buy. It does come in two sizes to reach a wider range of people, but some people have preferences towards different shapes and materials. It does cost thirty dollars for the initial investment, but if you continue using the cup it will pay for itself in a few months.

One nice feature of this cup is the material. As soon as you touch it you can tell that it isn't just some ordinary piece of plastic. The high-quality silicone feels silky smooth and soft. I don't feel like it will break, puncture or degrade.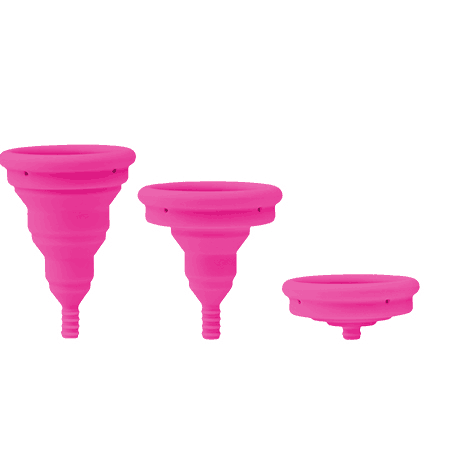 Difference between Size A and Size B
The two sizes are identical, other than that Size B is slightly wider and is recommended for women who have given birth vaginally or have a weaker pelvic floor. Other than that (and also the color) the two are exactly the same.
| | | |
| --- | --- | --- |
| Size A | 1.65″ diam | If you have not given birth, or have given birth by caesarean |
| Size B | 1.77″ diam | If you have given birth naturally, or have a weaker pelvic floor |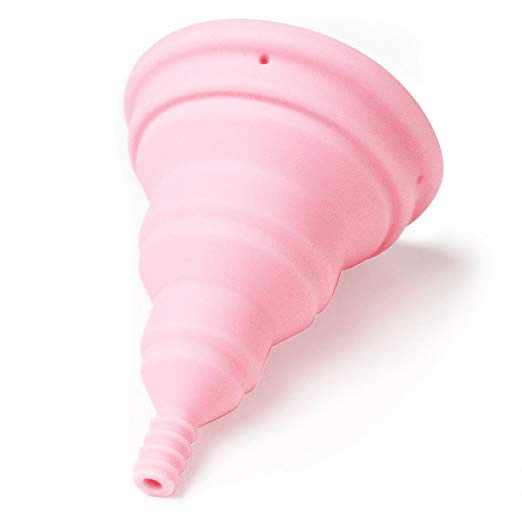 Pros
Cons
-Innovative design
-Cost effective
-High quality feel

-Learning curve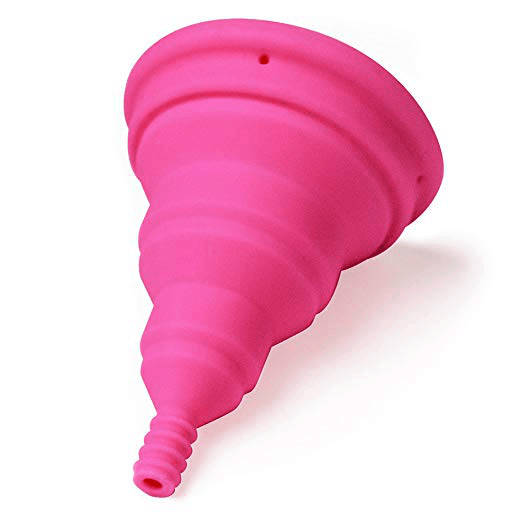 | | | |
| --- | --- | --- |
| | Open | Folded, in box |
| Size A | 2.28″ h x 1.65″ diameter | 0.65″ h x 2″ diameter |
| Size B | 2.28″ h x 1.77″ diameter | 0.65″ h x 2″ diameter |
[The Lily Cup can be purchased on Intimina's website or on Amazon]
---
This review was written by the Things That Fold editorial team. We purchased this product online and have been personally using it for at least one month prior to writing this review. Our review is based in part on our experiences, as well as additional research we did online.
Our website uses affiliate links, meaning that if you click on a hyperlink, we may receive a commission for referring you to the seller's website. As Amazon Associates, we earn from qualifying purchases. Any prices and availability shown are based on time of publication and may subsequently change.
Product images on this page are taken from the product's official website or from the product page of an official sales channel.