Disclosure: Things That Fold earns commission from links on our site.

(4 / 5)
Not Worth It
Meh
Good
Highly Recommended
Life Changing
This drying rack has proven to be essential in our tiny apartment.  It folds up unobtrusively when not in use but expands to hold quite a few items.  So far it hasn't sagged or bent under the weight of heavy blankets or wet jeans. The over the door hooks make it easy to set up and to move if need be.  My only gripe is the sharp corners that have been leaving marks on the adjacent wall. It sticks out too far for a doorstop to be useful. I suppose I could cover the edges with some kind of soft material, but I have yet to figure out how to do that without it looking sloppy.  

It's a nice bonus that it never needs to be stored somewhere, it just stays up on the door. If, however, you do need to move it from one location to the next it folds up fairly compactly and is lightweight. I wish this came in white – the metal look is a bit industrial for my otherwise classic white laundry setup, but honestly it doesn't stand out too much.

[The Homz Dying Rack can be purchased on Amazon or at Homz]
Air Flow
One pet peeve I have about some drying racks is that they don't stagger the wet laundry. It should be a common sense feature as obviously laundry doesn't dry properly when it is touching other wet laundry. The Homz drying rack provides ample space between each bar to allow air to flow through.

Material Quality
The material and construction of the drying rack seem to be a fairly high quality. Nothing comes loose and so far there have been no signs of mold or rust.

Hanging Space
I also love having my laundry far off the ground. I have a freestanding rack as well and the lower tiers are useless. You can't hang anything from them without it touching the ground. Having something that keeps laundry so far off the ground makes all of the tiers usable. You get 11 and a half feet of drying space, and all of it is actually useable.

Verdict
Overall, at only around $25, this has proved to be a fantastic purchase that has helped us make use of all of the space in our apartment.  A note of caution, however: like all over-the-door products, measure your door first to make sure that it fits (i.e. the door needs to be either 1 3/4″ or 1 3/8″ thick and preferably at least 28″ wide). The majority of bad reviews are from people who say that this didn't fit on their doors.

Pros
Cons
-Reasonable price
-Well made and designed

-Sharp corners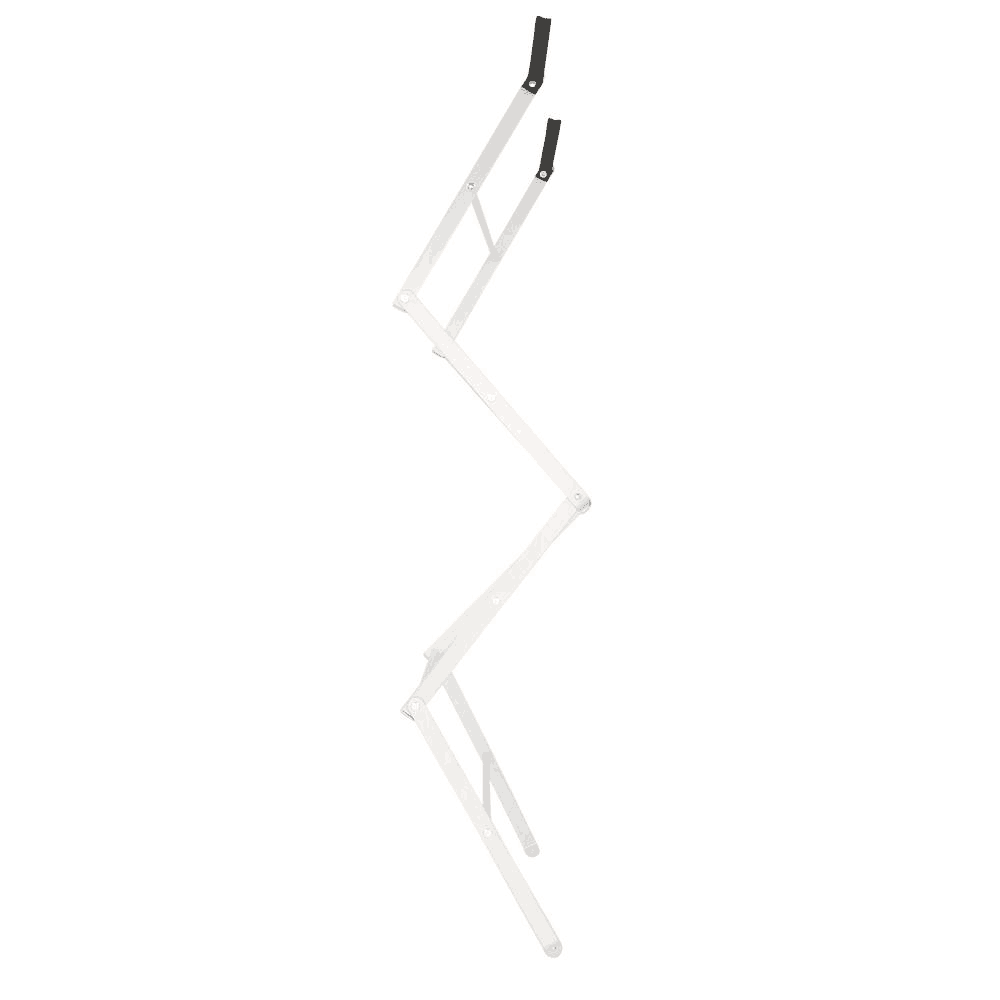 | | |
| --- | --- |
| Open | Folded |
| 39″l x 23.6″w x 8.5″h | 18.3″l x 23.6″w x 4″h |
Have a Question or Comment?
Have a question about the Homz Over-the-Door Towel Rack? Want to share your experience with us? Disagree (or agree) with anything we said? We would love to hear from you! Post your thoughts below!
---
This review was written by the Things That Fold editorial team. We purchased this product online and have been personally using it for at least one month prior to writing this review. Our review is based in part on our experiences, as well as additional research we did online.
Our website uses affiliate links, meaning that if you click on a hyperlink, we may receive a commission for referring you to the seller's website. As Amazon Associates, we earn from qualifying purchases. Any prices and availability shown are based on time of publication and may subsequently change.
Product images on this page are taken from the product's official website or from the product page of an official sales channel.