Disclosure: Things That Fold earns commission from links on our site.

(2 / 5)
Not Worth It
Meh
Good
Highly Recommended
Life Changing
[June 2019 Update: Brooks England no longer makes the Carrera, but it can still be purchased on Amazon. While you're here, check out the other folding helmets.]
As far as I can tell, this folding helmet is marketed primarily at Brooklyn hipsters. Its manner is casual yet traditional; the helmet is perhaps best sported with a mustache and a tattoo. In the words of the company that designed it, the helmet has a "bold look inspired by the former leather 'hairnet' helmets of old," combining "modern technology with traditional elegance through the application of leather details". But in spite of the genteel branding, the helmet may appeal to a broader audience due to its simplistic design and flexible construction.
A Random Cyclist's Verdict
I randomly bumped into a cyclist with a Carrera helmet and asked her what she thought about it:
"It's OK… It does the job. It was advertised as best-looking. I don't know if that's true, but it's okay. It doesn't really collapse that much. But no problems with it yet."
I have asked many other people wearing folding helmets what they thought about their helmets, and this was for sure the most negative opinion I've gotten so far.
How It's Built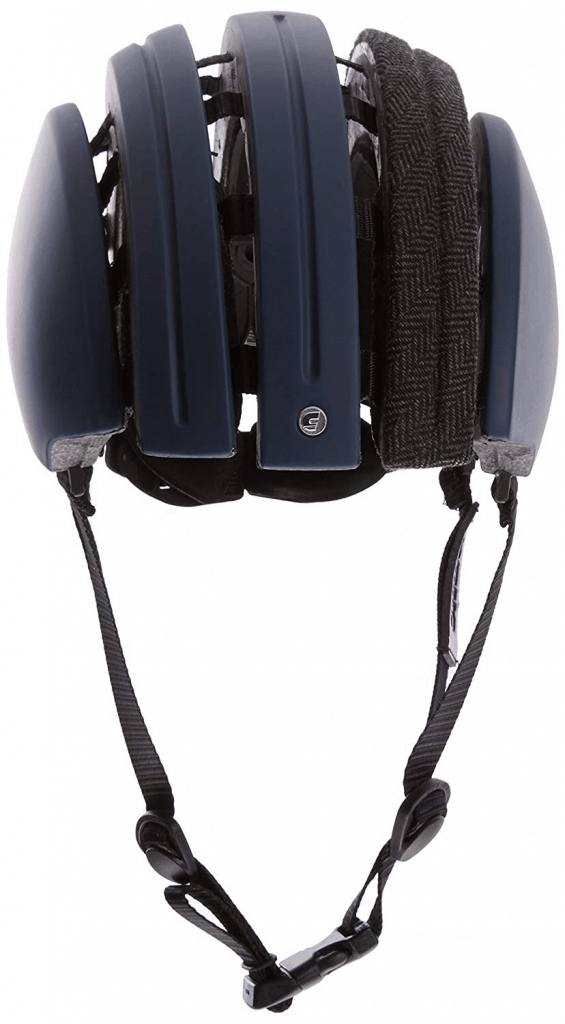 The Carrera is made from a flexible frame with a hard outer shell. The elastic fit on the inside is fairly unique, and allows the helmet to conform exactly to your head size and shape. It also prevents the Carrera from drifting around on your head as you cycle. Although this unique feature definitely takes some time to get used to, it overall results in a better fit to your head.
The elastic inner frame of the helmet automatically pushes the helmet's panels out from one another, nudging the helmet into its open position. This means that in order to keep the Carrera tightly shut, you have to somehow hold it squeezed into place (such as with the leather strap that the helmet comes with).
The Carrera does come in three sizes: S/M for head circumferences between about 21.5″ and 23″, M/L for head circumferences between about 23″ and 24″, and L/XL for head circumferences between 24″ and 25″. Between the customized sizes and the form-fitting elastic design, the Carrera should be able to fit perfectly onto your head.
Making the helmet so it has gaps between the panels allows the Carrera to trim off some weight. It weighs about 0.7 lb, which is slightly lighter than average. The combination of elastic design and light weight makes the Carrera a fairly comfortable and natural-feeling helmet.
Leather Carrying Strap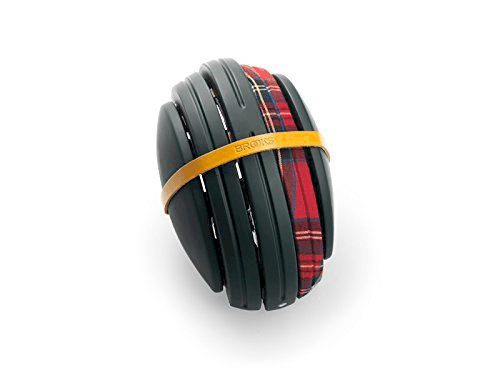 The Carrera comes with a leather strap, similar to a belt, which can be used to wrap the helmet when it's folded. As the Carrera naturally springs open a bit when you let go of it, the strap keeps the helmet folded tight.
The obvious question is then "What do you do with the strap when you're using the helmet?" to which Brooks England would respond, use it "as a trouser strap whilst riding". In other words, you can use the strap to hold up the leg of your pants when you're riding, to prevent it from getting caught in the bicycle chain.
While I admire the attempt to get a two-for-one here by finding a place for the strap while simultaneously solving the pants-chain problem, I can think of a few reasons why you wouldn't want to use the strap for this purpose. For one, that leather strap is going to get pretty dirty. Overall, I think I would just be more comfortable leaving the strap in a bag instead of having to wear it.
Color Choices
The Carrera comes in a wide range of colors and patterns. Some of the color choices come with a tartan or solid-color fabric on one of the longitudinal segments to complement the helmet's color. Overall, the helmet definitely makes more of a statement than other, more traditional, helmets.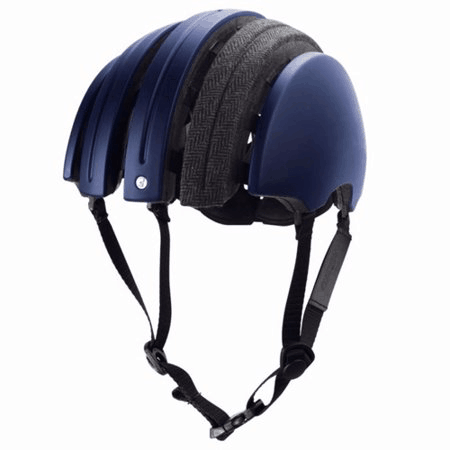 Folding and Unfolding
Folding and unfolding the Carrera is ridiculously simple. You just pull it out or squeeze it shut like an accordion. The helmet does tend to stay propped open a bit, so if you want to keep it tightly folded, you will need to use the leather strap the helmet comes with to hold the helmet together. Or, if you're shoving the helmet into a packed bag, the tight space will be enough to keep it shut.
| | |
| --- | --- |
| Time needed to open/ fold | Less than a second |
| Attention needed to fold | Minimal |
| Time/ Tries to master | None |
When folded, the helmet only loses about a third of its width compared to its open position. That's unfortunately not a huge space saving, especially compared to other folding helmets that fold down to 2.5″ in width.
Reviews
Reviews of the Carrera are mixed, but almost all of them seem focus on the aesthetics. Some people love the style, and some people hate it. Not much in-between.
I could not find any negative reviews about the quality or construction of the helmet, which in and of itself is a great testimonial.
Overall, people seemed to be satisfied with the foldability of the helmet, granting the fact that it's not a super tight fold.
Our Verdict
The Brooks England Carrera is a "stylish" and comfortable helmet that squashes down to about 67% of its width. It's not hugely compact, and even then, requires some work to keep it totally shut. However, it is a fairly lightweight and natural-feeling helmet, due to its elastic springy design. Overall, I would only recommend the Carrera if you either really want a helmet that hugs your head, or if you happened to find a Carrera design that totally speaks to you.
Pros
Cons
-Fast and simple to open/fold
-Hugs head for ideal fit
-Fairly lightweight
-Does not truly fold, only collapses a bit
-Segmented frame takes getting used to
-Polarizing style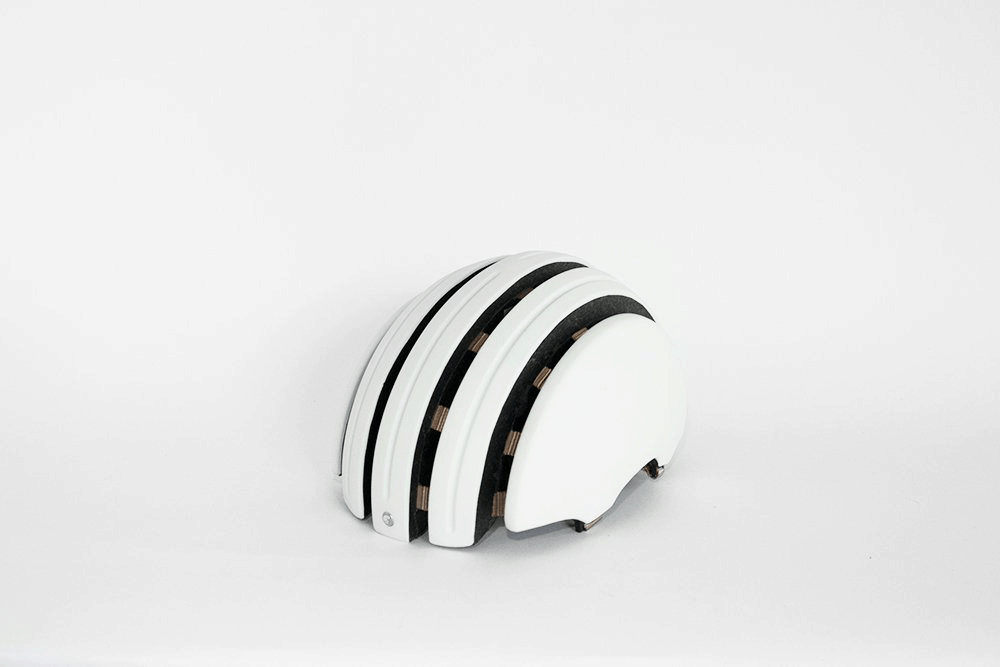 | | |
| --- | --- |
| Open | Folded |
| 15″ l x 8″ w x 9″ h | 15″ l x 5.5″ w x 9″ h |
Where to Buy
The Brooks England Carrera can be purchased on Amazon.
Have a Question or Comment?
Have a question about the Carrera folding helmet? Want to share your experience with us? Disagree (or agree) with anything we said? We would love to hear from you! Post your thoughts below!
---
This review was written by the Things That Fold editorial team. We have based our review on information we found publicly online, such as the vendor's website, online sales channels, other review sites, and news articles. We do not currently own this product.
Our website uses affiliate links, meaning that if you click on a hyperlink, we may receive a commission for referring you to the seller's website. As Amazon Associates, we earn from qualifying purchases. Any prices and availability shown are based on time of publication and may subsequently change.
Product images on this page are taken from the product's official website or from the product page of an official sales channel.