Disclosure: Things That Fold earns commission from links on our site.
About the FEND
The FEND is a sturdy, solid folding helmet whose sides collapse inwards to reduce the helmet's width by half. Launched on Kickstarter in 2016, the FEND officially started shipping in late 2018, and comes on the heels of other folding helmets such as the Morpher. The FEND started with a basic accordion design, but has since upgraded to a much more robust frame for better coverage and a nicer aesthetic. The result is a clean-looking helmet with only two moving parts, the left and right sides of the helmet.
The FEND can be bought on Amazon and on FEND's website, where it's currently selling for $119. At that price point, it is on the mid to high end of folding helmets.
Pros
Cons
-Easy to fold
-Sturdy
-Classic look
-Only folds to 4.3″ wide


Foldability
Folding and opening the FEND is fairly easy. It takes only two seconds, and when it's properly opened it latches into place to let you know it's locked. When folded, it's about 4.3″ wide, which isn't a huge space saving but is often good enough to get it to slide easily into a bag.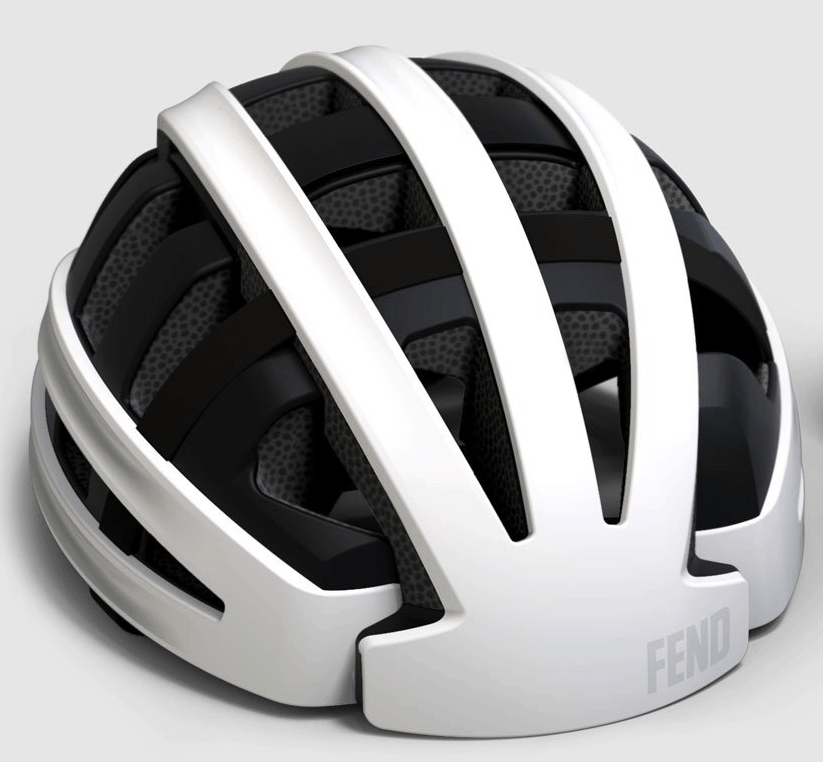 Here are the approximate dimensions:
| | |
| --- | --- |
| Open | Folded |
| 11.4″ l x 8.7″ w x 5.5″ h | 11.4″ l x 4.3″ w x 5.5″ h |
Fit
The FEND comes in two sizes: Small (21.25″ – 22″), and Medium/Large (22″ – 24″). The size is flexible as the helmet can be adjusted larger or smaller by twisting the ratchet at the back, and it also comes with additional thicker padding if you need it.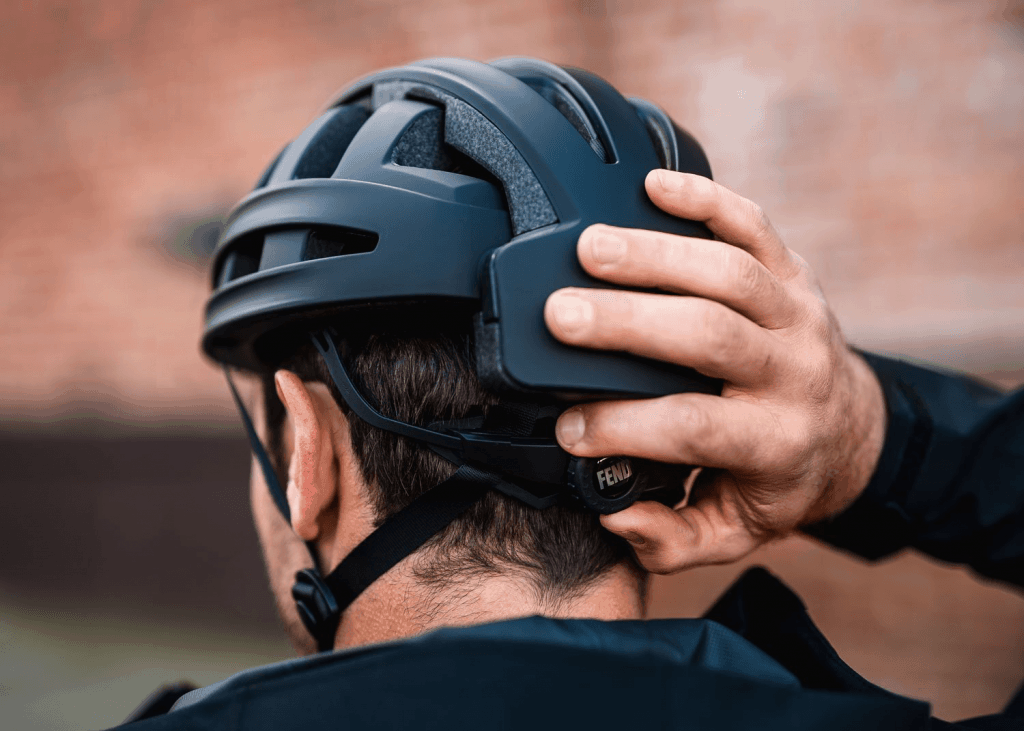 Options
The color options are currently only matte black, matte white, and matte yellow.
The FEND comes in Matte White, Matte Black, or Matte Yellow.
Reviews
The FEND has only been in the market for less than a year (as of 2019), so reviews are still scarce. So far, all we have to work with are the customer reviews on FEND's kickstarter page and FEND's website which are broadly positive.
Reviewers have so far commented that the FEND is super comfortable, stylish, and easy to use.
The FEND is decently popular for a newcomer to the folding helmet arena. We estimate it to be the 4th or 5th most popular in New York City, where we and FEND are both based. Its popularity online ranks it even higher, based on hits to our site for people searching for folding helmets.
Based on random interviews of cyclists wearing folding helmets in New York City, those who have tried the FEND love that it's so convenient.
We will update this section as we have the chance to research the helmet more.
Our Verdict
We give the FEND credit for its unique folding design. We like that it's so easy to fold, and that it clicks into place when unfolded. We also like that the helmet has a classic look.
The biggest strike against the FEND is the fact that it can't shrink that much when folded. Also, the company behind the FEND was unreachable to its customers for a while in its early days, which was a bad start. Thankfully they seem to be responding to customer feedback now.
We will continue to track the FEND and will be posting updated periodically. So check back soon to stay up-to-date!
Comparison to Other Folding Helmets
Accordion-Style Folding Helmets
Based on FEND's old product images, it looks like the original design was similar to the Cairbull Fender and Ftiier Folding Helmet, which are both significantly cheaper, at under $40.
Here is a comparison of the current design versus the original design from FEND's Kickstarter page.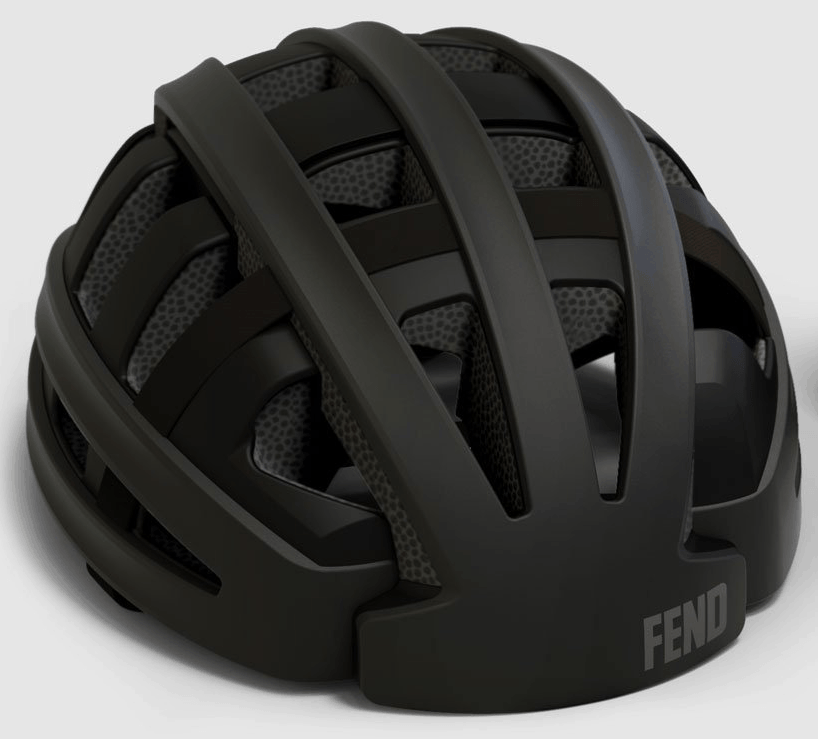 Below are the accordion-style folding helmets which you can buy for under $40.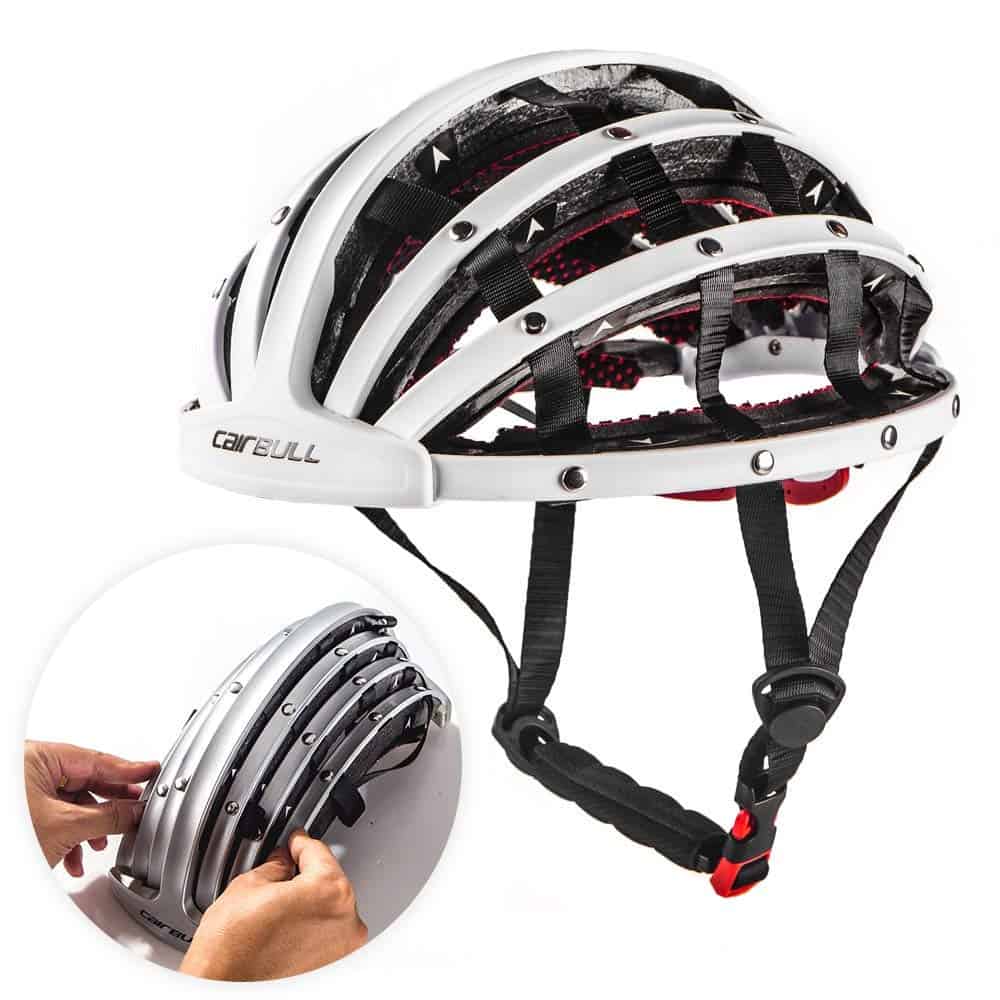 If you read our review of that helmet design, you'll know that we are not big fans of the cheap $40 folding helmet design. It's extremely fragile for something that's designed to take a hit at 14 miles per hour against a concrete surface with a head inside. For example, the padding on the inside peels off after wearing it only a few times. And more than one reviewer have complained that the longitudinal struts just break off on their own.
The FEND is more sturdy than these cheap helmet designs, so you don't have to worry about pieces breaking off.
However, the FEND is 3 times the price of one of these helmets.
In terms of foldability, they are very similar. Both the FEND and the accordion-style folding helmets fold easily, and compact down to about 4.3″.
Overall we recommend the FEND over the inexpensive accordion-style folding helmets, as we don't think those cheaper helmets are safe.
Other Folding Helmets
There are other helmets that are less expensive than the FEND, which you can find here.
Compared to other folding helmets, we think what makes the FEND special is that it looks traditional and is also easy to fold. No other folding helmet we know of offers those two features together.
Have a Question or Comment?
Have a question about the FEND? Want to share your experience with us? Disagree (or agree) with anything we said? We would love to hear from you! Post your thoughts below!
---
This review was written by the Things That Fold editorial team. We have based our review on information we found publicly online, such as the vendor's website, online sales channels, other review sites, and news articles. We do not currently own this product.
Our website uses affiliate links, meaning that if you click on a hyperlink, we may receive a commission for referring you to the seller's website. As Amazon Associates, we earn from qualifying purchases. Any prices and availability shown are based on time of publication and may subsequently change.
Product images on this page are taken from the product's official website or from the product page of an official sales channel.