[July 2022 Update: The company behind the FEND ONE just announced their new helmet, FEND SUPER, which can be backed on Kickstarter here.]
Disclosure: Things That Fold earns commission from links on our site.

(4.5 / 5)
Not Worth It
Meh
Good
Highly Recommended
Life Changing
The FEND is a sturdy, solid folding helmet whose sides collapse inwards to reduce the helmet's width by half. It has an innovative and simple design, which looks good and feels natural when you're holding it. It is attractive, well-ventilated, and easy to use, making it a solid choice for the average bike commuter.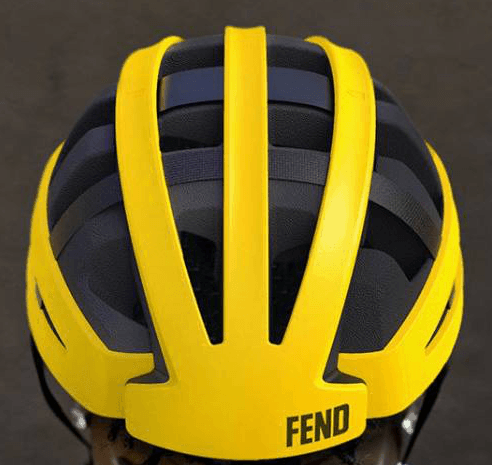 About the FEND
The story behind the FEND, as cofounder and fellow New Yorker Christian Heifner explained to us, was that he was riding his bike on the Lower East Side after work one day in 2016, without a helmet, when he was hit by a turning cab. The accident sent him over his bike's handlebars and across the roof of the taxi, landing on the other side of the car. After limping home with a bike that no longer worked, and fortunate to have not sustained any permanent injuries, Christian realized that if he couldn't find a helmet on the market that suited him, he would design his own.
The issue with so many helmets is that they're hot, bulky, and inconvenient, making you not want to wear them, so Christian decided to try and design one that didn't have those problems. About one week later, he had his first prototype, thanks to an extensive background in design and his own 3D printer. The FEND was collapsible, simple to operate, and airy.
[Check out our exclusive interview with the FEND cofounders]
That same year, FEND made its way onto Kickstarter, setting itself apart from other folding helmets with its extreme ease-of-use and breathability, and was lauded by Vogue and the Wall Street Journal. After the successful Kickstarter campaign, the company spent two years doing more prototyping and undergoing comprehensive safety testing before the first FEND helmet was finally complete in 2018.
The end result is a clean-looking helmet with only two moving parts, the left and right sides of the helmet.
In 2018, the FEND helmet won a Red Dot Design Award as well as the bronze Edison Award in Athletics, Sports & Recreation. And in 2020, it was featured on Amazon Launchpad.
The design features lots of vents, a snapping mechanism to lock the helmet open, a nice-feeling internal fit adjuster, and some new tweaks to the straps and headform based on initial user feedback. It's built with an ABS shell, in-mold polycarbonate and an EPS foam liner. The helmet comes with both a thin and thick set of padding to further customize the fit, and a high-quality carry bag sized to the helmet's dimensions.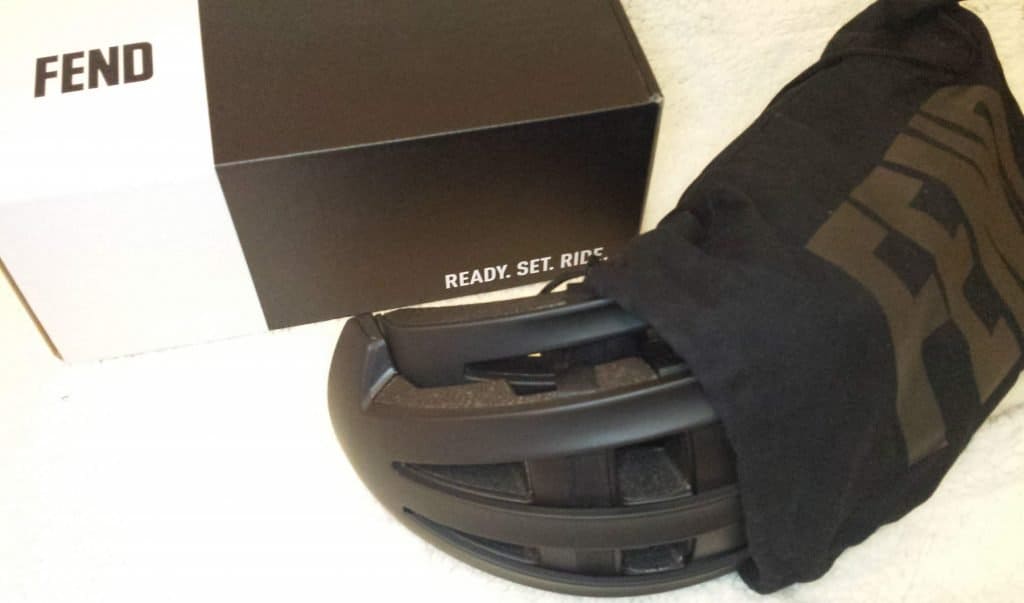 The FEND generally looks and feels good, and is thoughtfully designed and well-constructed. As soon as you pick it up, it's pretty straightforward to see how it works– the sides just pop out and lock in place. Also, the helmet has great airflow thanks to all those vents. In terms of compactness, the FEND is so-so. It really depends on where you're storing it. Overall, the FEND is great if you're looking for a cool, polished-looking helmet that happens to fold.
Recommendation
We love that the helmet feels so sturdy and well-built, and that it has a traditional, sophisticated look. We also like that it's easy to use and that it clicks into place when opened.
The only thing we didn't love about the FEND is that it doesn't fold as narrow as some other folding helmets– it's difficult to fit it into a briefcase alongside a laptop.
Overall, the aesthetics and tactile experience are great aspects of the helmet, but there were definitely times when we wished it was just half an inch smaller. Although presumably if you commute with a backpack or purse then this would not be an issue for you.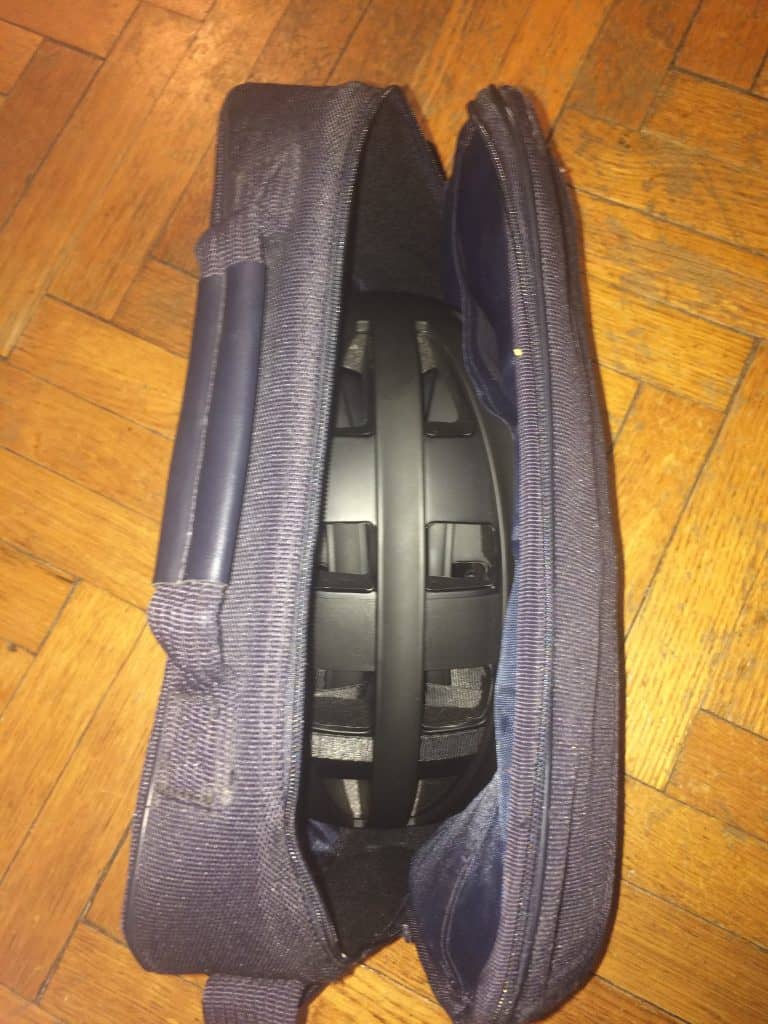 Pros
Cons
-Classic look
-Simple design
-Sturdy
-Airy
-Only folds to 4.3″ wide

Who the FEND Would Be Perfect For
The FEND is an all-around great folding helmet, with the one drawback being that it might not necessarily fit everywhere. We think it would be ideally suited for anyone who uses rideshare and doesn't necessarily need a helmet that folds ultra thin.
Foldability
Folding and opening the FEND is fairly easy. It takes only a few seconds, and when it's properly opened it latches into place to let you know it's locked.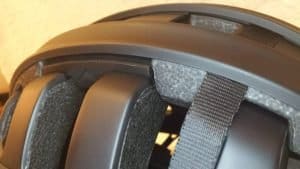 To open the helmet, just pull the sides outwards until they click into place.
To fold it, there is a plastic piece on each side of the helmet that you lift to unfasten the locking mechanism– when you buy the helmet, this part has a red sticker on it that says "Lift", which you can remove. After lifting the piece on each side of the helmet, you can then rotate the sides of the helmet inwards to tuck inside the helmet. The helmet's sides fit inside the helmet in a very specific way, so the first time you fold it, it won't be a smooth motion. But we were able to get it down almost perfectly after a few tries.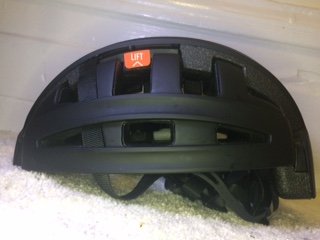 When folded, the FEND is about 4.3″ wide, which isn't a huge space saver but is often good enough to get it to slide easily into a bag or tuck under your arm.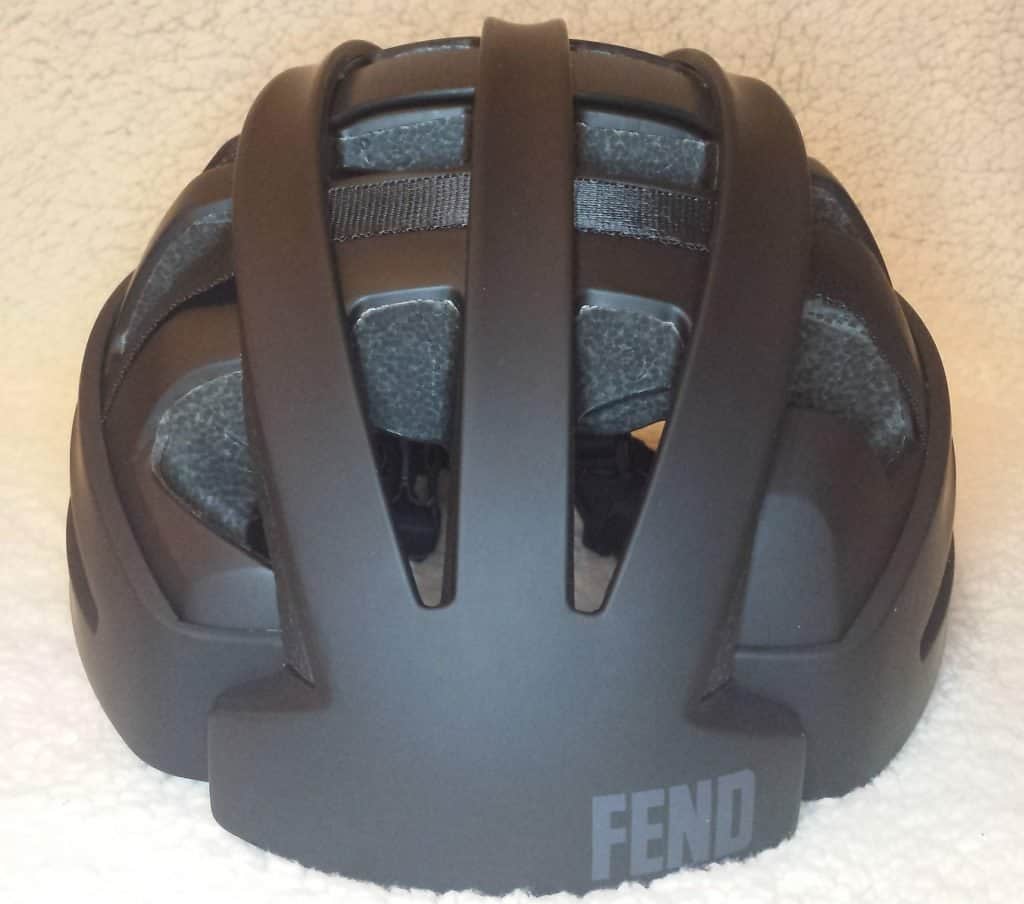 Here are the approximate dimensions:
| | |
| --- | --- |
| Open | Folded |
| 11.4″ l x 8.7″ w x 5.5″ h | 11.4″ l x 4.3″ w x 5.5″ h |
Portability
It's easy to carry the FEND by hand due to its light weight, grippability, and tendency to stay shut when folded.
Weight
The FEND weighs 400g (0.88 lb), which is a bit lighter than average for a folding helmet. When holding the helmet for the first time, most of our testers said they were surprised by how light it feels.
Stays Shut When Folded
When carrying around a folding helmet, having the helmet unexpectedly slide open on you can be mildly frustrating, so a good portable helmet should be able to stay closed. Although the FEND doesn't lock shut with a magnet like some other folding helmets do, it still stays shut for the most part– the moving parts of the helmet interlock tightly, keeping them from sliding out.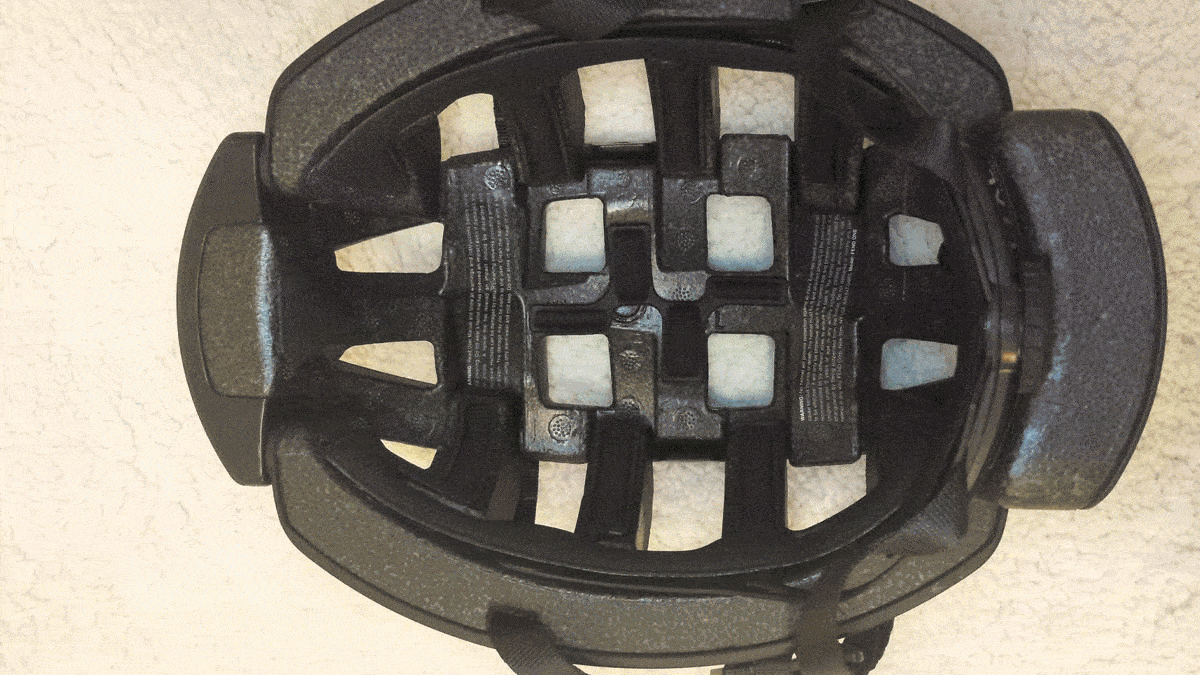 Grippable
It's really easy to carry around the helmet by hand, since it has plenty of notches and indents you can slide your fingers into. Most of our testers commented that they really like how the FEND feels in their hand– holding it feels natural.
Fit
The FEND comes in two sizes: Small (21.25″ – 22″), and Medium/Large (22″ – 24″). The size is flexible as the helmet can be adjusted larger or smaller by twisting the dial at the back, and it also comes with additional thicker padding if you need it.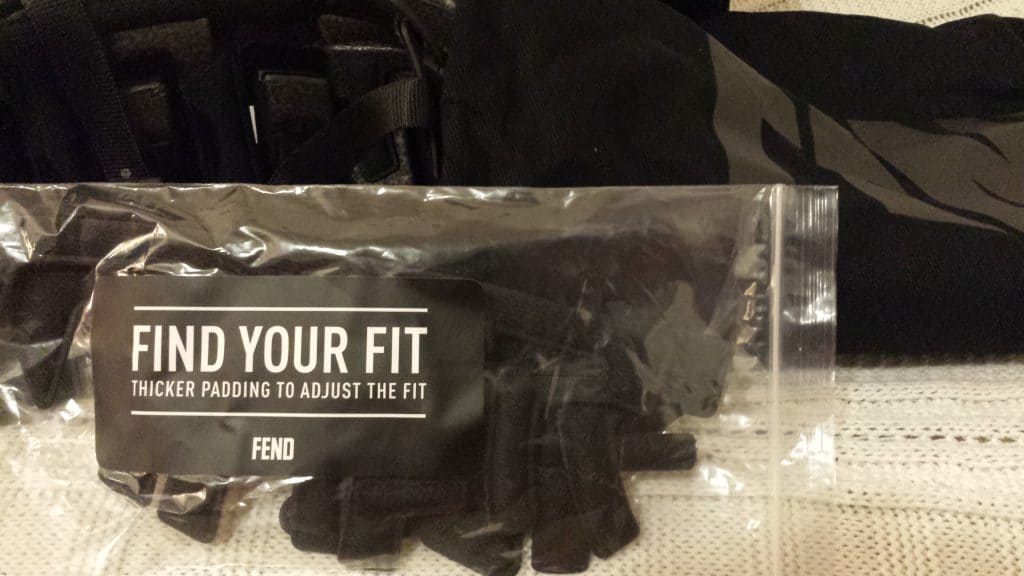 The additional thicker padding is useful if you're between sizes, or if your head's shape is different from the helmet's. Our experience was that the helmet was a bit wide on the sides, so we swapped out the padding on the sides for the thicker set and then it fit much better. Thankfully, the thicker padding does not make the helmet noticeably warmer.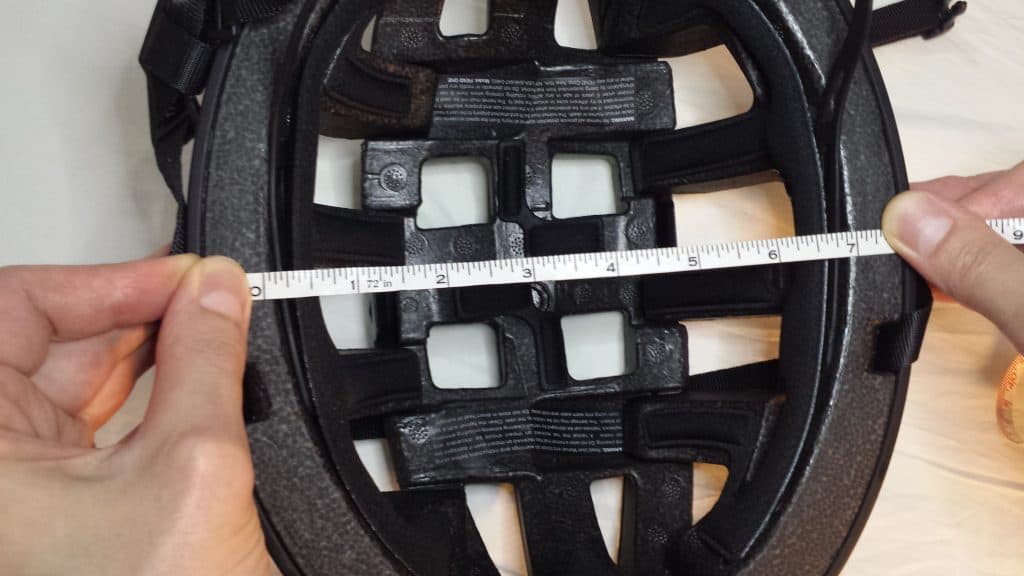 We adjusted the ratchet in the back more than we thought we would, which was actually fine because it's so quick and easy to use. Twisting the dial has a satisfying feeling. It audibly clicks as you twist it, which helps you keep track of how far you adjusted it, and gives you a little more control. If you're sharing a helmet with someone else, this dial is really fantastic.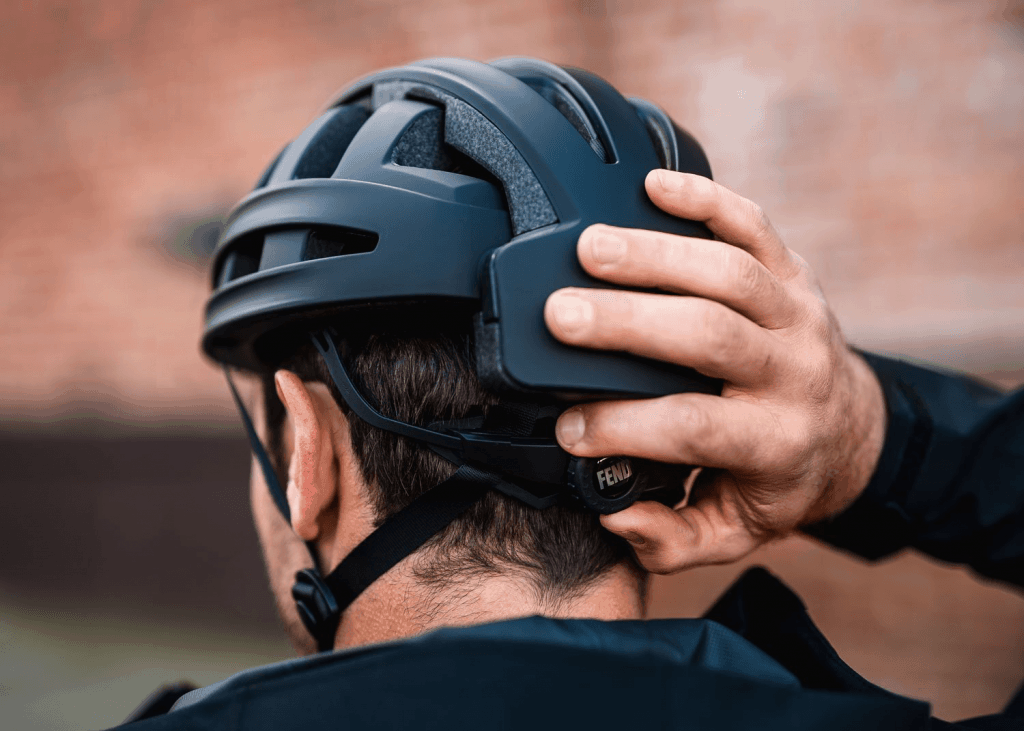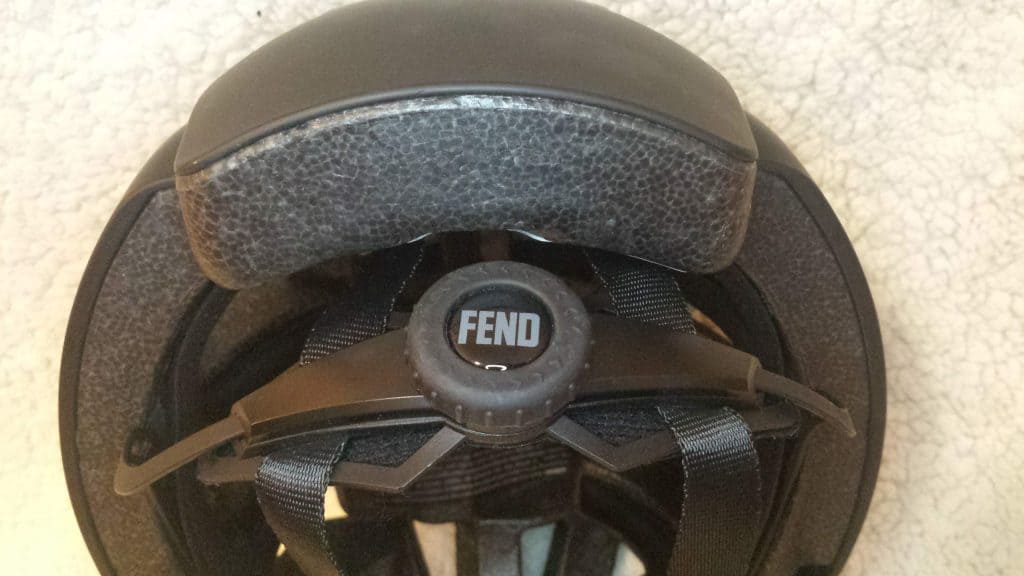 Safety
FEND's website states that the helmet exceeds US CPSC and European EN1078 bicycle safety standards.
The helmet seems to be well constructed and we felt safe using it. Although the folding mechanism involves sliding the sides of the helmet inwards, it didn't seem like this is a weak point of the helmet, as there is a plastic piece that keeps the helmet locked open. One of our more athletic testers tried applying a lot of pressure to the side of the helmet to see what would happen, and it felt firmly lodged in place. That's not exactly a scientific test, but from a layman's perspective there didn't seem to be any obvious flaws.
Style
The color options are currently only black, white, and yellow. So you can go for either a muted, traditional look, or high visibility. We didn't quite have the confidence to rock the taxicab-yellow, so we tried black, which was tastefully matte and looked very high end.
The FEND comes in Matte Black, Matte White, or Matte Yellow.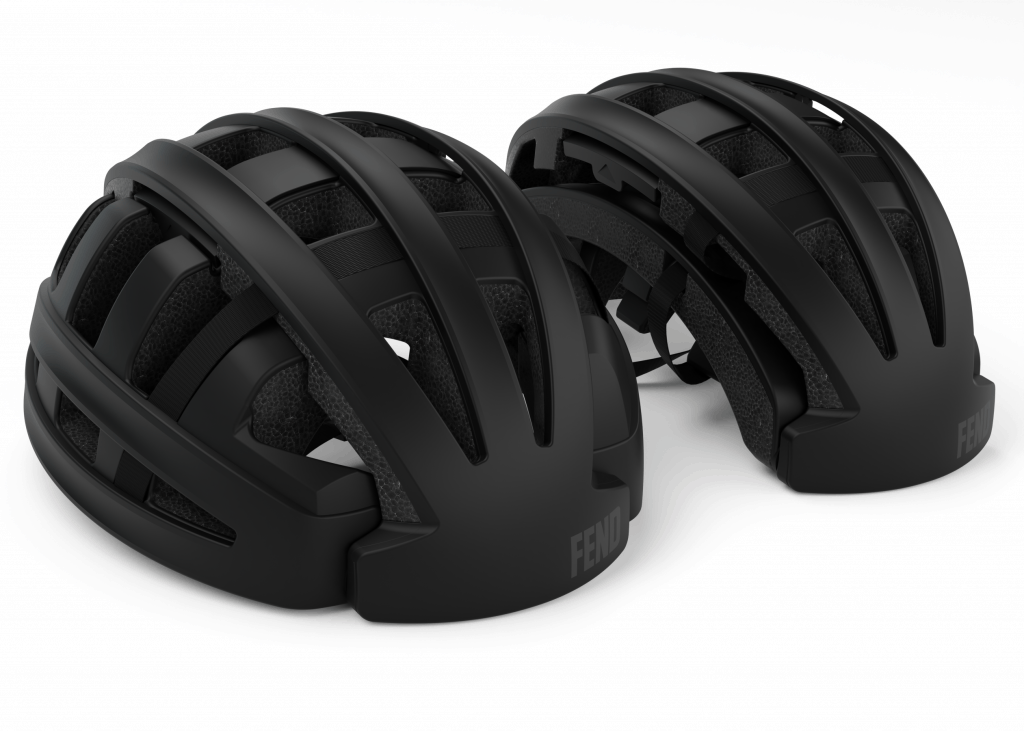 [Image Credit: FEND]
What Other Reviewers Are Saying
The FEND has just entered the market in 2019, so reviews are still scarce. So far, all we have to work with are the customer reviews on FEND's kickstarter page and FEND's website which are broadly positive.
Reviewers have so far commented that the FEND is super comfortable, stylish, and easy to use.
Based on random interviews we conducted of cyclists wearing folding helmets in New York City, those who have tried the FEND said they were very happy with it, and mainly loved its convenience.
Our testers' first reactions were all positive. Everyone we showed the helmet to was at first just amazed by the concept of a folding helmet. What they specifically liked about the FEND though was its look and feel. All of our testers said they would enjoy wearing the FEND.
Where To Buy
The FEND can be bought on Amazon and on FEND's website. It usually sells on FEND's website for around $119, but check those sites as the price sometimes changes.
Conclusion
The FEND is a breathable, sturdy, and attractive folding helmet. It's not the most compact when folded, but assuming it fits in your bag, the convenience it offers can truly transform your biking experience. We recommend the FEND to anyone who's considering biking to work but doesn't want to lug around a big, conspicuous helmet to the office, or deal with sweaty hair. It's discrete but attractive– overall it's definitely something you would feel comfortable carrying around with you.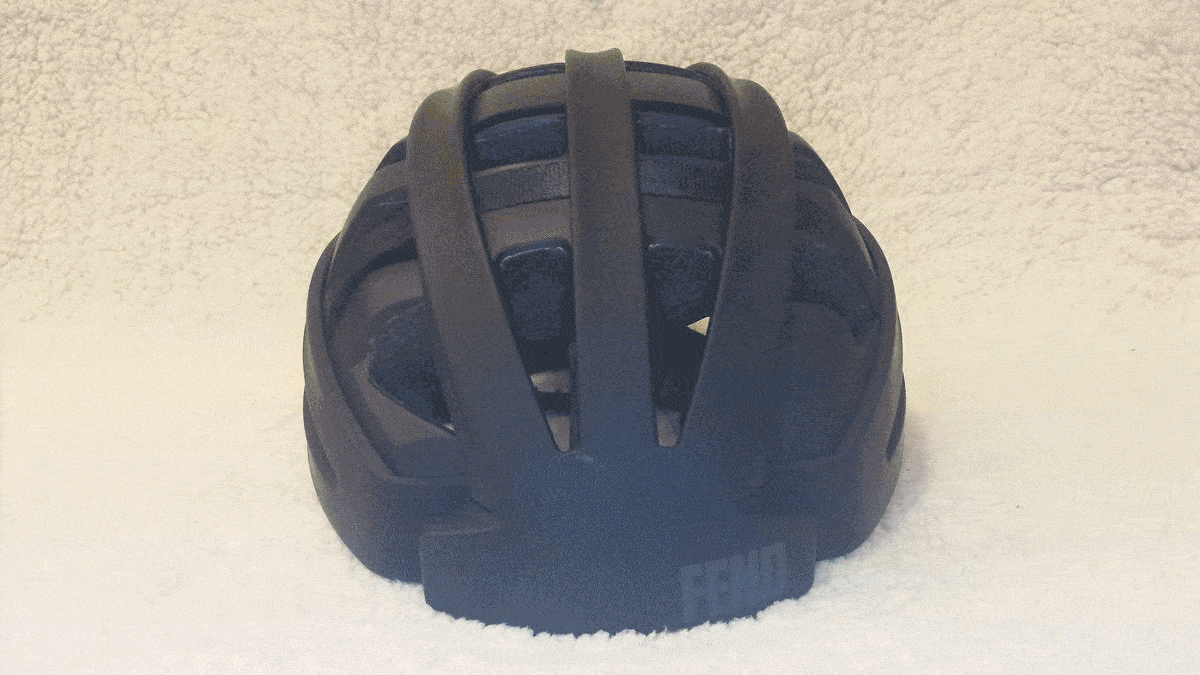 Comparison to Other Folding Helmets
Accordion-Style Folding Helmets
If you're looking for a folding helmet, you might come across a helmet that looks like this: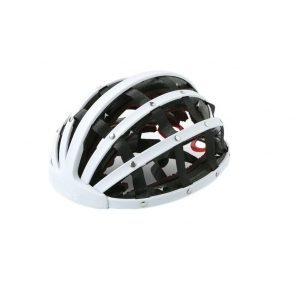 It's an accordion-style folding helmet which you can usually buy for under $40. At such a low price, it's definitely tempting to opt for this helmet.
However, if you read our review of that helmet design, you'll know that we are not fans of it, mainly due to what we think is a safety issue. A lot of reviewers have complained about quality issues such as pieces randomly breaking off, and padding coming off. We have seen one of these helmets that was coming apart, which the owner said they had for only 6 months.
Aside from quality control issues, the design itself is likely not safe. You can tell just by looking at it, but we had this confirmed by FEND, whose initial design was roughly the same as these helmets'. (After FEND launched its Kickstarter campaign, many of these helmets started popping up using FEND's initial design, which FEND had not patented. We can see that the helmets are based off FEND's initial design, since they are often marketed using FEND's branded product images and even sometimes call themselves "Fend".)
Here is a comparison of the current design versus the original design from FEND's Kickstarter page.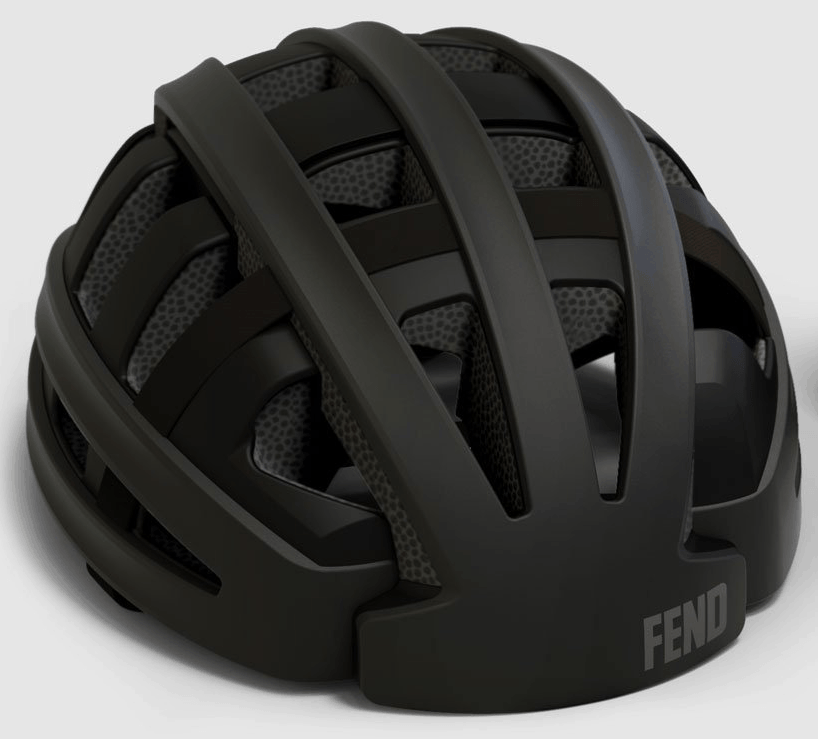 FEND told us they abandoned this folding helmet design after it became clear that the design would never pass safety testing. Interestingly, many of these helmets are nevertheless advertised as having met US CPSC, European EN-1078, and even Australian safety standards which are in some respects superior to even US standards.
Therefore, we don't recommend the accordion-style folding helmets, despite the low price tag. Although the FEND is almost three times the price of one of these helmets, it is sturdy and well built, so you don't have to worry about pieces breaking off. And maybe keeping your head safe isn't the best place to save a few bucks. In this case, you get what you pay for.
Aside from what we described above, the FEND and these folding helmets are similar. They both fold easily and compact down to about 4.3″
Overall, we recommend the FEND over the inexpensive accordion-style folding helmets, as we don't think the cheaper helmets are safe or reliable.
Other Folding Helmets
There are other folding helmets as well, which you can find here.
Compared to other folding helmets, we think what makes the FEND special is that it looks like a classic bike helmet and is also easy to fold. No other folding helmet we know of offers those two features together.
Have a Question or Comment?
Have a question about the FEND? Want to share your experience with us? Disagree (or agree) with anything we said? We would love to hear from you! Post your thoughts below!
---
This review was written by the Things That Fold editorial team. We received a helmet sample from FEND and have been personally using it for one month prior to writing this review. Our review is based in part on our experiences, as well as additional research we did online.
Our website uses affiliate links, meaning that if you click on a hyperlink, we may receive a commission for referring you to the seller's website. As Amazon Associates, we earn from qualifying purchases. Any prices and availability shown are based on time of publication and may subsequently change.