Disclosure: Things That Fold earns commission from links on our site.
Right off the bat, let me get something off my chest. I DID NOT WANT TO BUY A HUMIDIFIER. Let me repeat that just a little louder. I REALLY, REALLY, REALLY DID NOT WANT TO BUY ANOTHER PIECE OF JUNK TO CLUTTER UP MY APARTMENT. They get gross inside, take up space that I don't have and if your baby loves it then you have to bring it with you everywhere or they will never sleep again. Ugh. But then my kid's pediatrician, whom I love and trust, told me that this would help the baby sleep better and I realized that I love sleep more than I hate cleaning humidifiers. And as any parent of a newborn will tell you, sometimes you will do anything, really anything to get them to sleep.
In order to make this purchase slightly more palatable I decided that the humidifier must fold. People have crazy ideas in the midst of severe sleep deprivation. But lo and behold, a deep dive on the internet led me to the Tikaton Travel Humidifier. Oh the things one can find on the internet!
Features
Interestingly, the humidifier has a built in nightlight. At first I thought that I had absolutely no use for this, until I realized that it would have to be on the floor next to the baby's crib due to the lack of outlets in my circa-1925 apartment. And if you are going to have a water-filled electric machine on the floor of a dark room where you plan on waking up every few hours to feed a baby… well you get the picture. Also when it is lit up it is easier to see how much water is left in the cup.
The humidifier has only one button that toggles between on/off/nightlight on and three modes of mist. There is no indicator to tell you what mode you are on, which is very confusing. It charges through micro USB and has its own USB port for charging another appliance. A cable (but not a plug) for charging is included in the box.
And while the manufacturer touts the simplicity of this product, I would love to see a few additional features. First of all I want to know what to do when the water in the cup runs out. It hasn't happened yet because I think that the machine is shutting off during the night. It's really unclear if it is on, off, or just occasionally spurting out mist. The spartan instruction booklet doesn't specify how long the water should last for. Maybe an auto-shutoff feature would be helpful, but to be honest I don't know what happens when you leave a humidifier on with no water, and I'm sure as heck not going to experiment to find out! Have you tried this? If so let us know in the comments. I suppose I could attach the humidifier to a timer, but it would be cool if that was a built in option.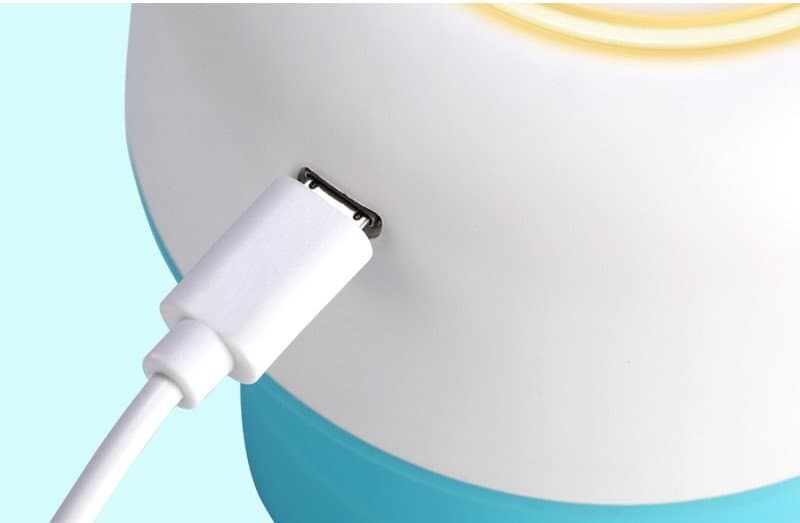 Quality
One tiny little flaw that I noticed is that the micro USB charging port is a tiny bit off center in the casing. Still 100% usable, but I think it speaks to the overall quality of the product. This doesn't have the feel of something that will last for very long.
Cleanability
So one of my original reasons for not wanting a humidifier was they are so hard to clean. And if you don't clean them enough they get moldy. Gross. So the nice thing about this humidifier is that the water cup completely detaches. Although there were no directions included on how to clean the unit I just tossed the silicone cup into the dishwasher on the top rack. So far, so good! I also make sure to leave it open and empty when not in use. The company does include a spare wick that I guess you could swap out eventually if you wanted to.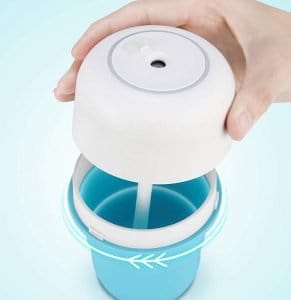 Foldability
Although I've never played hockey, this humidifier folds down to what a non-hockey player would imagine a hockey puck to look like. It's about two inches tall and three and a half inches wide when folded. When unfolded it is about four and a half inches tall and is roughly the shape of a coffee cup. You could even put it in your car's cup holder, if that's your cup of tea (pun intended). The actual folding mechanism is the same as every foldable silicone item on the market: push in and pop out.
Now I am well aware of the availability of stick-style humidifiers that you pop in to a water bottle. And yes they are small, but then you have the compatibility issue of making sure it fits the bottle. Also if you plan on using a humidifier regularly, such as at your desk in the office, it is nice to have a designated, reusable vessel that can collapse.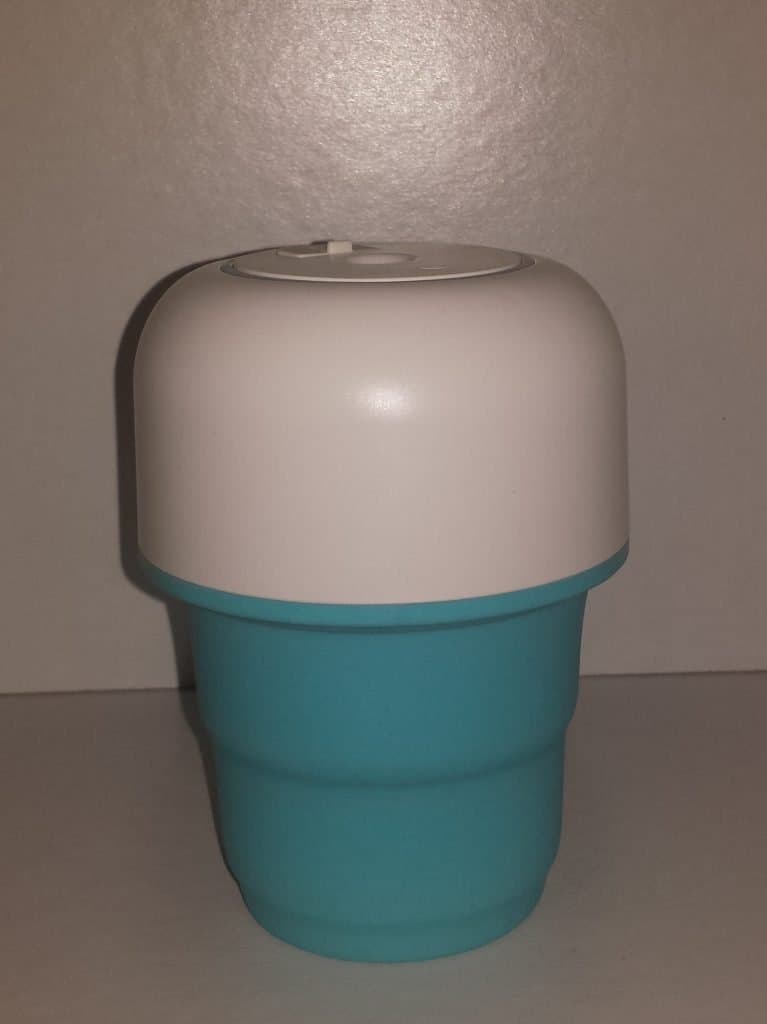 | | |
| --- | --- |
| Open | Folded |
| 3.5″ l x 3.5″ w x 4.7″ h | 3.5″ l x 3.5″ w x 2.5″ h |
Style
Although this wasn't mentioned on the Amazon page, the box refers to the unit as "Ice Cream Folding Humidifier". The tiered cup topped with a white disk kind of resembles an ice cream cone. Although I only found it in blue online the box shows that it also is available in pink and yellow. I like the cheery blue color, although I would prefer if it were available in a more grown-up white that would not stand out so much.
Price
You can likely find the humidifier online for under about $25, although check at the seller links below for current prices.
For the price, I feel like you get what you pay for.  Not terribly expensive, but just enough that you are paying for the innovative concept.  If it didn't fold I wouldn't pay much for such a basic item.
Where to Buy
The humidifier can be bought at Amazon and Walmart.
---
This review was written by the Things That Fold editorial team. We purchased this product online and have been personally using it for at least one month prior to writing this review. Our review is based in part on our experiences, as well as additional research we did online.
Our website uses affiliate links, meaning that if you click on a hyperlink, we may receive a commission for referring you to the seller's website. As Amazon Associates, we earn from qualifying purchases. Any prices and availability shown are based on time of publication and may subsequently change.
Product images on this page are taken from the product's official website or from the product page of an official sales channel.