Disclosure: Things That Fold earns commission from links on our site.

(5 / 5)
Not Worth It
Meh
Good
Highly Recommended
Life Changing
I was pretty excited to try this folding helmet. I've been using a different folding helmet for about two years now and wanted to know if the Stack could do any better, especially in terms of foldability and comfort.
I realize there are a lot of tradeoffs you have to make when you make a helmet with moving parts. For one, they tend to be pretty expensive– usually around $150.
Also, you can't just slide them onto your head. Opening and closing them can take anywhere from a second to a minute, and can take some practice.
And on top of that, you have to consider comfort. A lot of folding helmets employ some contraption involving fabric straps or hard plastic, which can be irritating once you put the helmet on.
Overall, the Stack succeeded on all of these fronts. It costs about half as much as most other folding helmets, is pretty easy to open and fold, and feels comfortable when you wear it.
The fact that it is so affordable opens up the market to the more casual cyclist, not just the everyday commuters who are prepared to invest in convenience. And given that other folding helmets retail for $100-$200, the Stack is more accessible to those of us who can't drop an extra Benjamin on a helmet.
[The Stack can be purchased on Amazon or at Priority Bicycles]
There are a few other things I love about this helmet. When folded, the helmet naturally stays locked in that position, so you can carry it around in one hand without having to worry about it dangling around. And speaking of carrying it around, the Stack is extremely easy to grasp when it's folded, thanks to the arched concentric rings which form a natural hand-grip. Finally, the helmet is on the lighter end of folding helmets, making it all the more transportable.
About The Stack
The Stack (aka 174HUDSON Stack packable helmet) is a partnership between Closca, a company whose mission is to design innovative products with beauty and simplicity in mind, and Priority Bicycles, a bicycle company focusing on accessible, robust, low-maintenance bicycles.
[Check out our exclusive interview with Priority Bicycles' cofounder, Connor Swegle!]
Priority Bicycles was looking for a helmet that's more compact and easier to work with than what was currently on the market. They approached Closca, which already has a $150 folding helmet on the market, and together they came up with the 174HUDSON Stack packable helmet. The Stack has the same basic design as Closca's other folding helmet, but is about half the price.
The helmet is made up of three concentric rings which collapse into one another to squash the helmet down from 5.5″ to 3.5″. Somehow, the helmet stays firmly in place when you open or shut it, so you don't have to worry about it slipping shut, or sliding open when it's folded. It's also super easy to carry, thanks to its grippable shell and light weight.
The Stack uses a traditional plastic clip, rather than a magnetic one, for the chin strap. Having tried both, I personally prefer the plastic clip. It's really easy to close and open, in my opinion.
Helmets that use magnetic buckles have a track for the magnetic parts to slide on. This is for safety reasons, as it keeps the magnets firmly attached even if you try to pull them apart by force. The downside is that in order to open or close the magnet clip, you have to align the magnets just right on the track. This is really difficult and time consuming to do, especially with only one hand. A traditional plastic buckle, like the one the Stack has, is quite easy to work with, even with just one hand.
[See our comparison of the strengths of different kinds of helmet buckles here.]
You can get the Stack in four colors: White with a charcoal back; Sea foam (baby blue) with a dark red back; Light grey with a neon yellow back; and Onyx black with a light grey back. I like the traditional look, so I got the onyx black helmet. My second choice would have been the white one, since the other two styles (sea foam, and grey) have a somewhat flashy back.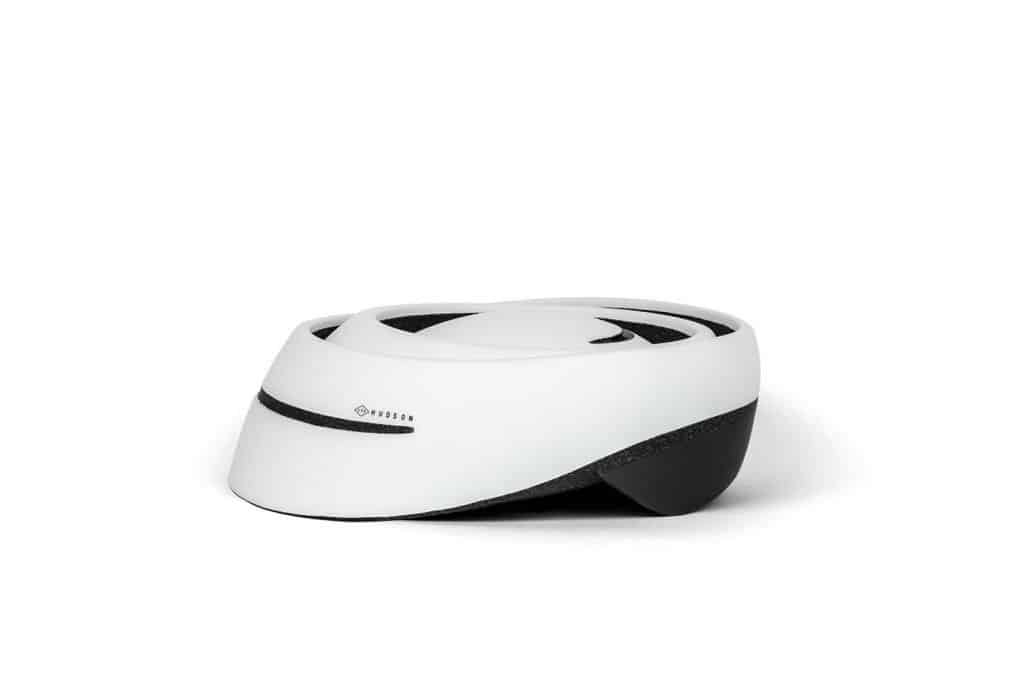 In terms of sizes, there's a Medium (for head circumference 22″ – 23″) and Large (23.5″ – 25″). I have a fairly large head and the medium fits perfectly on me. I'd be shocked to find someone who actually needs the large (or maybe I'm just self-conscious about my head size); it seems that medium would probably be the way to go for most people.
Portability
The Stack weighs less than ¾ lb, which is lighter than most other folding helmets. It's generally really easy to carry by hand, due to its sturdy design and natural grippability.
The only area of improvement here is that the Stack collapses down to 3.5″ (or 3.8″ if you got the large), which is slightly wider than some other folding helmets that fold to 2.5″ . It still fits into my briefcase together with a laptop, but it's definitely a bit snug.
Folding and Unfolding
Folding the Stack is really simple. You just smush it down. It's even easier if you lay it on a hard surface, or against your body, to flatten it.
Opening the helmet is a bit trickier at first, since it's hard to push it open from the inside while holding it in one hand. I found that the easiest way to open it is to actually place it on your head in the folded position, and then pull the edges down over your head.
After showing the helmet to my 3 year old, he was able to figure out how to fold and open the helmet in a few seconds, although he needed to use his head to open it. Now he likes to "help" me get out the door in the morning by unfolding the Stack on my head.
| | |
| --- | --- |
| Time needed to open/ fold | 2 seconds |
| Attention needed to fold | Minimal |
| Time/ Tries to master | Few tries (less than a minute) |
Reviews
The 174HUDSON Stack packable helmet is still pretty new to market, so there aren't a whole lot of reviews. The few reviews I found were all 5-stars, and pointed out its light weight, comfort, sturdiness and portability.
I have seen one other person riding with the Stack in NYC. Given that the Stack is entering a market with so many other folding helmets, seeing cyclists opt for the Stack over the incumbents is a good sign.
Our Verdict
The 174HUDSON Stack packable helmet is a lightweight, easy to use, inexpensive folding helmet. The ONLY downside of this helmet is that it isn't the tightest-folding collapsible helmet. Although, I'll point out, it still collapses quite a bit. It stays firmly folded, or firmly open, so you never have to worry about it sliding out. When folded, its shell turns into a natural hand grip, making it easy to carry around. Overall, this is a really comfortable, easy to use, affordable folding helmet. I've been using the Stack every day on my commute since I got it, and was happy to see it outperform other folding helmets I've tried.
Pros
Cons
-Relatively inexpensive
-Lightweight
-Easy to grip/carry
-Easy to fold
-Fits comfortably
-Still a bit wide when folded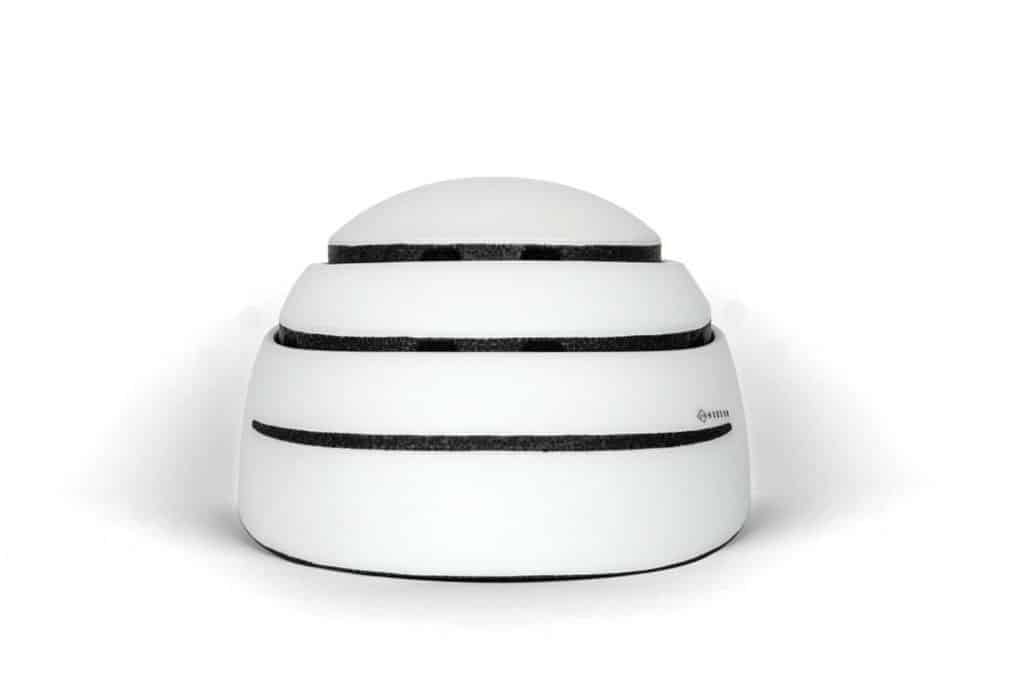 | | | |
| --- | --- | --- |
| | Open | Folded |
| Size M | 10.8″ l x 8.7″ w x 5.5″ h | 10.8″ l x 8.7″ w x 3.5″ h |
| Size L | 11.4″ l x 8.9″ w x 6.1″ h | 11.4″ l x 8.9″ w x 3.8″ h |
Where to Buy
The Stack can be purchased on Amazon, Priority Bicycles, and Costco.
Comparison to Other Foldable Helmets
Here are all of the folding helmets on the market— take a look and see how the 174HUDSON compares.
But, if you really just want our recommendation, we'll give you the two second overview:
The 174HUDSON is the best option in its price range. No other helmet is as light, comfortable, and convenient as the 174HUDSON at such a low price point.
OK, we'll caveat by saying that the Closca Loop is equally good, because it is basically the same helmet.
Closca Loop
The 174HUDSON and the Closca Loop are essentially the same helmet. The only differences we spotted were that:
The Loop comes in more colors than the 174HUDSON
The Loop does not have the "Closca" logo that appears on the side and back of the 174HUDSON
Other than that, the two helmets are the same!
So take a look at the colors of both and decide which aesthetic appeals to you more.
Oh, and I guess we should also mention, the Loop ships from Spain, while the 174HUDSON ships from Priority Bicycles' fulfillment warehouse in Pennsylvania.
So if you buy the Loop from Closca's website, you will have to purchase in EUR. The 174HUDSON can be purchased from Amazon or Priority Bicyles in USD.
Have a Question or Comment?
Have a question about the Stack helmet? Disagree (or agree) with anything we said? Post your thoughts in the chat below!
---
This review was written by the Things That Fold editorial team. We purchased this product online and have been personally using it for at least one month prior to writing this review. Our review is based in part on our experiences, as well as additional research we did online.
Our website uses affiliate links, meaning that if you click on a hyperlink, we may receive a commission for referring you to the seller's website. As Amazon Associates, we earn from qualifying purchases. Any prices and availability shown are based on time of publication and may subsequently change.
Product images on this page are taken from the product's official website or from the product page of an official sales channel.