Disclosure: Things That Fold earns commission from links on our site.
We've put together this list of all of the best folding helmets on the market. Keep checking back, as we'll be updating this page often!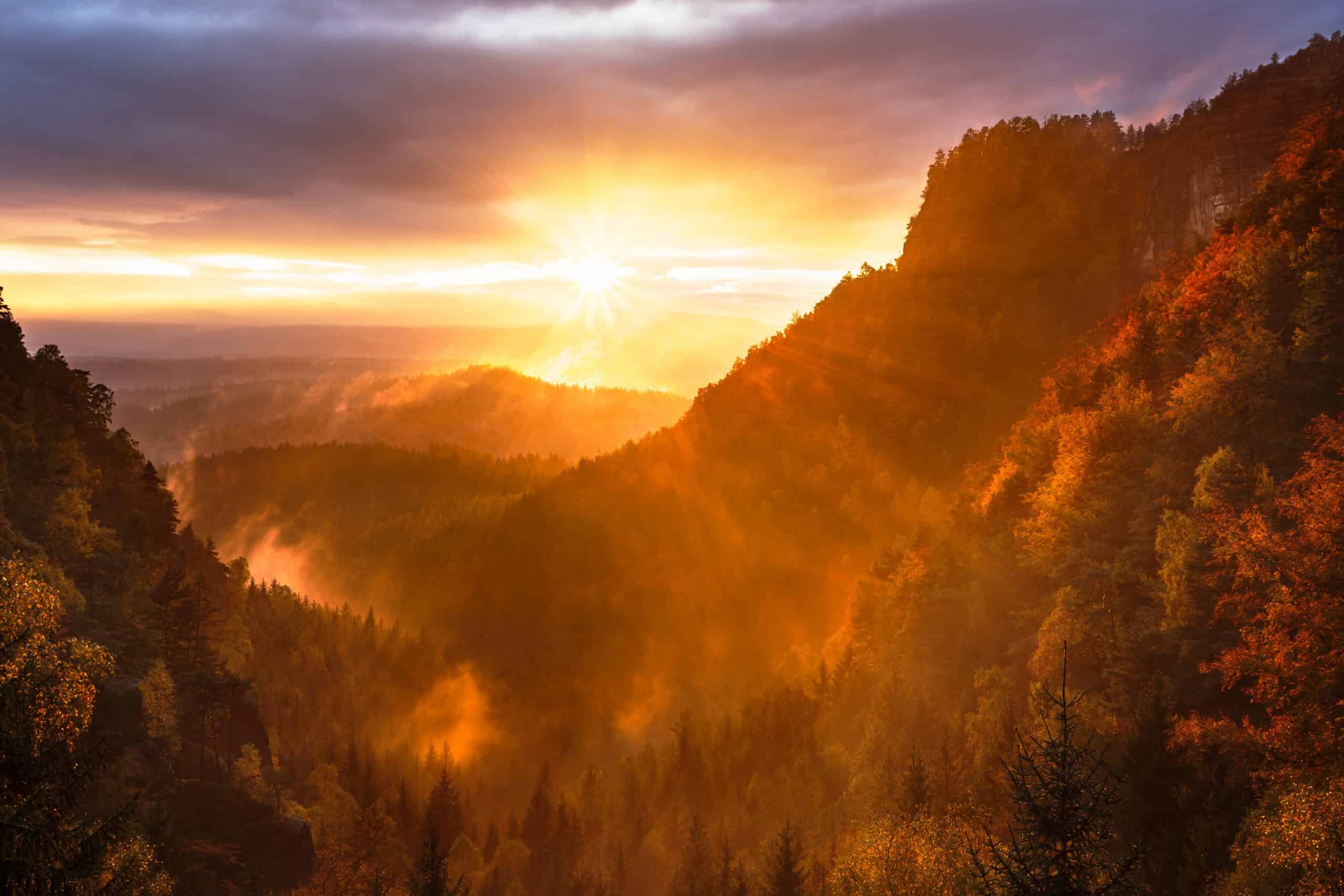 Spot 1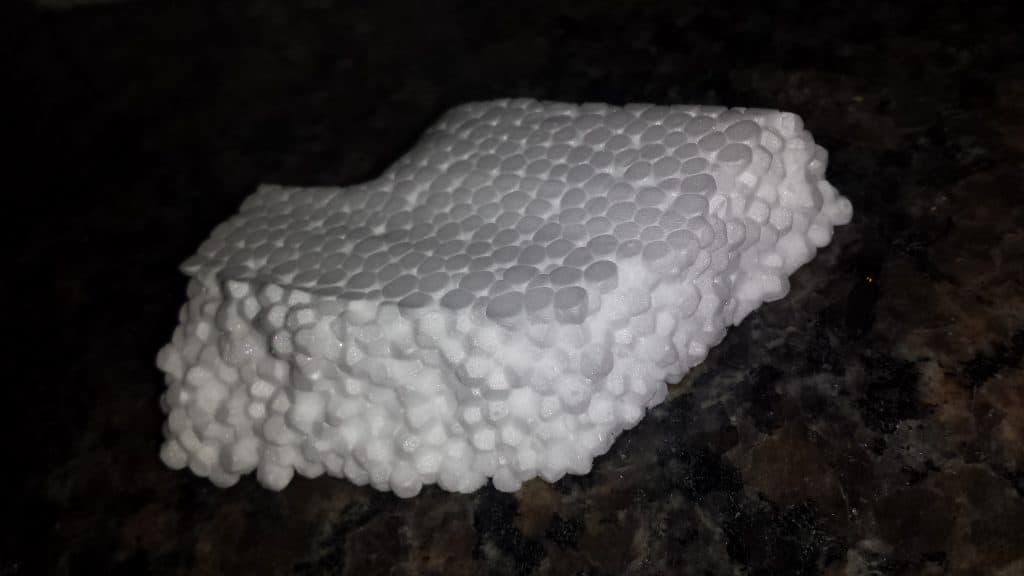 Folding Helmet Recommendation Engine (Quiz)
Which Folding Helmet is Right For You?
Answer a few questions to help us find the best folding helmet for you
How important is "ease of folding/ opening" to you?
How important is "compactness" to you?
How important is "light weight" to you?
How important is "comfort" to you?
How important is "ventilation" to you?
How important is "indestructibility (multi-impact)" to you?
How important is "ability to cushion small impacts" to you?
How important is "grippability when folded" to you?
How important is "made from recycled materials" to you?
Buyer's Guide
It's pretty overwhelming trying to navigate the dozen or so folding helmets that are on the market or coming onto the market, or were just recently taken off the market.
We tried to make this process simple for you by creating a "Best Of" list.
You can also learn more about the helmets by reading on below. We tried to make this summary as short as possible, but if a helmet interests you, check out our detailed reviews or the sellers' pages we link to.
Folding Helmet "Best-Of" Overview
Folding Helmet "Best Of" Details
Most Compact Folding Helmet: Morpher and Fuga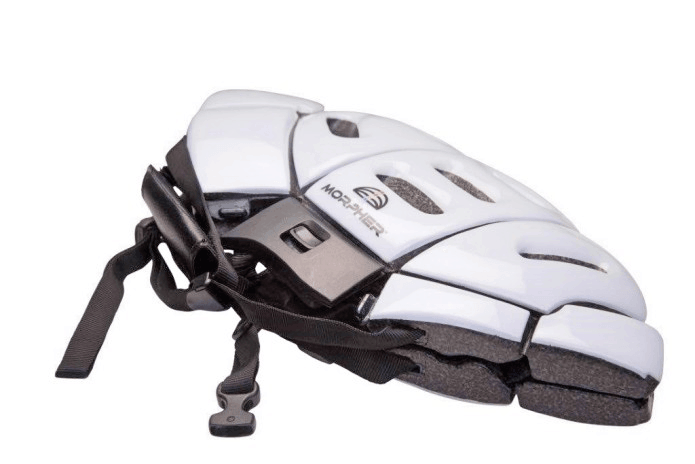 The Morpher and Closca Fuga are tied for the most compact folding helmets, at 2.5″ thick when folded. Most other folding helmets are at least 4″ thick.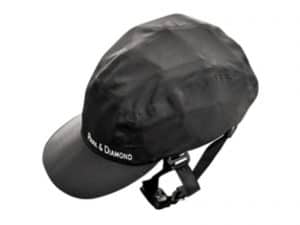 The Park & Diamond is also expected to be fairly small when folded– it should take on the size of a water bottle when folded.
Easiest Helmet to Fold: Plico and Carrera (and others)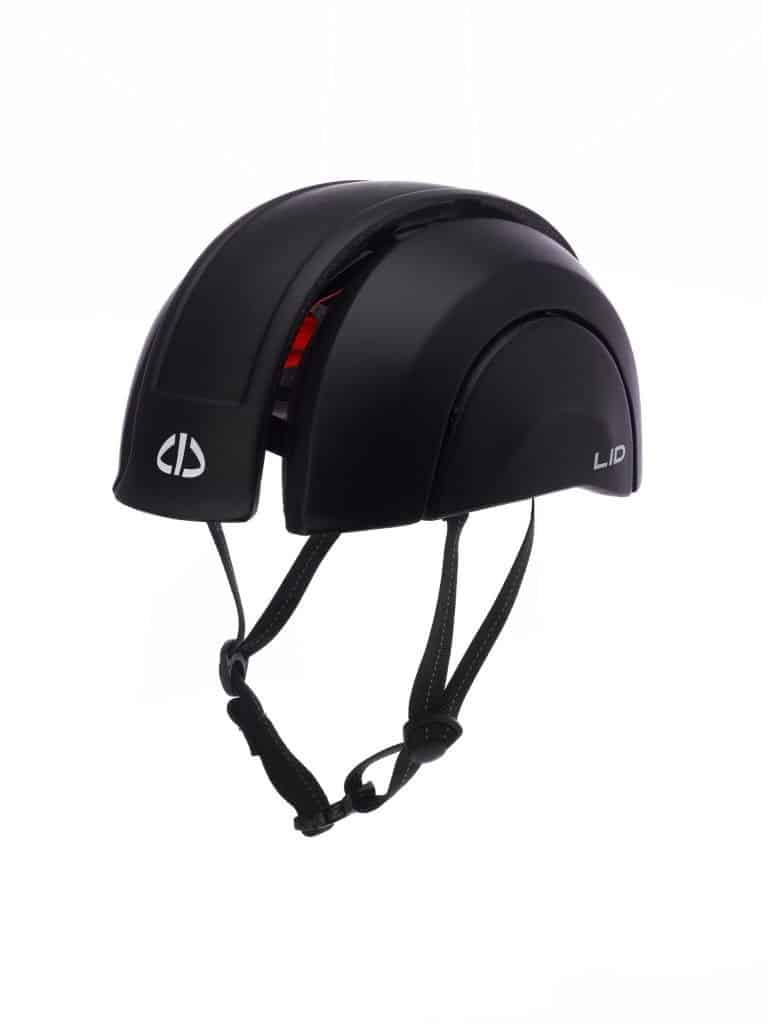 The easiest helmets to fold are the LID Plico and the Carrera. You don't even need to think about it– it's just a matter of pushing the pieces together to fold, or pulling them apart to open. It takes less than a second to do and you'll be able to get it right away.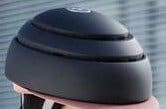 The next easiest helmets to fold are the Closca Fuga and the 174Hudson Stack (aka Closca Loop). The folding mechanism is identical for these two helmets as well. To fold, you just push down the concentric rings (usually with your thumbs, while holding the helmet in your hands), with a little bit of force. To open, you either reverse the motion, or put the folded helmet on your head while pulling the outer ring down towards your ears.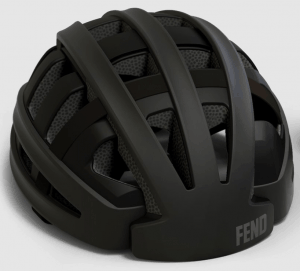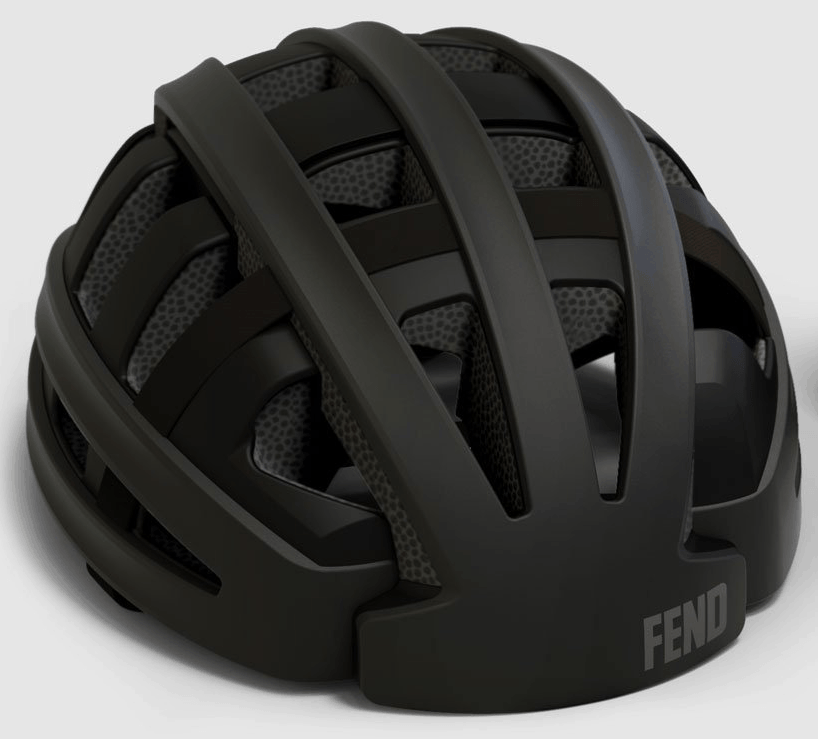 The FEND is easy to open but a little bit harder to fold. To open it, you just pull the sides out until they click into place. To fold it, you have to pull a latch up while sliding the side panel inwards, once for each side.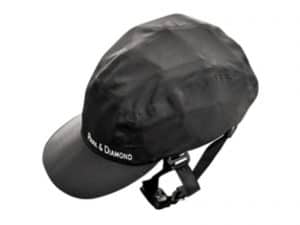 The Park & Diamond is also expected to be very easy to fold. It basically just rolls up into the shape of a water bottle.
Most Attractive Folding Helmet
Okay, this is a bit subjective– so we'll break it down according to preference.
Modern and Stylish Look: Closca Fuga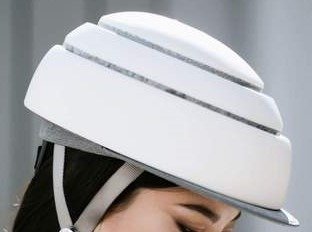 The Closca Fuga has a truly elegant design, with gentle rounded edges and a matte black or white color. It received the Red Dot award in 2015 and is the only folding helmet sold at NYC's MoMA, and now the Guggenheim. It looks great, and definitely portrays a more mature look than most other helmets.
Classic Style: Morpher and FEND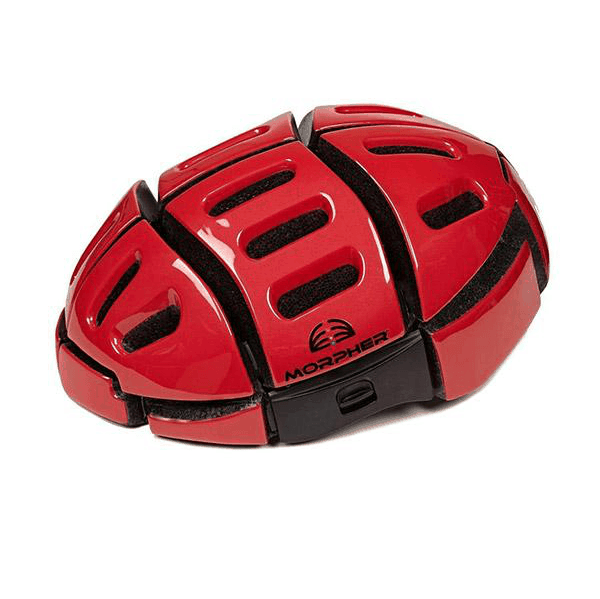 Both the Morpher and the FEND look like ordinary helmets– they don't stick out much or look too obviously "folding". We prefer these folding helmets if we're trying to look discrete and not draw too much attention to the helmet or the fact that it folds. Like the Fuga, the FEND received the Red Dot award in 2018.
Sophisticated Look: Carrera
The Carrera comes in a lot of different styles, but what sets it apart from other folding helmets is that it's the only one that truly looks like a fashion accessory. Some of the styles come with a fabric strip along the length of the helmet, which is typically plaid or tartan. If you want a helmet that showcases your sophisticated side, the Carrera would be the most ideal for that.
Discrete: Park & Diamond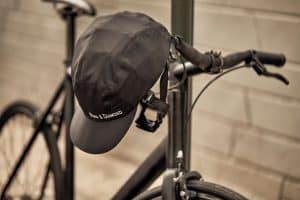 The Park & Diamond is expected to be a discrete-looking folding helmet that resembles a baseball cap rather than a bicycle helmet.
Most Comfortable Folding Helmet: Closca Fuga and Stack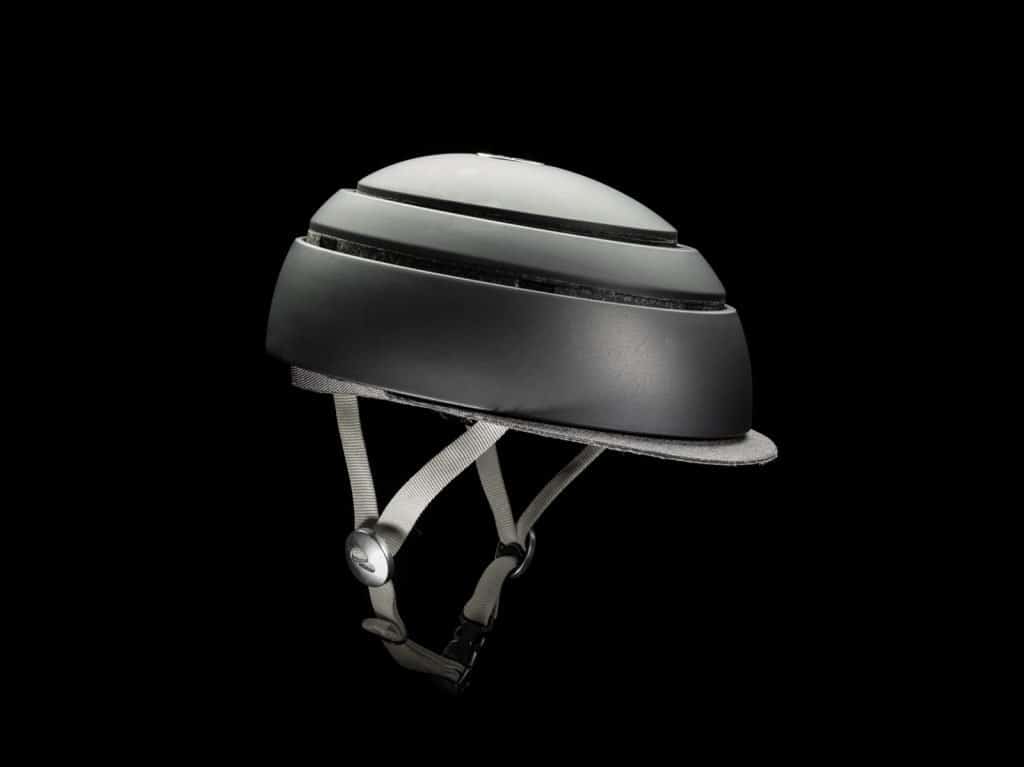 The Closca Fuga and 174Hudson Stack are both extremely comfortable, thanks to an elastic support system inside the helmet that fits snugly to your head. The helmets are designed very similarly, with a round, gentle form that rests comfortably on your head. There are no protruding or hard plastic pieces on the inside, and the padding is great for cushioning your head. The helmet does not slide around at all. Comfort is the first thing that people notice when wearing the Closca Fuga.
Best Ventilated Folding Helmet: FEND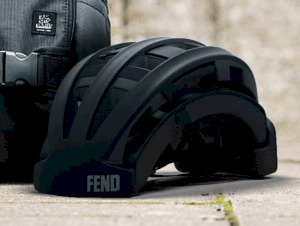 The FEND was designed in large part around maximizing airflow. We found it to be very well ventilated, and would recommend it as the best folding helmet for ventilation.
The accordion-style folding helmets have even better ventilation, but we don't recommend them, mainly due to concerns about safety.
Best Helmet for Cold Climates: Closca Fuga and Hedkayse ONE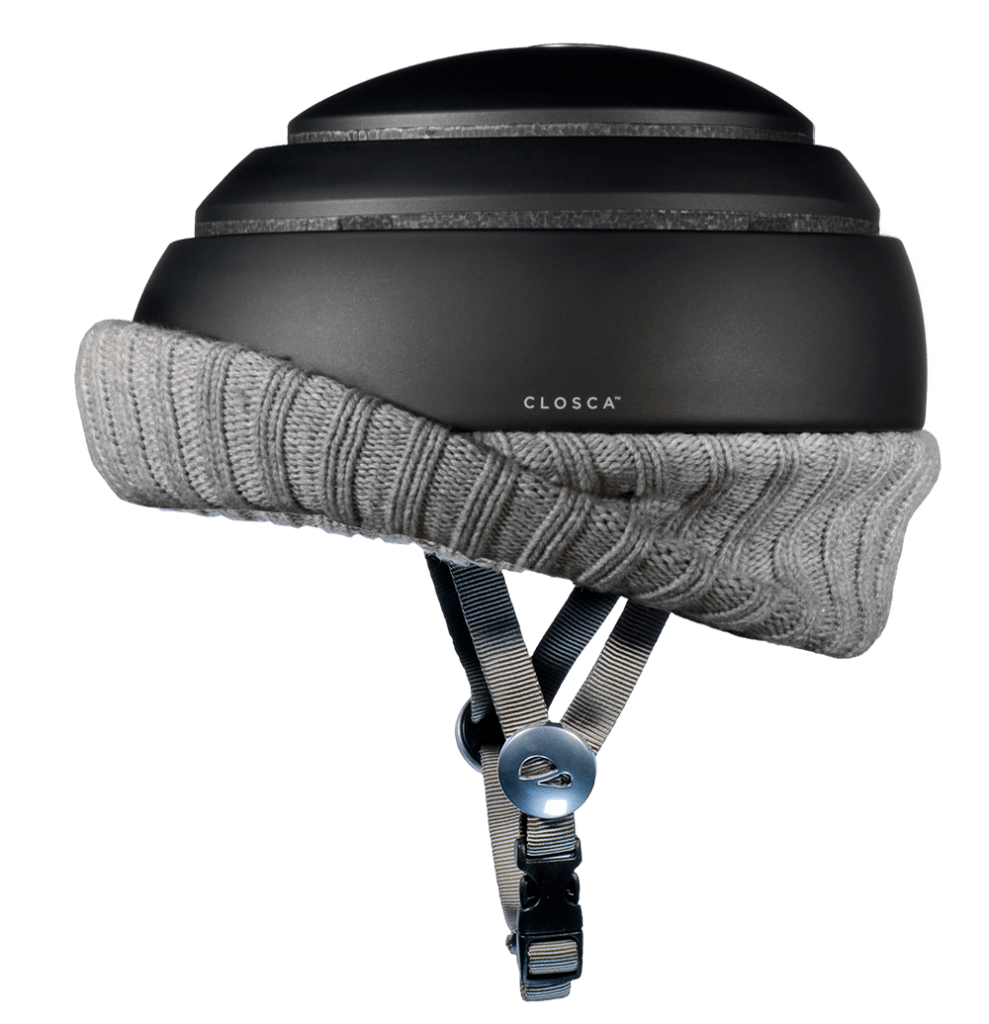 The Closca Fuga has a replaceable visor that can be swapped out for a wool band that they call the "Nordic visor", which should keep you a bit warmer in the winter. Also, although the helmet has decent ventilation, it is a bit covered as well, so it should be capable of keeping some warm air from escaping in the cold.
The Hedkayse ONE is made from a different material than most helmets– it's a type of expanded polyurethane, like memory foam, which is softer and contours to your head. This makes the helmet trap some heat in. That might be frustrating in the summer, but obviously not so bad in the winter. The Hedkayse ONE also adjusts to virtually any head size or shape, so it is fairly easy to wear it above a thin ski cap in the winter.
Lightest Folding Helmet: Park & Diamond and Closca Fuga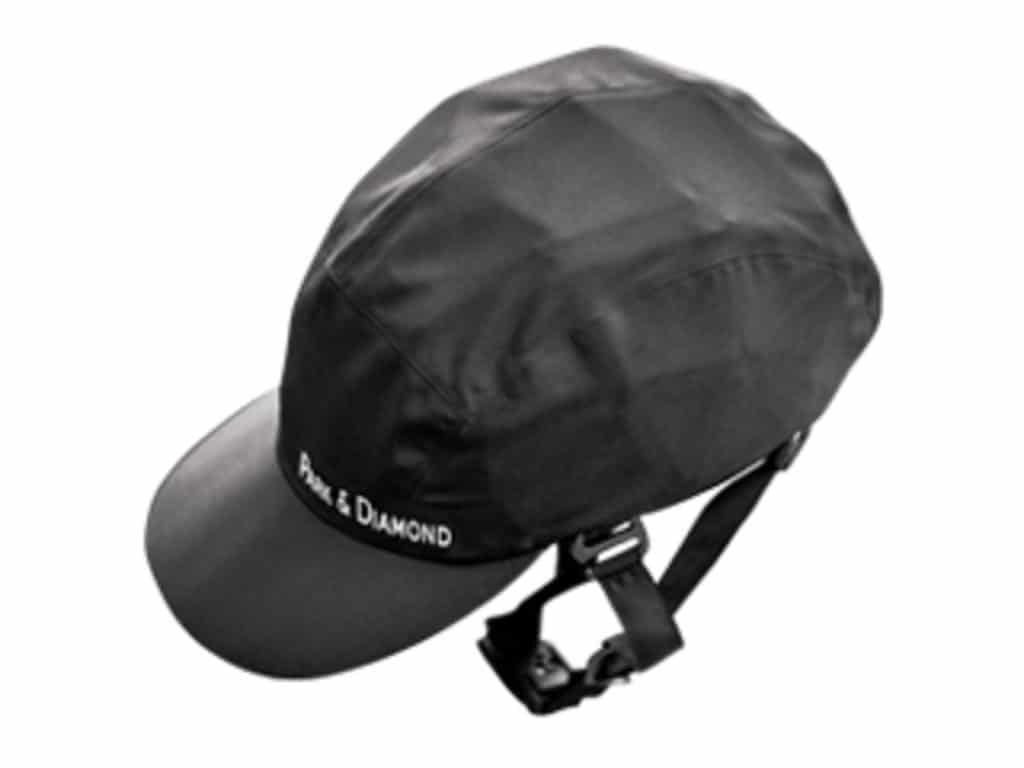 The Park & Diamond hasn't officially started shipping yet, but it's expected to weigh about 0.5 lb. The accordion-style folding helmets also weigh about 0.5 lb, but we don't recommend them due to safety concerns.
The Closca Fuga weighs about 0.6 lb.
The Park & Diamond and Closca Fuga are much lighter than most folding helmets, which typically weigh in at closer to 0.9 lb.
Best Folding Helmet for Kids: Closca Fuga and Plico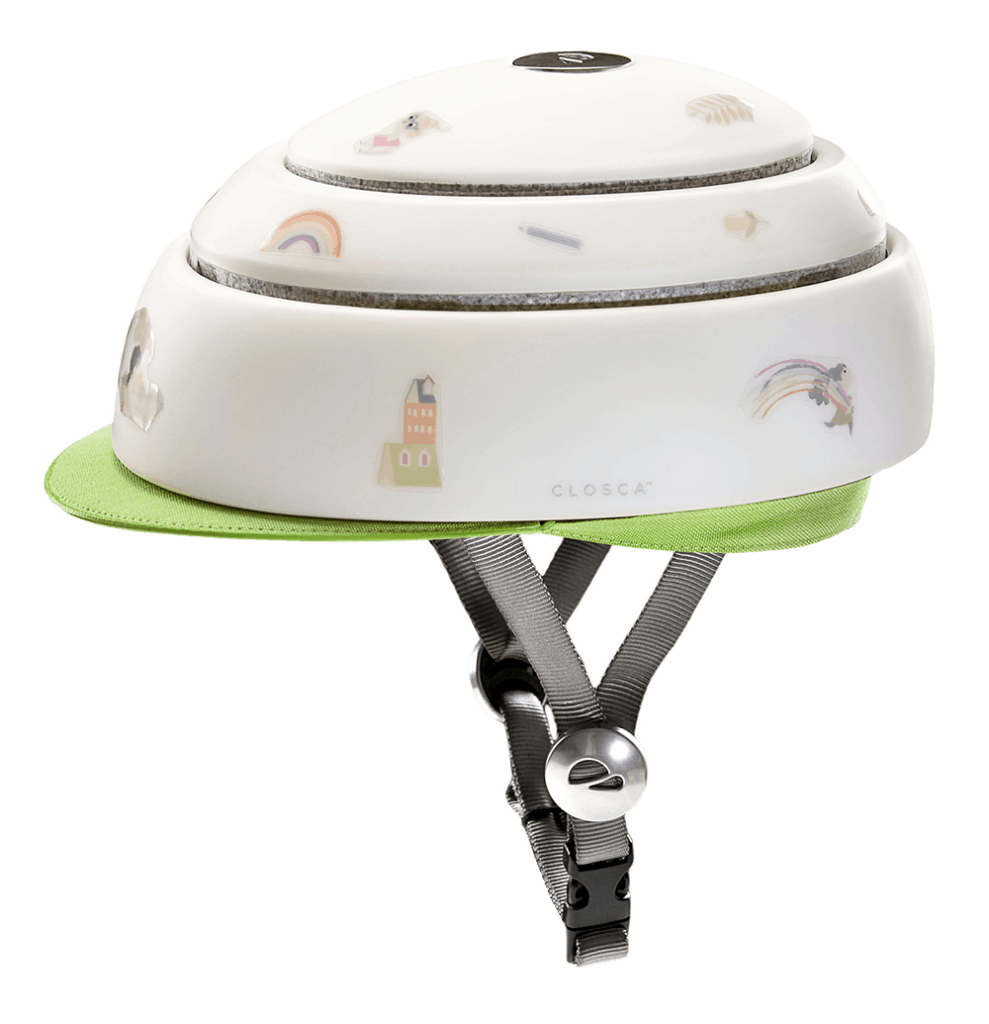 The Closca Fuga is the ideal folding helmet for kids, thanks to its light weight, ease of folding, small sizes, fantastic portability, comfort, and cute design. The Fuga specifically markets a kids' version, which is basically just the size Small with a younger color aesthetic and a set of stickers that can be pasted onto it. The fact that it's so light, comfortable, easy to carry by hand, easy to fold, and that it easily fits in any backpack due to its super-thin size makes it so there's no excuse for not wearing it.
The Plico is also a great folding helmet for kids since it's the only one that comes with bright colors and a rechargeable LED light for added visibility.
Best Folding Helmet for Large or Unusually Shaped Head: Hedkayse ONE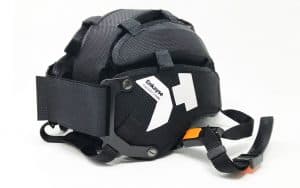 Every head is unique– sometimes you wear a helmet, and just realize it's simply not going to work for your head shape. If this happens a lot, the Hedkayse ONE may be the ideal helmet for your head shape. It's built with tons of customizability. The chin straps adjust at three points, plus the helmet has an "X-strap" in the back which can be adjusted, and a velcro strap to adjust the overall helmet size. On top of that, the helmet is built with a flexible memory foam-like interior instead of the hard EPS foam liner that most helmets use. All together, the helmet is able to adjust to any head shape or size, and its creators claim it is truly "one-size-fits-all".
Most Eco-Friendly Folding Helmet: Cyclo and Plico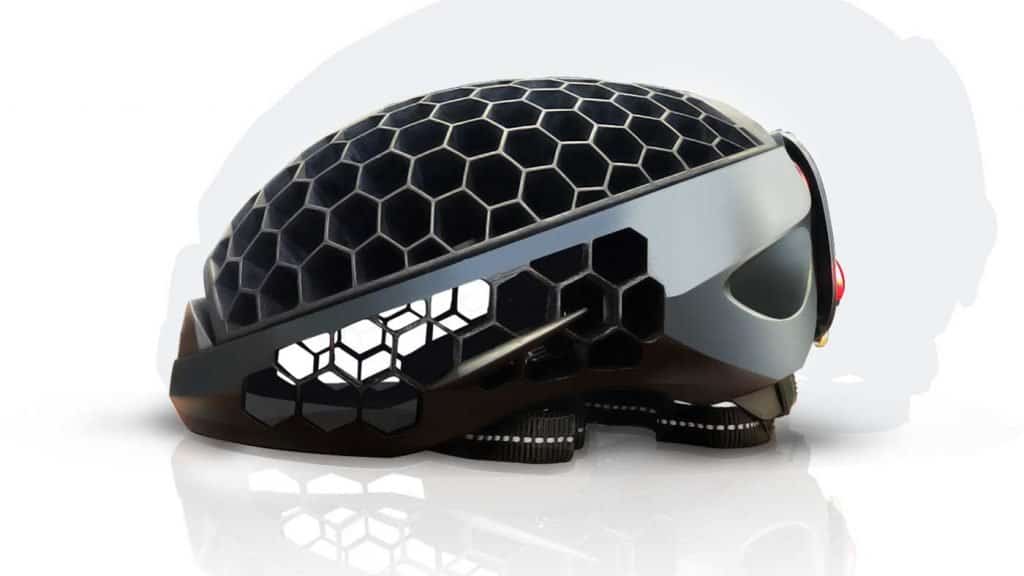 The Cyclo is not yet on the market, but is expected to be the most environmentally friendly folding helmet. It is made from 100% recycled plastic, some of it taken from the ocean or landfills. And it is 100% recycleable. Also, the plastic it is made out of will likely be HDPE, rather than other types of plastics that helmets are typically made of, which are significantly harder or less cost-effective to recycle (such as EPS, ABS, and polycarbonate).
The LID Plico includes recycled EPS, which is sourced from an auto manufacturer's discarded packaging materials, in the helmet.
Cheapest Folding Helmet: Plico, Stack, and Cyclo
A relatively inexpensive folding helmet is the LID Plico, which we recommend, and is typically under $100– although you may have to purchase it in GBP. The 174Hudson Stack is also usually below $100, and can be purchased in US dollars or in Euro (under its European version, the "Closca Loop"). The Cyclo is also expected to be fairly affordable when it comes out.
The other folding helmets on the market are typically in the $100 and up range. The prices are generally comparable at that range, usually below $150. The Hedkayse ONE is typically more expensive than the others and some versions of it are well over $150.
The cheapest folding helmet is actually the accordion-style one, which is typically under $50 (sometimes much less). But you get what you pay for in this case– we don't recommend it.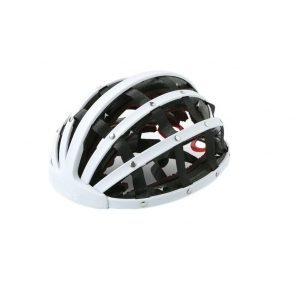 Best Folding Helmet for Safety
This is the hardest category to recommend, as we are not bicycle helmet safety experts. The Bicycle Helmet Safety Institute has a guide on folding helmets, but both this guide and others we've seen avoid taking a definitive stance on the helmets' safety other than mentioning which safety standards the helmets fall under.
The ones that satisfy both EN-1078 and the US CPSC standard are the Closca Fuga, 174Hudson Stack, Morpher, FEND, Overade Plixi, LID Plico, Carrera, and the accordion-style folding helmets. In other words, basically every helmet on this list satisfies both the European (EN-1078) and US (CPSC) bicycle helmet safety standard.
As a footnote, there are two exceptions:
Hedkayse ONE has EN-1078 certification but not CPSC. The reason is likely that the helmet is still new to market– Hedkayse is currently working on getting CPSC approved.
BioLogic Pango which is no longer available for purchase (it has EN-1078 but not CPSC), and the helmets that have not yet hit the market (Park & Diamond and Cyclo have not been certified at all yet).
Note that we do not recommend the accordion-style folding helmets due to safety concerns, as the person who originally came up with the design for these helmets himself has said that he does not believe they are safe (see comments here), although they claim to be both EN-1078 and CPSC.
The Morpher reportedly has a safety issue when being hit from the side, according to Consumer Reports, although since CR's lab is not certified its results do not necessarily mean the helmet is unsafe.
The Hedkayse ONE is unique in that it is a soft, rather than hard, helmet. Hedkayse argues that this makes the helmet safer as it protects against a wider range of impacts– particularly smaller knocks that may lead to concussions that other helmets may not protect against. It also does not degrade due to small impacts as other helmets typically do.
Most Popular Folding Helmets: Morpher and Closca Fuga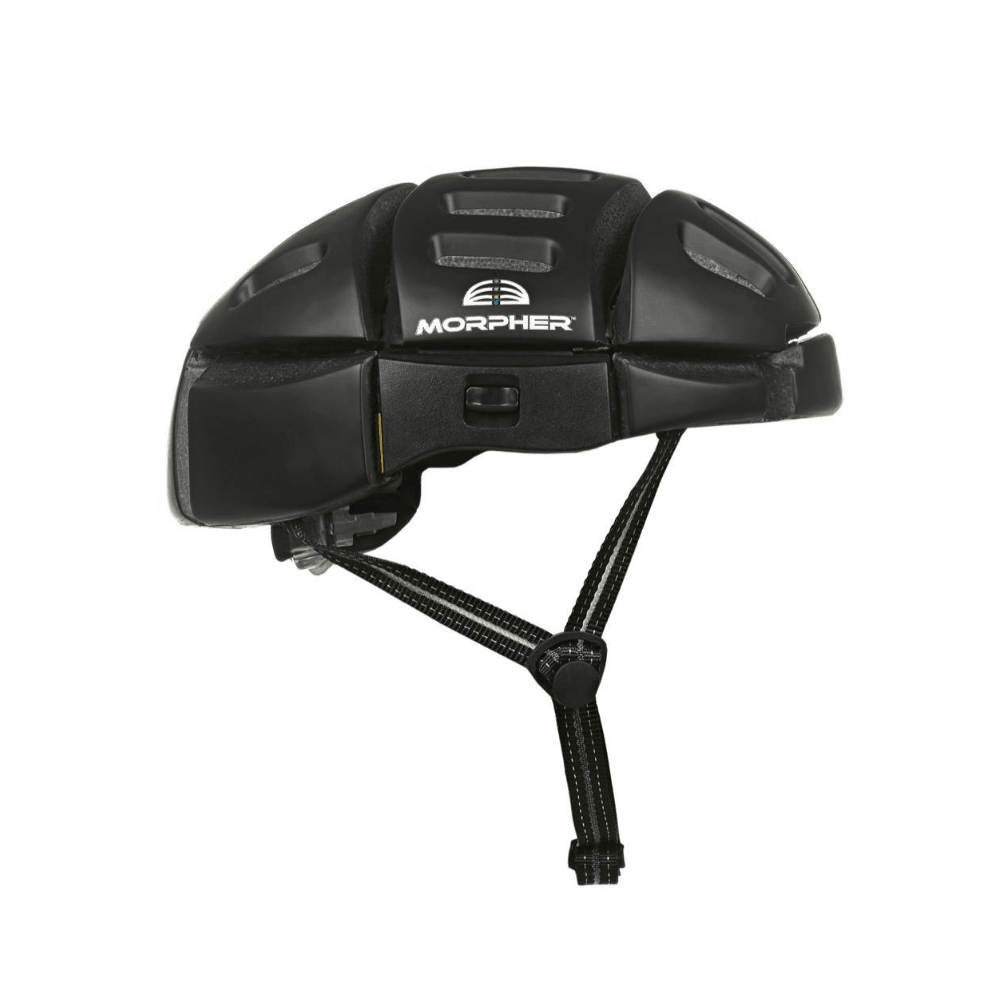 As of April 2020, the Morpher and Closca Fuga are currently by far the two most popular folding helmets, together accounting for well over half of all folding helmets purchased.
Based on data we personally collected in New York City in the one year period between April 2019 and April 2020, the Morpher and Closca Fuga were the two most popular folding helmets. Of the 51 folding helmets we saw being worn on the streets of NYC, 17 of them (34%) were Morpher helmets, and 14 of them (28%) were Closca Fuga helmets.
However, this may change as newer folding helmets, such as the FEND, start penetrating the folding helmet market.
Recommended Folding Helmets
Closca Fuga
The Fuga is an expensive but very good folding helmet. It folds smaller than most other folding helmets, is one of the easiest helmets to fold, and is aesthetically well designed. It's also lightweight, easy to grip when carrying it by hand, and stays shut when folded– meaning you can carry it in your hand without it opening up on you. Although it's overall not great on price, the Fuga is one of the most convenient helmets for commuters.
Here's the official website for the Closca Fuga, and our review of the Fuga.
You can also buy the Fuga on Amazon here.
174HUDSON Stack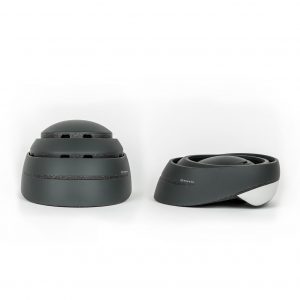 If you liked the Fuga's convenience, but not the price, then the 174HUDSON Stack packable helmet (aka "Stack") may be your best choice. It's also designed by Closca– the company behind the Fuga– but this is their more affordable model.
The only real difference between the Fuga and the Stack is that the Stack is slightly wider, meaning it's about 1-2″ wider than the Fuga when folded. Like the Fuga, it's lightweight, grippable, stays shut, and is super easy to fold.
Because of its amazing convenience and affordable price, the Stack is one of the best folding helmets for a commuter just getting into the folding helmet thing.
Here's the official website for the 174HUDSON Stack packable helmet, and our review of the Stack. You might also be interested in our exclusive interview with Priority Bicycles, the company behind the Stack.
Morpher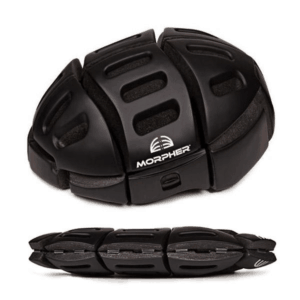 Despite being one of the most expensive folding helmets, the Morpher is by far the most popular. Counting how many folding helmets I saw people wear in New York City over a three month period, the Morpher was as common as all the other folding helmets– combined.
What makes it so great?
It folds down to 2.5″ wide, which is the narrowest you'll get with a folding helmet.
There are a few other nice things about the Morpher, aside from its compactness. First of all, it looks fairly traditional— there's nothing too flashy or weird about it. It also has a magnetic buckle, which some people like. And the ventilation is pretty good too.
The Morpher is overall a great helmet if you want something super compact that's tried and tested.
It does have its flaws though, such as a recent Consumer Reports test that found the Morpher to be unsafe in their side impact test. You can read more about that in our in-depth review of the Morpher here.
See more on Morpher's official website.
FEND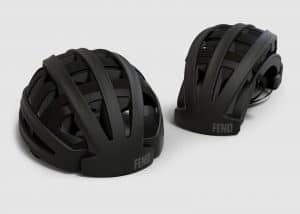 The FEND is another new folding helmet which is also affordable. It folds easily, stays shut when folded, and is easy to carry by hand– making it quite portable. It also looks pretty good. The main downside is that it doesn't fold so compact compared to other folding helmets.
The FEND is a good choice for anyone looking for an affordable and all-around decent folding helmet.
FEND's official website. Here is our review of the FEND helmet. It can be purchased on Amazon here.
Overade Plixi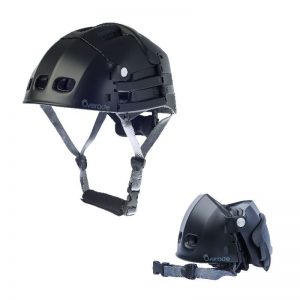 The Plixi is an affordable folding helmet which has been around for a long time. It's probably best compared to the FEND. It folds small, but takes on a slightly inconvenient shape.
The helmet's overall quite average. Average price, average weight, average ventilation, average portability, average ease of folding. You get the picture. It's an average helmet.
Why might you want the Plixi as opposed to another folding helmet? Well, there's no strong reason to go one way over another. Maybe you like the style? For whatever reason, this helmet may just be the one that works for you. It's certainly a decent option.
Here's the Overade Plixi's official website, and our review of the Plixi. You can buy the Plixi on Amazon here.
Hedkayse ONE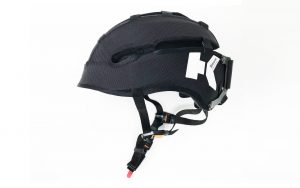 The Hedkayse is not just an ordinary folding helmet. The creators have worked for years on the Hedkayse ONE, trying to develop something that's actually different rather than just rebrand existing technology. And it shows– almost every single part of the helmet, down to the buckle, is reimagined.
The Hedkayse ONE is built out of a truly unique material which they call "Enkayse", and which doesn't crack like an ordinary helmet. This is not just for improved safety. The helmet can take impact after impact without losing its protection. Most helmets have to be replaced even after a small impact, such as what you'd get from accidentally dropping it too hard on concrete. But the Hedkayse ONE can even be rolled over by a bulldozer, dropped off a cliff, and buried under a mountain of jagged boulders, and still work perfectly with zero effect on its safety performance (of course they tried).
Unfortunately, it also happens to be the most expensive folding helmet on the list.
But if safety and durability are your top priorities, then the Hedkayse ONE may be your best choice.
Here is the official website for Hedkayse, and our review of the Hedkayse ONE.
LID Plico
The LID Plico is one of the most affordable folding helmets that we would recommend. It's extremely quick and easy to fold and also fits well. It's also reasonably portable— it stays shut when folded and is easy to grip. The Plico is also made from recycled EPS foam— so it has some recycled components in it, but may still be hard for ordinary people to recycle.
Unfortunately, the Plico is a bit on the bulkier side and doesn't fold so compactly. But if you're looking for a helmet that's ridiculously easy to fold and unfold, this is the best option.
The official website for the LID Plico went down in late 2019, and the helmet now seems to be only available for sale at an Amazon UK page. If you're happy to pay in pounds and the helmet ships to your area, check it out. Here is our review of the LID.
Brooks England Carrera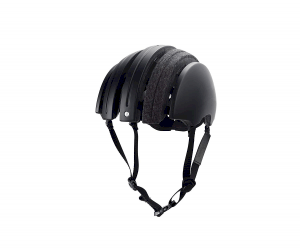 The Brooks England Carrera is very similar to the Plico in terms of how it folds and fits on the head. The big difference is the color scheme, as the Carrera looks more understated and sophisticated. The Carrera is also a bit lighter and better ventilated than the Plico.
Unlike the Plico, the Carrera doesn't lock shut when folded, so it's a bit less convenient. Nor is it made of recycled EPS.
The Carrera is a good option if you want the amazing foldability of the Plico with an airier, more sophisticated, shell.
Brooks England stopped making the Carrera in mid-2019, so the helmet is now only available through resellers, who have since increased their prices significantly.
Here is our review of the Brooks England Carrera, and where you can buy it online.
Lower-End Helmets
Accordion-Style Folding Helmets
And now we're on to the end of our B-list. Which isn't to say that they serve no purpose, but just don't expect any jaw-dropping features.
The accordion-style folding helmets are all more or less the same. They come under different names, such as the Cairbull "FENDER". These helmets are based off of the original, unpatented FEND design that first appeared on Kickstarter, which FEND abandoned after it became clear that the original design would not pass safety standards. (Note that FEND's revised design is totally different, and does exceed safety standards).
Despite the safety issue, it's tempting to buy one of these accordion-style folding helmets as they are extremely affordable and seem to get the job done at the bare minimum. They fold up easily, and are very lightweight and well-ventilated.
We don't recommend the accordion-style folding helmets mainly because we question their safety effectiveness. Also, their construction is generally low quality– you should expect the helmet to show signs of wear and tear within a year. They're also pretty wide when folded, don't lock shut, and don't look so good. Reviews have generally been poor.
But, if you desperately want a folding helmet but absolutely can't spend more than $50, they are likely your only option.
Here are the helmets sold by Ftiier and Cairbull.
You can read our detailed review of these inexpensive folding helmets to find out why they are the only folding helmets that we really don't recommend.
BioLogic Pango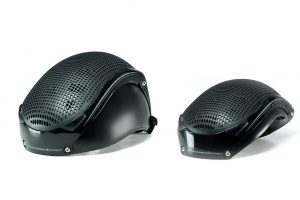 The BioLogic Pango was an old folding helmet that had significant disadvantages compared to modern folding helmets, and as of early 2020 is no longer available for sale. When it came on the market over a decade ago it was highly innovative, being one of the only folding helmets at the time, and the first to use a magnetic buckle.
However, there are a number of folding helmets that have come on the market since then which beat out the Pango in most ways. Today's folding helmets are smaller, lighter, easier to fold, and look better, so it's no surprise that most people prefer the newer designs instead.
Other Foldable Helmets (Coming Soon)
There are a couple more folding helmets that, as of December 2019, were expected to come out in early 2020. However, due to recent global events, release of the helmets have been postponed. We will update this section once we have more information.
Park & Diamond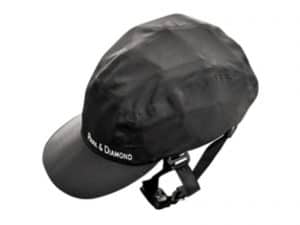 Stay tuned for the Park & Diamond. They haven't officially started shipping yet, but we're anticipating this to be a really innovative product. In a nutshell, the Park & Diamond looks like a baseball cap and rolls up to the size of a water bottle. It's also easily washable. Not your typical helmet, for sure.
The Park & Diamond is well suited for anyone who wants a helmet that's relatively discrete— the helmet doesn't look like you're wearing a helmet at all, and then once you're done with it, you can easily roll it up and make it disappear.
Here is Park & Diamond's official website, and their Indiegogo page.
Cyclo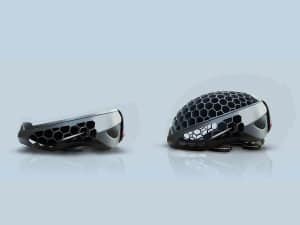 The Cyclo is a coming out next year, so stay tuned.
What we know so far about the Cyclo is that it's made from recycled plastic, some of it recovered from oceans and landfills. The helmet is 100% recycled, and 100% recycleable.
Aside from its positive environmental impact, the Cyclo seems to pack fairly small. Also, the price is expected to be on the lower end, so it should be quite affordable.
The Cyclo is the best option if you want an inexpensive packable helmet with a positive environmental impact.
You can check out Cyclo's Indiegogo page and website, or see our preliminary review of the helmet to learn more.
We Would Love to Hear Your Thoughts
Do you have a question on a folding helmet? Have a positive or negative experience with one of these folding helmets? Let us know in the comments section below!
---
Our website uses affiliate links, meaning that if you click on a hyperlink, we may receive a commission for referring you to the seller's website. As Amazon Associates, we earn from qualifying purchases. Any prices and availability shown are based on time of publication and may subsequently change.
Product images on this page are taken from the product's official website or from the product page of an official sales channel.