Disclosure: Things That Fold earns commission from links on our site.

(3 / 5)
Not Worth It
Meh
Good
Highly Recommended
Life Changing
[Feb 2020 Update: LID's website does not seem to be working anymore, although we were able to gather some info from their site before it went down. See below for where to find more information about the LID Plico.]
What Is It
The LID Plico is a foldable helmet developed in the UK in the past couple years. What makes this helmet unique? There isn't one particular feature on it that screams "wow!". However, it does a great job of bringing together some nice features of other folding helmets into a decent middle-of-the-road offering.
Here are some nice things about the LID Plico (taken from the specs here):
It's an average price for a folding helmet (roughly $100)
It has elastic on the inside that hugs your head for an ideal fit
It folds really easily
It's lightweight and easy to carry by hand
It comes with a USB-rechargeable rear safety light
It's made from recycled plastic
Its inside contains anti-microbial padding.
None of these are particularly innovative features. For example, it's neither the cheapest nor lightest folding helmet. Nor is it the only one with a safety light, or that is made with recycled materials. You can find a folding helmet that has just about any feature of the Plico.
Nevertheless, the Plico did a fantastic job of bringing together all of these great features into a single helmet.
Recommendation
Although the LID Plico is a decent folding helmet, there are a lot of other folding helmets in its price range. There are at least five other folding helmets that are cheaper, and many others that are more expensive. Given all the other folding helmets on the market, we would not pick the LID as our top choice for your typical commuter, for two reasons:
It only folds down to 6.25″ width, which is far wider than most other folding helmets.
The rear safety light, despite being a fairly unique feature on folding helmets, is impractical. That is due to the battery's short lifespan.
That said, there may be some riders who would love this helmet.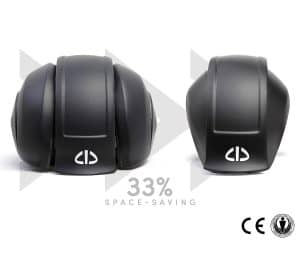 Who the LID Would Be Perfect For
The LID may still be a good pick if you:
Want a cheap folding helmet that's super easy to wear: For its price point, the Plico is the easiest helmet to fold and unfold.
Want visibility: The LID Plico stands out for visibility— thanks to the bright neon color choices and flashing rear safety light.
Love the style: The Plico's bright colors go well with the bright-colored lycra many athletes wear to go cycling.
Foldability
The LID Plico folds fairly easily. You just push the sides together and it really just squashes in on itself. And then to unfold it, you just pull it apart.
| | |
| --- | --- |
| Time needed to open/ fold | One second |
| Attention needed to fold | Minimal |
| Time/ Tries to master | None |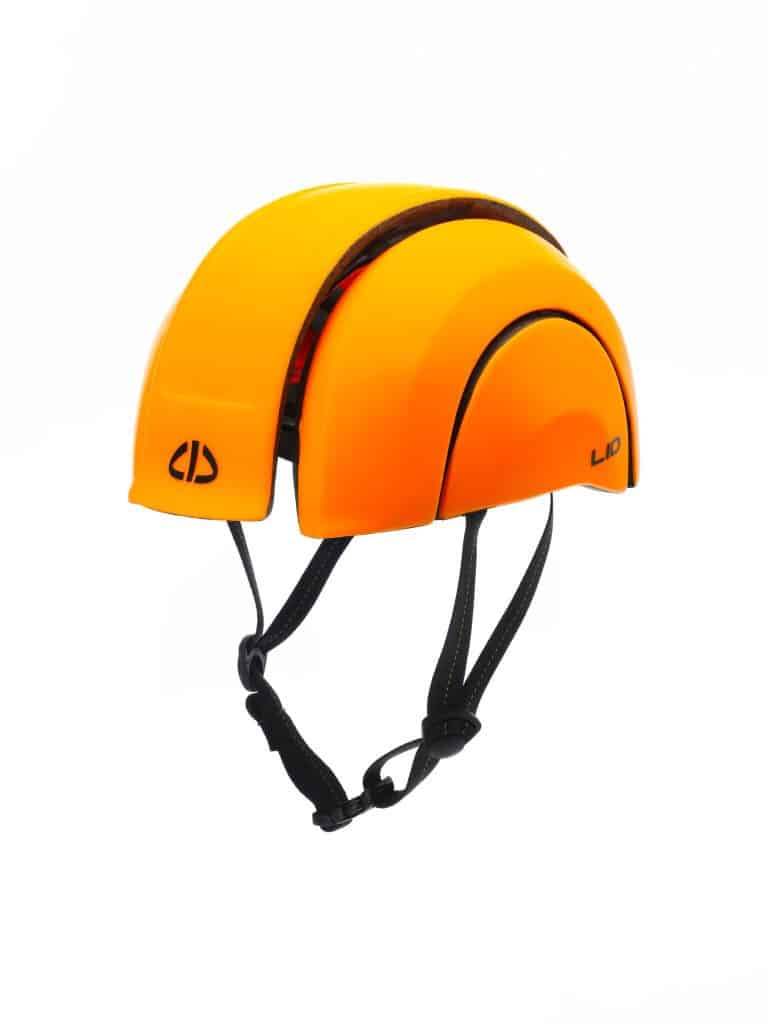 | | |
| --- | --- |
| Open | Folded |
| 9.8″ l x 8.5″ w x 5.9″ h | 9.8″ l x 6.25″ w x 5.9″ h |
Portability
The LID does decently well in terms of portability:
Lightweight: The LID weighs 0.9 lb, so it's reasonably light, in line with other folding helmets.
Stays shut: It has built-in magnets on the inside which keep the helmet folded tight, which is a really great feature.
Mostly grippable: The collapsed shape can be gripped with some ease due to the separate panels.
Fit
The LID comes in a single size (M) for heads 21.6″ – 22.9″ in circumference. However, it does seem to have some give and the creators claim it can adjust to any head shape. You can see in the video below that the helmet is springy and has an elastic band that fits tightly along the back.
Safety
Like most folding helmets, the LID is certified CPSC and EN1078 for North America and Europe (not Australia or New Zealand). An additional safety feature it comes with is a flashing light on the back. It can also be purchased in a bright neon color for added visibility.
Options
The LID comes in three bright neon color choices, as well as white and black. The colors are orange, lime green, and pink.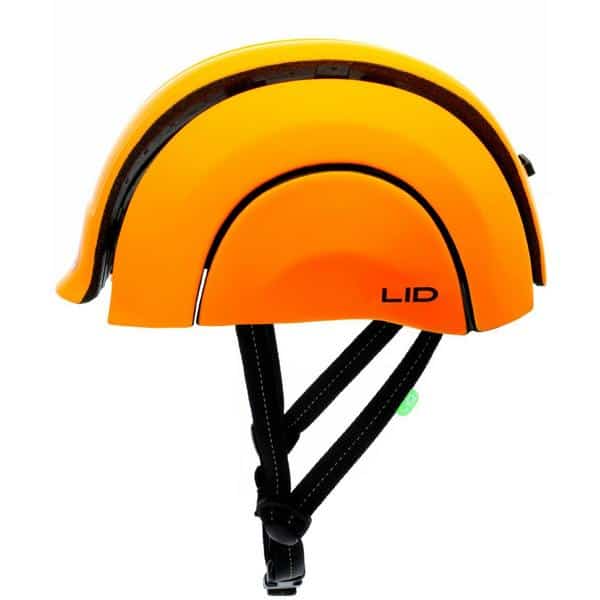 Reviews
The reviews are remarkably consistent:
The LID is a cool idea, but…
The battery life is too short
The helmet does not pack so tightly
Folding helmet reviews tend to cite the foldability as a reason for the positive review. However, since we are comparing the LID to other folding helmets, we adjust for the novelty factor. After doing so, the reviews seem fairly lackluster.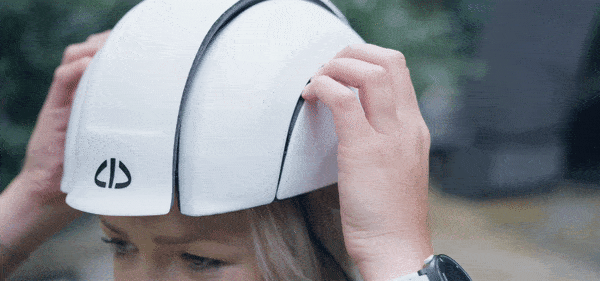 Pros
Cons
-Easy to fold and open
-Fit adjusts automatically
-Stays shut, easy to carry
-Highly visible
-Made from recycled EPS
-Does not fold tightly
-Rear light has short battery life
Where to Buy
The LID Plico can be purchased on Amazon. The Amazon posting also has some additional helpful information about the helmet.
If you're outside the UK and the link above did not work, try opening an incognito window, Googling "LID Plico Amazon" and going to the .uk page.
Note that the helmet ships out of the UK, which will cost you extra, but it may still end up being less expensive overall than some other folding helmets.
Comparison to Other Folding Helmets
Let's begin with what all of the folding helmets have in common. With only two exceptions, which we can ignore for now, they all have the same safety certifications from CPSC (US) and EN1078 (Europe). None of them are MIPS.
The LID additionally has some features that are fairly uncommon to other folding helmets:
It has a clip-on rear light
It is made from recycled EPS
It's super easy to fold and unfold, and hugs your head when you put it on
Also, the LID's colors are brighter than the other folding helmets'. Aside from these differences, here is how the LID compares to other folding helmets.
Brooks England Carrera
I honestly think that the creators of the LID just took a look at the Carrera and thought, 'Let's take this helmet and make it flashier'.
The LID Plico and the Carrera share a lot of common features.
They are currently the only helmets that fold by squashing from the sides.
Neither the LID nor the Carrera get very compact.
They both have an elastic frame inside for a "perfect fit".
They are both very easy to fold and unfold
Now here are the differences:
The LID is bright and flashy, whereas the Carrera is muted and conservative.
The LID weighs 0.9 lb, whereas the Carrera is 0.7 lb.
There are magnets on the inside of the LID to help keep the helmet shut, which makes it easier to carry. The Carrera does not stay shut, and therefore needs a special piece of leather to tie it shut. So, overall, the LID is more convenient.
The Carrera is better ventilated.
Overall, we would recommend the LID over the Carrera. With folding helmets, what you're really paying for is convenience, and in this arena the LID definitely wins out over the Carrera.
Other Folding Helmets
There are other helmets that are more compact than the Plico, which you can find here.
Compared to other folding helmets, we think what makes the Plico special is that it is highly visible, is extremely easy to fold, and is an all-around decent helmet. No other folding helmet we know of has such a balance of features at such a low price point.
Have a Question or Comment?
Have a question about the LID Plico folding helmet? Want to share your experience with us? Disagree (or agree) with anything we said? We would love to hear from you! Post your thoughts in the chat below!
---
This review was written by the Things That Fold editorial team. We have based our review on information we found publicly online, such as the vendor's website, online sales channels, other review sites, and news articles. We do not currently own this product.
Our website uses affiliate links, meaning that if you click on a hyperlink, we may receive a commission for referring you to the seller's website. As Amazon Associates, we earn from qualifying purchases. Any prices and availability shown are based on time of publication and may subsequently change.
Product images on this page are taken from the product's official website or from the product page of an official sales channel.