Disclosure: Things That Fold earns commission from links on our site.

(3 / 5)
Not Worth It
Meh
Good
Highly Recommended
Life Changing
When I first bought this product I had grand visions of folding it up and stashing it in a cabinet between uses. HAHAHAHAHA. Yup, what a joke. This thing is literally always in use. As any parent of a toddler can tell you – laundry is never ending!

[Jan 2020 Update: The hanger is available on Amazon with different names: Aschic, SUOWO, Falytemow, and Sunflower. The one we purchased was from Inoutdoorkit and is no longer being sold, but it is basically identical to the ones on Amazon.]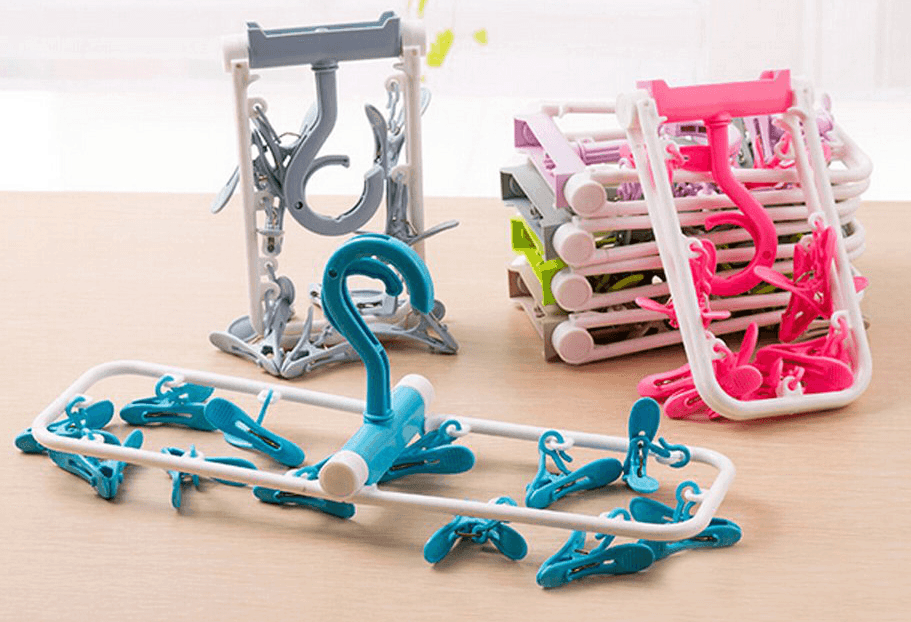 Speaking of toddlers, one pleasant surprise is how useful this hanger is for toddler clothing. I can hang most of my son's shirts from a single hook. Even when fairly wet, nothing slips from the grip of the clips. Normally I would flashback to the crappy hangers I had as a kid that never slipped but left clip marks permanently indentened on all of my clothing. But I have yet to see a single mark from this hanger!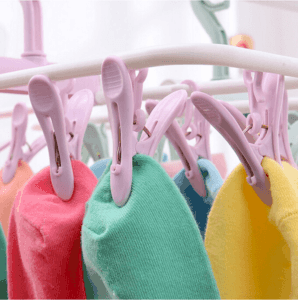 A word of warning – and I can't call this a downside because it is totally normal for this type of product- is that you can't just yank something out of one of the clips. It will cause the clip to break. When the clips break you can snap them back together, but there is a bit of a learning curve to getting just the right technique.

The fact that this is available in a range of colors is a nice touch. I personally chose white with blue clips, and it somehow still looks brand new. And at only eight dollars I can easily say that this has been a good investment.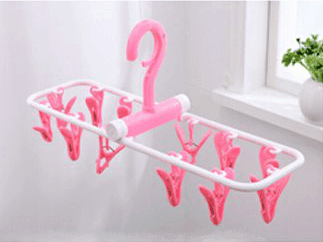 Pros
Cons
-No slipping
-No clip marks
-Affordable
-Available in multiple colors
-Folds flat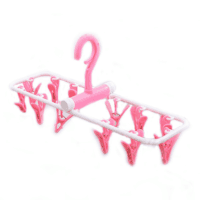 | | |
| --- | --- |
| Open | Folded |
| 14.5″ l x 4.5″ w x 7.3″ h | 7.7″ l x 4.5″ w x 1.2″ h |
Have a Question or Comment?
Have a question about the folding drying hanger rack? Want to share your experience with us? Disagree (or agree) with anything we said? We would love to hear from you! Post your thoughts below!
---
This review was written by the Things That Fold editorial team. We purchased this product online and have been personally using it for at least one month prior to writing this review. Our review is based in part on our experiences, as well as additional research we did online.
Our website uses affiliate links, meaning that if you click on a hyperlink, we may receive a commission for referring you to the seller's website. As Amazon Associates, we earn from qualifying purchases. Any prices and availability shown are based on time of publication and may subsequently change.
Product images on this page are taken from the product's official website or from the product page of an official sales channel.