Disclosure: Things That Fold earns commission from links on our site.

(4 / 5)
Not Worth It
Meh
Good
Highly Recommended
Life Changing
The good news: You will never, and I mean never, find a step stool that is more compact than this. Most stools just fold flat, this folds flat and then in half. The not so good news: Save this one for the road because it isn't sturdy enough to use regularly. I doubt it would support an adult's weight and a child shouldn't use it alone. An added bonus is that it comes in a little carrying case.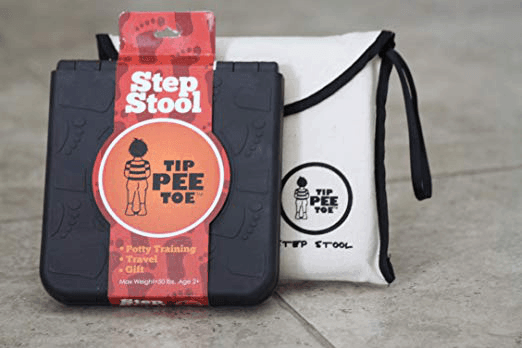 | | |
| --- | --- |
| Open | Folded |
| 12″ l x 6″ w x 5.5″ h | 6″ l x 6″ w x 1″ h |
The Tip Pee Toe can be purchased on Amazon and on Tip Pee Toe's website.
---
This review was written by the Things That Fold editorial team. We purchased this product online and have been personally using it for at least one month prior to writing this review. Our review is based in part on our experiences, as well as additional research we did online.
Our website uses affiliate links, meaning that if you click on a hyperlink, we may receive a commission for referring you to the seller's website. As Amazon Associates, we earn from qualifying purchases. Any prices and availability shown are based on time of publication and may subsequently change.
Product images on this page are taken from the product's official website or from the product page of an official sales channel.