Disclosure: Things That Fold earns commission from links on our site.

(3 / 5)
Not Worth It
Meh
Good
Highly Recommended
Life Changing
Ok, so this isn't the cheapest. Or the easiest to install. It takes some time to acclimate to the various straps and buckles for each position that this versatile car seat can do. But it's worth it for the size and versatility. Rear facing, forward facing and booster seat are all covered in one piece of equipment, which saves a ton of space. Best of all, the bottom folds up for storage, making it easier to store in, say, a closet (that's where we keep ours) for those of us who don't have full time car access. Great for grandparents or carpools. And a bonus for all of the other backseat riders, it's narrower than most car seats, even fitting three in a row in most cars!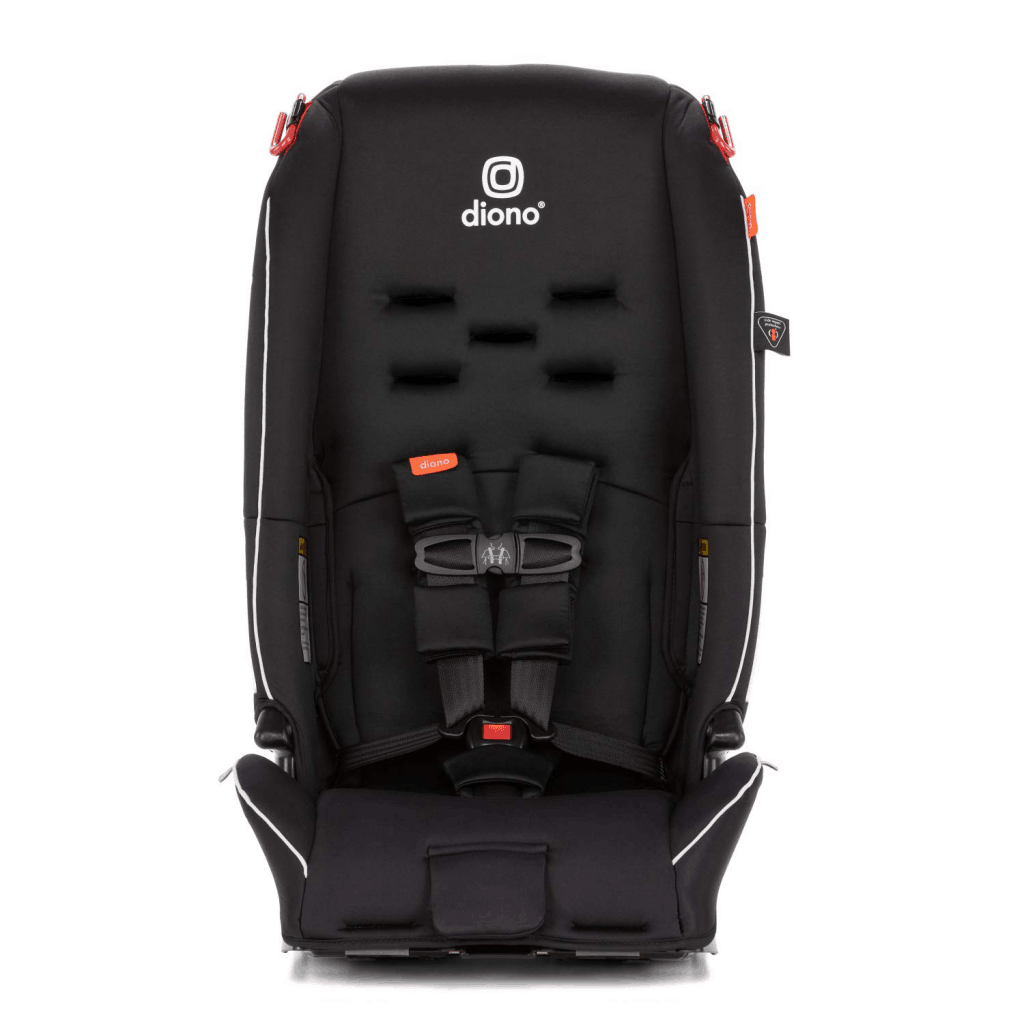 Cleanability and Style
As a crazy germaphobe I do appreciate that it seems slightly easier to clean than your average, super-plush car seat. After a vomit/smushed banana/potty training accident I really love being able to take off the cover and throw it in the wash. Diono does sell a separate liner that you can put in the bottom, presumably for bathroom-related incidents, but I haven't bought one. I've found that somehow when my darling angel makes a mess it goes on the straps, sides, and every imaginable part of the car seat. Fun stuff.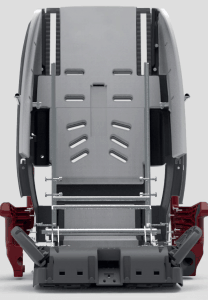 It's also important to note that this is a little different than most of the other car seats on the market. It seems that the current trend is towards overstuffed, armchair-like seats. Think Lazy Boy, but scaled down. This was exactly what I wanted to avoid in purchasing a car seat. Cleaning puffy upholstery is difficult and it never seems to get fully clean. The Diono 3R has enough padding to make your kid comfortable for a long trip, but it doesn't go overboard.

Additionally, this pared-down, sleeker seat is a lot more attractive looking than your typical car seat. Not that looks are particularly important (car seats are designed for safety after all) but it is a nice perk. Diono even offers the seat in a range of modern colors that don't feel too baby-ish.

Part of the pared-down aspect is that the car seat has a lower-profile base. As noted on the company website, this makes it easier for a kid to climb in and out of the car seat on their own. Gotta love self-sufficiency.

Diono also does away with the cup holders, which have somehow become standard on today's car seats. They instead opt to sell a cup holder as an additional add on. I admit my own idiocy when I initially scoffed at the idea of cup holders! Yes plural! On a car seat! Can't we just take a break from snacking in the car? But after a 10 hour drive with my three year old I realized that they can't seem to hold their own snacks and water. If you plan to be taking any road trips, turns out you need some cup holders. Yes plural. Lesson learned.

Portability
One downside is that this car seat is still fairly heavy and cumbersome to carry. So while the foldability of this car seat is good for storage, it isn't super portable. I certainly wouldn't carry it around for too long. Interestingly, the Diono website bills the car seat as "worth the weight". It doesn't say outright how much it weights but it claims that the weight of its steel alloy frame makes it safe and sturdy. I'll remind my husband of that when he carries it from the car to the apartment with a sleeping baby inside! A quick look at the specs on Amazon reveals that it is 28.5 pounds. Note I didn't try to weigh it at home by myself because it is that heavy. Although the Diono 3R doesn't look too big, it weighs more than most strollers!

A slightly odd feature of this car seat is the seemingly endless number of straps and buckles. I always feel like something is dangling or dragging on the floor during transport. To Diono's credit, they do have little nooks to tuck everything into the car seat, but somehow the straps seem to find their way out. This can also make it a bit tricky to install, but with practice it isn't too difficult.

Installation
Being a multi-function car seat there are multiple ways to install the Diono 3R. It can be a bit confusing but nothing a few YouTube videos can't help you figure out. It does seem to take a few minutes to install each time, which can be frustrating. Given that this is a folding car seat most people will probably keep it in storage at least part of the time, meaning that you do have to go through the installation process more often.

The Diono boasts that it keeps kids rear-facing longer, which is supposed to be safer. They have a higher weight limit (40 pounds) for rear facing than other car seats on the market. For us this was totally useless as my son's legs grew far too long for rear facing before he came anywhere near the weight limit. It was nice, however, to just flip the seat around and not start the search for a whole new seat when we needed forward-facing.

Cost
At around $200, this car seat doesn't come cheap, even if you use one of those lifesaving 20% off coupons at BuyBuyBaby. That being said, I think it is still a better deal than having to buy separate front facing, rear facing and booster seats. And comparing this to other all-in-ones the Diono still has an edge because it folds. If the folding mechanism isn't enough to make you want to get the car seat, parents of multiples might not have many other options in the "fits-three-in-a-row" category. So in the end, while there are definitely some flaws, I don't regret my purchase of the Diono 3R.
Pros
Cons
-Washable cover
-Versatile
-Fits three in a row
-Available in multiple colors

-Requires some practice
-Heavy
-Expensive

The Radian 3R has the same basic design and dimensions as the older Radian R100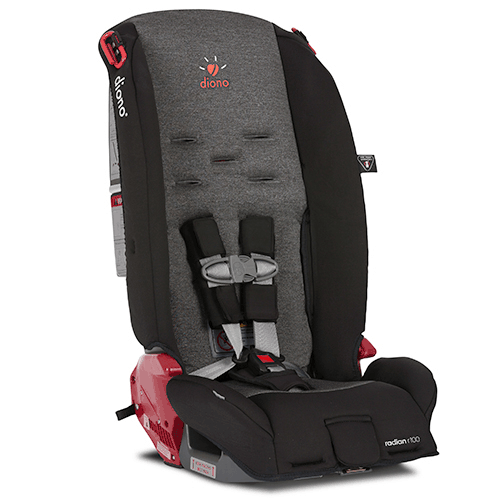 | | |
| --- | --- |
| Open | Folded |
| 1.4′ l x 1.4′ w x 2.3′ h | 0.8′ l x 1.3′ w x 2.3′ h |
Where to Buy
The Radian 3R can be purchased on Amazon or on Diono's website.
---
This review was written by the Things That Fold editorial team. We purchased this product online and have been personally using it for at least one month prior to writing this review. Our review is based in part on our experiences, as well as additional research we did online.
Our website uses affiliate links, meaning that if you click on a hyperlink, we may receive a commission for referring you to the seller's website. As Amazon Associates, we earn from qualifying purchases. Any prices and availability shown are based on time of publication and may subsequently change.
Product images on this page are taken from the product's official website or from the product page of an official sales channel.