Disclosure: Things That Fold earns commission from links on our site.

(3 / 5)
Not Worth It
Meh
Good
Highly Recommended
Life Changing
So let me tell you a little about my love/hate relationship with this bassinet.  Let's start with the good stuff. It is super lightweight – moving it around is comparable to moving a folding chair.  And with an aching back this is something I deeply appreciated. Also being able to quickly and easily move the bassinet is something I never realized how much I would need.  Too much noise in one room? No big deal, the bassinet was easy to transport. When I wanted to experiment with moving the baby out of our room at night I could move him a little farther away each night.  And when we had company in our teeny-tiny apartment, I could have it folded up in 20 seconds.

What I Love About the Bassinet
When you fold up the bassinet it goes totally flat. There are no extra edges or features that take up space. Even when opened it is very compact.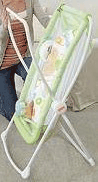 A cool feature for folding is the large locked/unlocked switch. When you are a panicky, sleep-deprived, first-time parent it's nice to have visible confirmation that you've set up the bassinet correctly. The indicator is visible from the top of the bassinet so it only takes a quick glance to see that you did indeed lock it open.

There is also a lock/unlock feature for the rocking mechanism for the bassinet. You can twist the bottom of the rocker to allow it to rock back and forth, or if you prefer, stay in place. I haven't found any reason to NOT have the bassinet rock back and forth, but to each their own.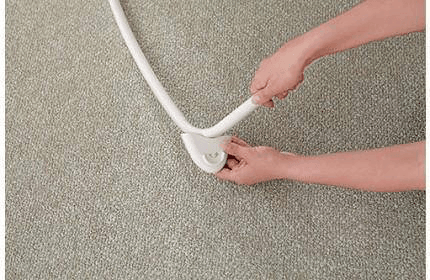 Downsides
Now for the bad. And this is a big, crazy bad thing. The bottom of the bassinet is a fabric pad. Anyone – and I mean anyone – with common sense would think, gee, babies are messy. I better make this washable. Alas, whatever genius invented this made a fabric pad that shrinks in the wash and is now too small to fit properly. And I can live with that. But what drives me nuts is that you can't purchase a replacement pad. What the heck am I supposed to do with my baby when that pad is in the wash? Now that I have another baby on the way I'm thinking about calling up the company and begging -pleading- to buy a stack of extra pads. Maybe in the past few years they've updated their policy. If I get any good news I'll update this post.

[Update: So I reached out to Fisher Price and spoke to a very kind customer service representative. I explained that the bassinet pad shrunk to the point that it doesn't fit right. She told me that the warranty on the bassinet is one year but she would extend for me. She instructed me to cut off all of the fabric from the bassinet, essentially destroying it, then to send them the fabric with a prepaid label that she emailed me. Once they receive the fabric they will send me a new bassinet.]
According to a wise Amazon reviewer, there is a pad from a different company that you can use instead.  It is by Naturepedic, but at $60 it costs nearly as much as the bassinet itself. And as any paranoid new parent knows, you can't just throw some ill-fitting sheet/pad/blanket in a crib because it can increase the risk of suffocation.
I purchased the Naturepedic pad and it is a perfect fit for the bassinet. Fisher Price makes bassinet sheets that fit this mattress and aren't too expensive (about $13).
Additionally, the sides of the bassinet are mesh. Cool for airflow and visibility, not so cool for leaky diapers and projectile vomits. I'm not entirely convinced that whoever designed this bassinet had longevity in mind.

And the "OK" Features
In terms of design, I don't love the pale colored babyish look (yes, I know it's for a baby, but still). I prefer a bit more of a modern, stylish look. On the bright side it's always nice to find something that isn't pink or blue. I might legitimately vomit if I see one more princess or transportation themed baby product. This bassinet is blandly decorated with a few neutral circles, reminiscent of forgettable hotel artwork. I feel like a modern update would be awesome but it could be a lot worse.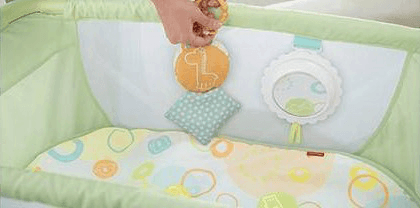 The inside of the bassinet has a removable hanging toy and a permanently attached mirror. I think by the time my baby was old enough to be entertained by these he was already too big for the bassinet. The bassinet goes up to 25 pounds, so we transferred our baby to a crib around four months. I guess the mirror is always useful for sneaking a peek at baby to make sure they are still asleep without actually getting close enough to wake them up.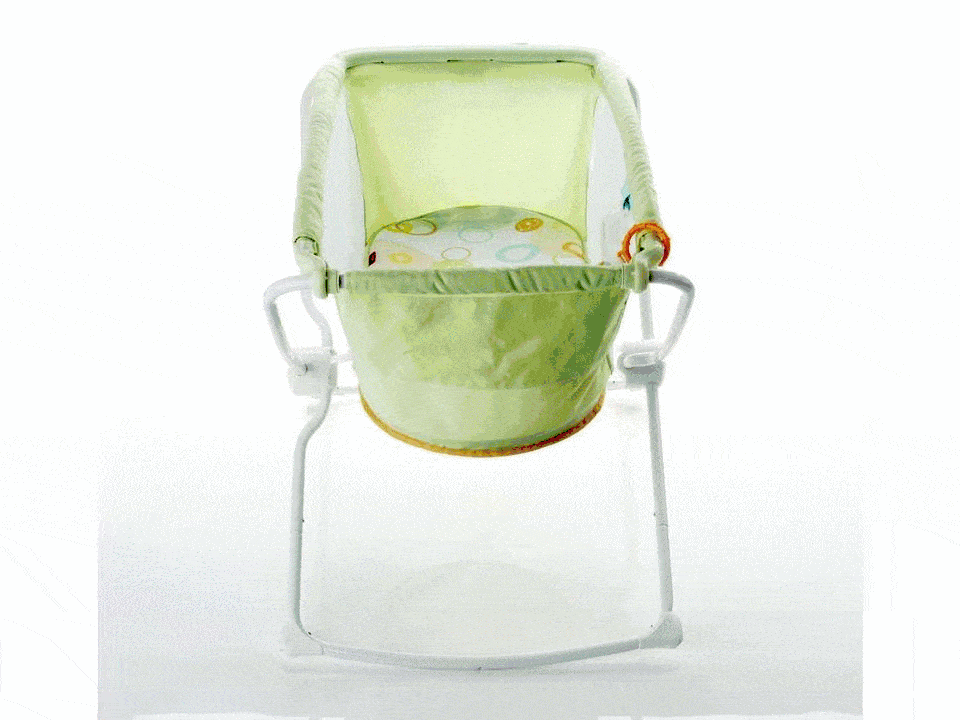 Verdict
This one is a close call. If space is really at a premium I would definitely recommend this bassinet. Just make sure you plan to spring for that additional mattress.
Pros
Cons
-Folds very flat
-Lightweight

-Replacement pads not available
-Hard to clean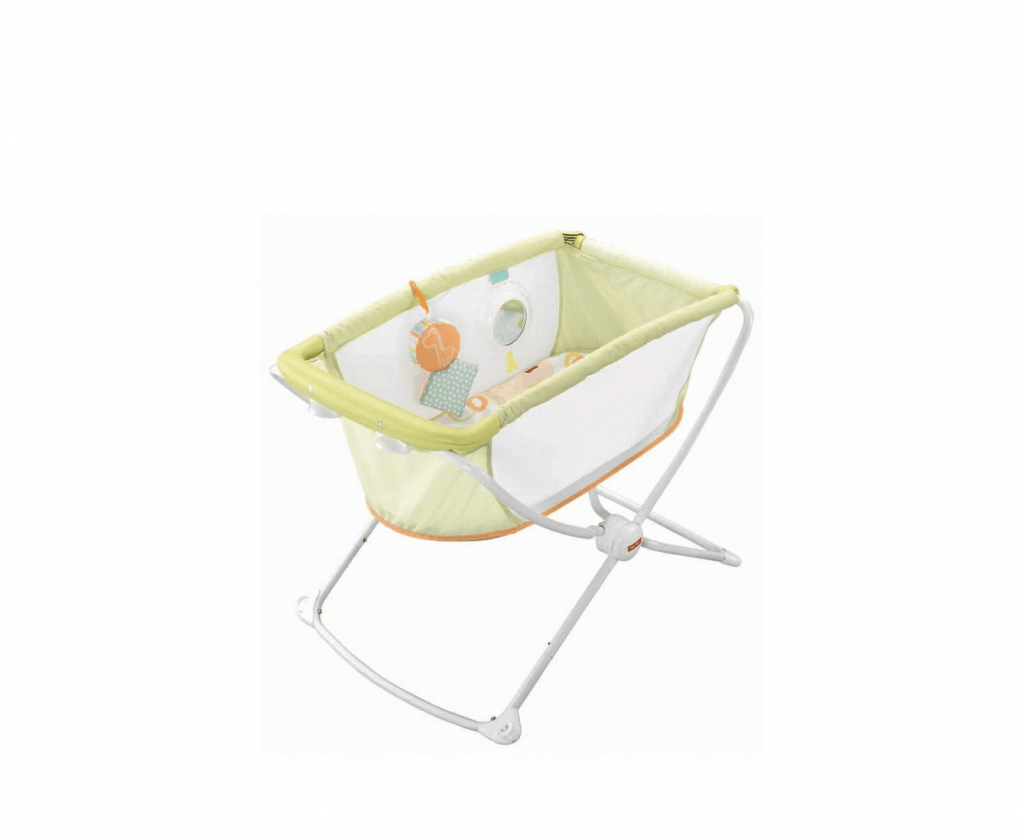 | | |
| --- | --- |
| Open | Folded |
| 31″ l x 23″ w x 27″ h | 39.5″ l x 23″ w x 7″ h |
Where to Buy
The bassinet can be purchased on Amazon.
The spare pads that fit the bassinet can be purchased at Buy Buy Baby. Amazon has the sheets that fit these pads.
Have a Question or Comment?
Have a question about the Fisher-Price Rock 'n Play Portable Bassinet? Want to share your experience with us? Disagree (or agree) with anything we said? We would love to hear from you! Post your thoughts below!
---
This review was written by the Things That Fold editorial team. We purchased this product online and have been personally using it for at least one month prior to writing this review. Our review is based in part on our experiences, as well as additional research we did online.
Our website uses affiliate links, meaning that if you click on a hyperlink, we may receive a commission for referring you to the seller's website. As Amazon Associates, we earn from qualifying purchases. Any prices and availability shown are based on time of publication and may subsequently change.
Product images on this page are taken from the product's official website or from the product page of an official sales channel.