Disclosure: Things That Fold earns commission from links on our site.

(3 / 5)
Not Worth It
Meh
Good
Highly Recommended
Life Changing
Impressively durable and sturdy, this scooter makes me wonder why anyone would buy one that doesn't fold. Thankfully the folding mechanism is a bit tricky for kids to use themselves so there are no worries about pinched fingers. It's a little heavy to carry around but that weight provides serious stability. It's a great first scooter for kids.
[The folding Razor Jr. can be purchased on Razor's website or Amazon]
OK, now here comes an ideological complaint.  The last time I checked we are living in 2020.  So why on earth are companies still marketing blue toys to boys and pink toys to girls?  Can't we all just use the same freaking scooters? It really bothers me when toys have a pink and a blue version.  While certainly a girl can use blue and a boy can use pink I do appreciate when a company makes an effort to be a bit less binary in their marketing.  I'd love to see some more modern, creative, sophisticated, trendy, or artsy designs. *End rant, thanks for indulging me*
Colors: Blue or Pink
Cleanability
Another personal pet peeve of mine (I know, I have a lot of pet peeves!) is foam handlebars. My stroller has them, some bicycles have them, and this scooter has them. In my colorfully germaphobic mind these handlebars work like little sponges sucking up dirt, viruses, and who knows what else that comes from the hands of curious toddlers. You can't clean foam. Maybe you could wrap some other material around it that is removable and cleanable. I haven't done this yet because I think at that point I think I might become that mom, you know the one. The one who keeps their precious little angel in a bubble at all times. So wish me strength in resisting that urge. Meanwhile I'll just rant about it here.
Another non-cleanable but essential feature of the Razor Jr. is the non-slip traction spot on the board. The logo sticker is made from some sandpaper-type material that helps your kid not slide off. The base is also fairly wide, which gives your kids plenty of buffer to not slip off the scooter. I won't complain about how hard the traction grip is to scrub because it really is an essential safety feature.
Speaking of cleaning, I'm really not sure how to give this scooter a good cleaning. A spot clean doesn't seem like enough. Hosing it off in the shower makes me worry about rust on the metal parts and mold on the foam parts if they don't dry properly. If you have any scooter-cleaning tips, send them my way!
Age Range
One thing that I wish the Razor Jr. had would be an adjustable height. My kid is tall for his age and I can see him outgrowing it quickly. It says that the scooter is for ages three and up, but by the time he turns four I think he will be too heavy. He hasn't hit the 45 pound weight limit but I also think he will be too tall for the scooter before he is too heavy. It would really extend the amount of use a kid could get out of this product. But hey, maybe this is all part of some master marketing plan to convince us to buy the next size up in scooters. Well played, Razor. Well played.
Foldability
Now, this being ThingsThatFold, let's get to the good stuff. How does it fold? The handle goes from being perpendicular with the base to being flat against it. You have to pull quite hard on a loop to disengage the lock that keeps the handle in place. Thankfully the folding mechanism is a bit tricky for kids to use themselves so there are no worries about pinched fingers. It can take a few tries for an adult to fold, but honestly it seems safer that way. Remind me I said that when I'm rushing out the door and trying not to get frustrated opening and closing this thing. This might be the only time I'm endorsing hard to fold as a good thing.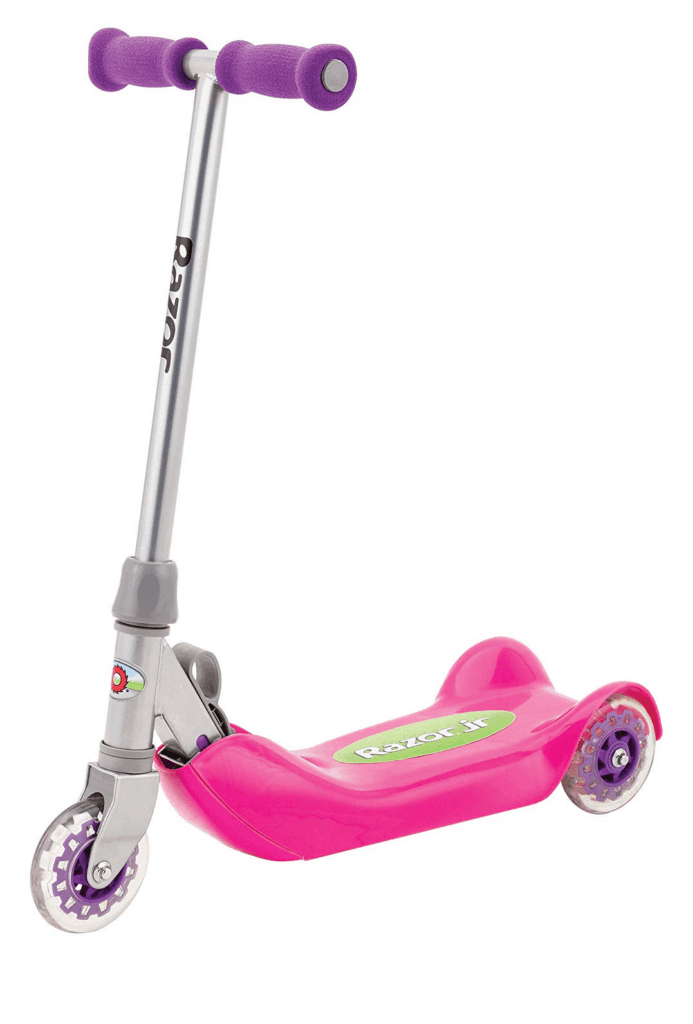 | | |
| --- | --- |
| Open | Folded |
| 22.2″ l x 10.5″ w x 25.2″ h | 25.2″ l x 10.5″ w x 7.8″ h |
Price
Another item of note is the price. The price seems to vary from retailer to retailer but usually hovers around forty to forty-five dollars. While that does seem like a good chunk of change for something that is essentially a toy, I think you get what you pay for in this case. Razor has always been one of the leading manufacturers of adult scooters and they seem to take their toddler scooters just as seriously.
Totally Worth It
I don't feel like this is some flimsy piece of plastic, it seems like a legit usable form of transportation. I've even taken it for an indoor spin when trying to teach my kid how to use it and I never once felt worried that it wouldn't support my weight. The wheels glide smoothly and effortlessly. And having that extra third wheel in the back makes it nearly impossible to tip over. My son was even able to use it on a slushy sidewalk. A lot of first scooters have two wheels in front and one in the back, but I think it makes it harder to steer. Maybe if your kid just plans to make a few circles around the driveway you don't need to spend so much on a sturdy scooter, but if you plan to let your kids use it to commute to school on city sidewalks, or if your child is the daredevil type, I think it is a worthwhile investment.
Pros
Cons
-Sturdy, safe and stable
-Kids can't open it by themselves

-Can't adjust height
-Hard to clean
-Heavy
---
This review was written by the Things That Fold editorial team. We purchased this product online and have been personally using it for at least one month prior to writing this review. Our review is based in part on our experiences, as well as additional research we did online.
Our website uses affiliate links, meaning that if you click on a hyperlink, we may receive a commission for referring you to the seller's website. As Amazon Associates, we earn from qualifying purchases. Any prices and availability shown are based on time of publication and may subsequently change.
Product images on this page are taken from the product's official website or from the product page of an official sales channel.